Main content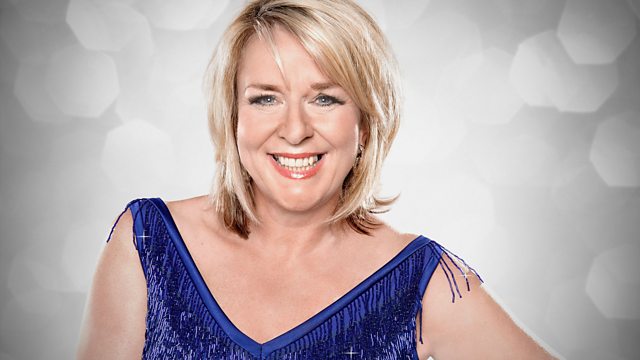 Fern Britton
TV presenter Fern Britton joins Richard Coles and Aasmah Mir. Tom Hart Dyke talks about his kidnap nightmare, plus the Inheritance Tracks of Jimmy Osmond. Includes news.
Richard Coles and Aasmah Mir are joined by TV presenter and novelist Fern Britton. Tom Hart Dyke recalls his traumatic kidnap experience in the jungles of Colombia and how it led to the creation of a world garden, Gary Enstone relishes his job as a conservator of Kipling's old home and Antonia Bolingbroke-Kent explains why she rode the Ho Chi Minh Trail alone on a pink motorbike. Jimmy Osmond chooses his inheritance tracks, JP meets an Abba super-fan and a bunch of city lawyers get down and dirty in their office roof-top allotment.
Fern Britton reveals her passion for gardening as 'The Big Allotment Challenge' begins on BBC 2 and the accompanying book is published. She talks about her life as a writer and her love of Cornwall as her fourth novel, 'A Seaside Affair' is out on April 24th.
Tom Hart Dyke's book about his kidnap and the idea to create a world garden at his ancestral home Lullingstone Castle is 'The Cloud Garden'. Lullingstone Castle has just opened for the summer season. Gary Enstone, as House Steward and conservator at Bateman's in East Sussex explains how dust, water, and 10,000 visitors a year can play havoc with historic properties if not meticulously tended, and why he likes to taste the dust. Bateman's is open all year round.
Antonia Bolingbroke-Kent says the biggest challenge on her two thousand mile motor-bike ride through Vietnam, Laos and Cambodia was going it alone.
JP Devlin meets Abba super-fan, Jason Tuazon-McCheyne from Melbourne, and Jimmy Osmond, chooses his Inheritance Tracks - Moon River by Andy Williams and 'He Ain't Heavy He's My Brother' by The Osmonds, reflecting how close he is both to his siblings and his four children.
Producer: Dilly Barlow.
Last on
Studio Guest: Fern Britton
'The Big Allotment Challenge' starts on 15th April on BBC2. The accompanying book by Tessa Evelegh is out on 10 April, Hodder & Stoughton.
Fern Britton's fourth novel 'A Seaside Affair' is published on 24th April 2014 by Harper Fiction.
Fern will host the Great North Passion on BBC1 on 18th April
Guerilla Report: Urban Roof Garden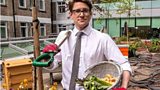 A leading law firm in the city of London turned its rooftop into a vegetable and bee garden for its employees and clients. It has been a bit of a life-changing experience for some of them, opening their eyes to the work-life balance.
Anna Bailey spoke to senior lawyers Benjamin Shore, Jacqueline Roodyn and Legal PA Alison Delaney who set up the garden a few years ago.
Photo by Mark Bourdillon.
Interview: Tom Hart- Dyke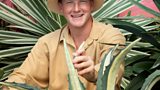 Fourteen years ago, when hunting for a rare orchid in Colombia, Tom Hart-Dyke and his companion, Paul Winder, were kidnapped and kept prisoners in the jungle for 9 months. During captivity, to keep himself sane, Tom conceived the idea of creating a "World Garden". After their release Tom returned to his ancestral home, Lullingstone  Castle in Kent, where he created this garden.
His book, "The Cloud Garden" was a Sunday Times bestseller. Recently Tom returned to Columbia for the first time since his kidnap ordeal.
Interview: Gary Enstone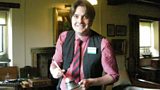 Gary is a historic buildings conservator and House Manager at Bateman's, a National Trust House in East Sussex and the erstwhile home of Rudyard Kipling. It's his job to ensure all the precious artifacts in the house are in perfect condition. 
His biggest bugbears are dust, water and humidity, and he has his own particular ways of identifying and dealing with them. He likes to taste dust.
JP Meets: Abba Superfan
On the week which sees the 40th anniversary of Abba's Eurovision win and the 15th anniversary of Mamma Mia hitting the London stage. JP meets Abba Super Fan Jason Tuazon-McCheyne from Melbourne.
Inheritance Tracks: Jimmy Osmond
Jimmy Osmond
chooses his Inheritance Tracks. He inherits Moon River by Andy Williams and he passes on He Ain't Heavy, He's My Brother, by the Osmonds.
Travel: Antonia Bolingbroke-Kent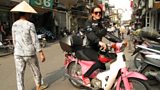 Antonia is a travel writer and TV producer. Whilst producing  a TV programme about the Ho Chi Minh Trail, she had the idea to travel alone along this legendary trail in Vietnam on a basic, but very pink, old Honda C50.
Her book "A Short Ride in The Jungle"  recounts her adventures over 2,000 miles of inhospitable terrain and curious encounters.
Thank You
This week Helen, Peter and Elaine say thanks for a good deed done.
The song ' I wanna Thank You' is by the Enchanters.  
Credits
| Role | Contributor |
| --- | --- |
| Presenter | Richard Coles |
| Presenter | Aasmah Mir |
| Presenter | JP Devlin |
| Interviewed Guest | Fern Britton |
| Interviewed Guest | Tom Hart Dyke |
| Interviewed Guest | Gary Enstone |
| Interviewed Guest | Antonia Bolingbroke-Kent |
| Interviewed Guest | Donny Osmond |
| Interviewed Guest | Jason Tuazon-McCheyne |
| Producer | Dilly Barlow |
Broadcast