Main content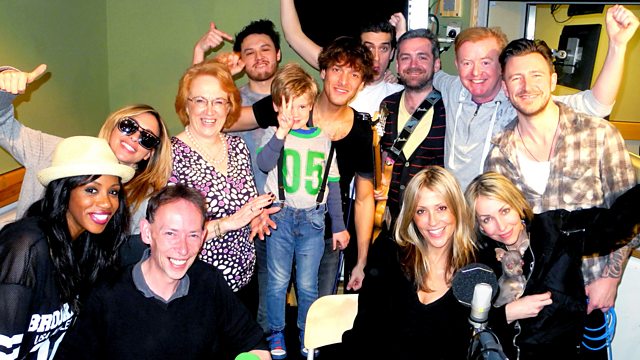 Andrew Garfield, Jamie Foxx, Emma Stone, Paolo Nutini, All Saints, Steve Lamacq
Chris gets that Friday Feeling going with the stars of the new Spiderman movie Jamie Foxx, Andrew Garfield and Emma Stone. All Saints drop in to share some special news with us, Steve Lamacq tells us more about Britpop week on the BBC and Paolo Nutini plays live in the studio.
Paolo and his band eneterain Steve Lamacq and All Saints in honour of Britpop at the BBC.
Pause for Thought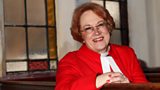 From Canon Ann Easter, Chief Executive of a Charity and Chaplain to the Queen:
If ever there were an anthem of an age, it's got to be 'Rock Around the Clock' which, together with 'Shake, Rattle and Roll', was recorded by Bill Haley 60 years ago tomorrow! After all those crooners and ballads, and maybe some jazz for the beatniks, the new records must have come as a bit of a shock 'cos they were loud, beaty and talked about staying out all night dancing – and they weren't referring to the waltz!.
It seems as if 'Rock around the Clock' changed the musical landscape for ever - with Elvis gyrating hot on its heels to ensure things were never the same again. Suddenly we could be energetically and blatantly explicit about feelings in songs and there was a new group of people called 'Teenagers' who quickly made them their own. But  I can't count the times I've been at a family wedding or party where there's a desultory bit of Dad-dancing going on and someone's put on '1,2,3 o'clock, 4o'clock Rock' – and suddenly we're all up on the floor, jiving with the best of 'em.
Of course, not willing to miss an opportunity to disapprove, I'm sad to say some the churches of those days branded the new music immoral and they were quite sure that it was a direct message from the devil; Christians, especially British ones even these days can be a bit anxious about feelings which might overwhelm – I remember talking to a Mother's Union group who had changed the words of a hymn so that instead of 'passion' it said 'warmth'.
But I reckon that passion and excitement are every bit as much a gift from God as all those rather more ladylike feelings and they're given to us to enjoy and at times to employ as we spread the news of God's love.