Main content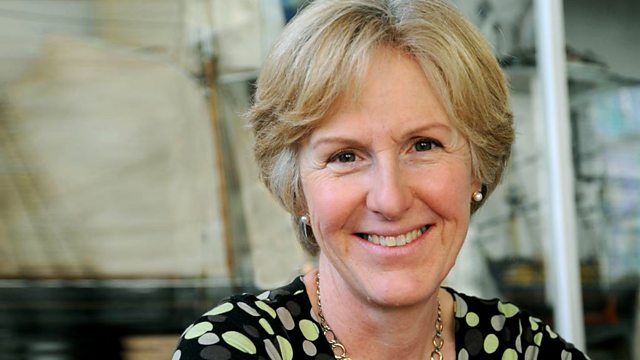 12/04/2014
With Catriona Young. Including the German Chamber Philharmonic, Bremen and Kent Nagano in Schubert and Brahms, plus Mozart's Clarinet Concerto with soloist Jorg Widmann.
With Catriona Young
The German Chamber Philharmonic, Bremen, and Kent Nagano perform Schubert and Brahms's 4th Symphony. Jorg Widmann joins them as the soloist in Mozart's Clarinet Concerto.
1:01 AM
Schubert, Franz [1797-1828]
Rosamunde D.797 - Interlude after Act lll
German Chamber Philharmonic Orchestra, Bremen, Kent Nagano (conductor)
1:08 AM
Mozart, Wolfgang Amadeus [1756-1791]
Concerto in A major K.622 for clarinet and orchestra;
Jörg Widmann (clarinet),
German Chamber Philharmonic Orchestra, Bremen, Kent Nagano (conductor)
1:37 AM
Brahms, Johannes [1833-1897]
Symphony no. 4 in E minor Op.98;
German Chamber Philharmonic Orchestra, Bremen, Kent Nagano (conductor)
2:19 AM
Schubert, Franz (1979-1828)
Quartet for Strings (D.810) in D minor "Death and the Maiden"
Ebène Quartet: Pierre Colombet (violin) Gabriel Le Magadure (violin) Mathieu Herzog (viola) Raphaël Merlin (cello)
3:01 AM
Telemann, Georg Philipp (1681-1767)
Alles redet jetzt und singet - cantata for soprano, bass and instrumental ensemble
Barbara Schlick (soprano), Stephen Varcoe (bass), Michael Schneider and Konrad Hunteler (recorders), Hans-Peter Westermann and Pieter Dhont (oboes), Michael McCraw (bassoon), Das Kleine Konzert, Hermann Max (conductor)
3:30 AM
Saint-Saëns, Camille (1835-1921)
Trio No.1 for piano, violin and cello in F (Op.18)
Ulf Forsberg (violin), Mats Rondin (cello), Stefan Lindgren (piano)
4:00 AM
Verdi, Giuseppe (1813-1901)
Overture - Nabucco
Bergen Philharmonic Orchestra, Alun Francis (conductor)
4:09 AM
Spohr, Louis (1784-1859)
Fantasy, Theme and Variations a theme of Danzi in B minor (Op.81)
László Horvath (clarinet), New Budapest String Quartet
4:17 AM
Schumann, Robert (1810-1856)
Variations on a Theme by Clara Wieck
Angela Cheng (piano)
4:25 AM
Karlowicz, Mieczyslaw (1876-1909)
4 Songs
Jadwiga Rappé (contralto), Ewa Poblocka (piano)
4:33 AM
Sor, Fernando (1778-1839)
Introduction and variations on Mozart's 'O cara armonia' for guitar (Op.9)
Ana Vidovic (guitar)
4:41 AM
Albinoni, Tomaso (1671-1750)
Concerto in B flat
Ivan Hadliyski (trumpet), Chamber orchestra, conductor Alipi Naydenov
4:50 AM
Schubert, Franz (1797-1828)
Notturno (D.897) for piano and strings in E flat major
Vadim Repin (violin), Jan-Erik Gustafsson (cello), Leif Ove Andsnes (piano)
5:01 AM
Vivaldi, Antonio (1678-1741)
Concerto for violin and orchestra (RV.234) in D major 'Inquietudine'
Giuliano Carmignola (violin), Sonatori de la Gioiosa Marca
5:07 AM
Bach, Heinrich (1615-1692)
Ich danke dir, Gott - cantata for 5 voices, strings and continuo
Musica Antiqua Köln, Rheinische Kantorei, Reinhard Goebel (conductor)
5:13 AM
Chaminade, Cécile (1857-1944)
Automne (Op.35 No.2)
Valerie Tryon (piano)
5:21 AM
Mozart, Wolfgang Amadeus (1756-1791)
Symphony No.26 in E flat major (K.184)
New Zealand Symphony Orchestra, Franz-Paul Decker (conductor)
5:31 AM
Marini, Biagio [1594-1663]
Violin Sonata no 4 (Op. 8)
Davide Monti (violin), Maria Cleary (Arpa Doppia)
5:42 AM
Brumby, Colin (b. 1933)
Festival Overture on Australian themes
West Australian Symphony Orchestra, Richard Mills (conductor)
5:52 AM
Debussy, Claude (1862-1918)
Sonata for violin and piano in G minor
Peter Oundjian (violin), William Tritt (piano)
6:06 AM
Bach, Johann Christian (1735-1782)
Quintet (Op. 11) no 4 in E flat major for flute, oboe, violin, viola and double bass
Les Ambassadeurs
6:22 AM
Beethoven, Ludwig van (1770-1827)
Sonata for piano No.5 (Op.10 No.1) in C minor
François-Frédéric Guy (piano)
6:40 AM
Grieg, Edvard (1843-1907)
Holberg Suite (Op.40)
The Slovenian Philharmonic String Chamber Orchestra, Andrej Petrac (Artistic leader).