Main content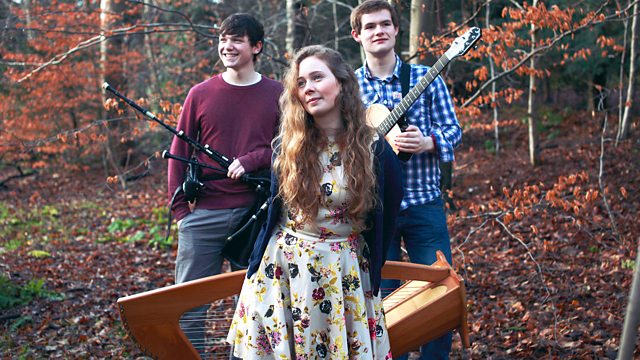 Mischa Macpherson Trio in Session, Commonwealth Connections 10
Mary Ann Kennedy with music from around the world, the Mischa Macpherson Trio in session live in Glasgow and Part 10 of Commonwealth Connections: music from Tonga and the Maldives.
Mary Ann Kennedy with tracks from across the globe, Commonwealth Connections from Tonga and Maldives, plus the Mischa Macpherson Trio in session live from Glasgow.
'Commonwealth Connections' is a BBC Radio 3 landmark 26-part weekly series leading up to the Commonwealth Games in July, featuring music from each of the 53 member states, reflecting the range of music and culture across the whole organisation.
Music feature from Tonga:
A rare performance of music by the Lomipeau Collection, recorded in a church hall in the village of Lapaha, Tonga. Singer Alusa Falefa has been entrusted by Noble Kalaniuvalu Fotofili, the living heir to the Tu'i Tonga dynasty, to preserve this music. He leads a 30 strong vocal ensemble along with his son Soane Ngutukoula Tatuila Pusiaki, a practitioner of Tonga's most famous instrument the noseflute. This deeply moving form of music-making has been preserved since the 1800s, and Alusa's grandfather used to perform for Queen Salote of Tonga.
Heritage Track from Maldives:
Mueena Mohamed is the Number One table tennis player in Maldives. She chooses a song very familiar to her from her childhood, Minivan vayaa, and talks about the place of music in Maldivian culture, the challenge of balancing high-level training with a job, and what it means to her to compete in her fourth Commonwealth Games.
Session with the Mischa Macpherson Trio:
Gaelic singer Mischa Macpherson, with guitarist Innes White and pipes player Conal McDonagh are the winners of this year's BBC Radio 2 Young Folk Award. Mischa grew up in Sandwick on the Isle of Lewis in the Outer Hebrides of Scotland, and the trio's music refects the unique culture of those islands.
PROGRAMME PLAYLIST MAY DIFFER FROM THE LIST BELOW - PLEASE CHECK BACK ON MONDAY 14th APRIL FOR THE FINAL VERSION.
Seven pioneering figures in world music
BBC Introducing on World on 3