Main content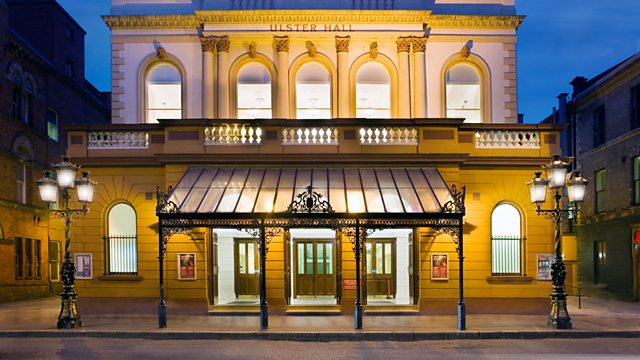 Ulster Orchestra - Dvorak, Shostakovich, Brahms
From the Ulster Hall, Belfast, the Ulster Orchestra under Alexander Vedernikov. Dvorak: Othello. Shostakovich: Violin Concerto No 1 (soloist: Tamas Kocsics). Brahms: Symphony No 4.
Alexander Vedernikov conducts the Ulster Orchestra in music by Dvorák, Shostakovich and Brahms. The Leader of the Ulster Orchestra, Tamás Kocsis is soloist in Shostakovich's Violin Concerto No. 1
19:30
Live from the Ulster Hall, Belfast
Presented by John Toal
19.45
Dvorák: Othello
Shostakovich: Violin Concerto No. 1
20.40
During the interval, music selected by tonight's soloist and conductor.
21:00
Brahms: Symphony No. 4
Tamás Kocsis, violin
Ulster Orchestra
Alexander Vedernikov, conductor
In the second half of 1891-just as he turned 50, Dvorák composed a set of three concert overtures which were to reflect what he referred to as "the nature theme." The sequence would depict the three most intense moments of human existence: the experience of nature, joy in being alive, and the theme love and with it the pangs of jealousy. Tonight's Overture, Othello represents the love theme and it is the last of this set which also included In Natures's Realm and Carnival. Shostakovich composed his Violin Concerto No 1 during 1947/48, he completed on the heels of the Zhdanov Decree, which condemned Shostakovich along with many of his composer colleagues for "formalist perversions and antidemocratic tendencies in music, alien to the Soviet people and its artistic tastes."
Shostakovich might have been concerned about releasing the concerto at that time and it was published in 1956 and dedicated to the great violinist, David Oistrakh who worked with the composer on the work and who gave the first performance in 1955, with the Leningrad Philharmonic under Yevgeny Mravinsky.
Brahms composed the last of his four symphonies during the summers of 1884 and 1885, which he spent at the small town of Mürzzuschlag, in the Austrian mountains. "I wonder if it will ever have an audience," Brahms wrote from Mürzzuschlag to Hans von Bülow, the conductor preparing the first performance. "I rather fear it has been influenced by this climate, where the cherries never ripen." Symphony No. 4 is one of the "classics" of the 19th century symphony and fittingly ends with a mighty passacaglia.
Following the concert, music from last weekend's French Institute festival 'It's all about piano', featuring top students from the Royal College of Music and the Paris Conservatoire.