Main content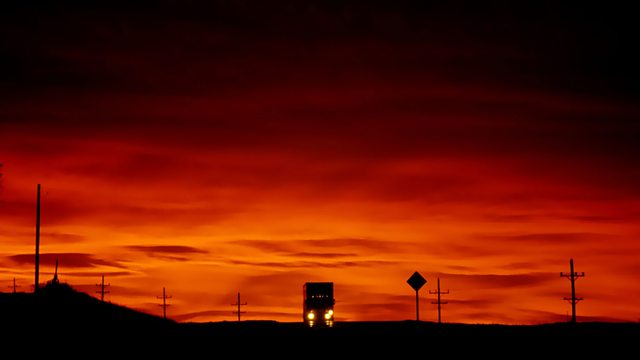 09/04/2014
Catriona Young's selection includes Rossini's La Donna del Lago in a performance given at the Royal Opera House, London, featuring Joyce DiDonato and Juan Diego Florez.
Rossini's Donna del Lago with Joyce DiDonato and Juan Diego Florez from the Royal Opera House, London
12:32 AM
Rossini, Gioachino: La Donna del Lago; Melodramma in 2 Acts
Giacomo/King James of Scotland: Juan Diego Florez (tenor)
Elena/Ellen - Lady of the Lake: Joyce DiDonato (mezzo soprano)
Malcolm Graeme: Daniela Barcellona (mezzo soprano)
Douglas: Simon Orfila (bass)
Rodrigo/Roderick Dhu: Colin Lee (tenor)
Albina: Justina Gringyte (mezzo soprano)
Serano: Robin Leggate (tenor)
A Bard: Christopher Lackner (baritone)
King's soldier: Pablo Bemsch (tenor)
Royal Opera House Chorus and Orchestra, Michele Mariotti (conductor)
3:09 AM
Kozeluch, Leopold [1747-1818]
A Grand Scotch Sonata in D
Jana Semerádová (flute), Hana Fleková (cello), Monika Knoblochová (piano)
3:19 AM
Beethoven, Ludwig van (1770-1827)
Five Scottish and Irish Folksongs (WoO.152/20)
Stephen Powell (tenor soloist in No.1), Lorraine Reinhardt (soprano soloist in No.3), Linda Lee Thomas (piano), Gwen Thompson (violin), Eugene Osadchy (cello), Vancouver Chamber Choir, Jon Washburn (conductor)
3:33 AM
Mozart, Wolfgang Amadeus (1756-1791)
Kirchen-Sonate in B flat (K. 212), for 2 violins, double bass and organ
Royal Academy of Music Beckett Ensemble, Patrick Russill (conductor)
3:38 AM
Bach, Carl Philipp Emmanuel (1714-1788)
Sinfonia No.2 in B flat major (Wq.182, No.2)
Camerata Bern
3:50 AM
Schumann, Robert (1810-1856)
Fantasiestücke for clarinet and piano (Op.73)
Claudio Bohorquez (cello), Marcus Groh (piano)
4:01 AM
Handel, Georg Frideric (1685-1759)
The Arrival of the Queen of Sheba' (from 'Solomon', HWV.67)
Ars Barocca - Ivona Nedeva (flute), Kalin Panayotov (oboe, oboe d'amore), Zefira Valova (violin), Miroslav Petkov (trumpet), Ivan Iliev (violin), Gergana Deliiska (violin), Valentin Toshev (viola), Vejen Rezashki (bassoon), Miroslav Stoyanov (cello), Tzvetelina Dimcheva (cembalo, organ)
4:05 AM
Parry, Sir Charles Hubert Hastings [1848-1918]
Songs of farewell for mixed voices: no.6 Lord, let me know mine end
BBC Singers, Stephen Cleobury (conductor)
4:16 AM
Chopin, Fryderyk [1810-1849]
3 Ecossaises for piano (Op.72'3)
Ingrid Fliter (piano)
4:18 AM
Mendelssohn, Felix (1809-1847)
The Hebrides - overture (Op.26)
Norwegian Radio Orchestra, Markus Lehtinen (conductor)
4:31 AM
Berlioz, Hector (1803-1869)
Waverley Overture (Op.1)
The Radio Bratislava Symphony Orchestra, Ondrej Lenard (conductor)
4:42 AM
Sweelinck, Jan Pieterszoon (1562-1621)
Regina Coeli
Netherlands Chamber Choir, Philippe Herreweghe (conductor)
4:48 AM
Brahms, Johannes (1833-1897)
Variations on a theme by Haydn (Op.56a)
Sinfonia Varsovia, Tomasz Bugaj (conductor)
5:07 AM
Wieniawski, Henryk (1835-1880)
Polonaise in A major for violin & piano (Op.21)
Piotr Plawner (violin), Andrzej Guz (piano)
5:17 AM
Kuhlau, Frederik (1786-1832)
Trylleharpen overture
The Danish Radio Concert Orchestra, Roman Zeilinger (conductor)
5:28 AM
Buxtehude, Dietrich (1637-1707)
Ciacona in E minor (BuxWV160)
Jacques van Oortmerssen playing the 1734 Christian Müller organ of the Oude Walenkerk, Amsterdam
5:34 AM
Dopper, Cornelius (1870-1939)
Ciaconna Gotica (1920)
The Netherlands Radio Symphony Orchestra, Kees Bakels (conductor)
5:51 AM
Tchaikovsky, Pyotr Il'yich (1840-1893)
3 Piano pieces
Niklas Sivelöv (piano)
5:57 AM
Gershwin, George [1898-1937], arr. Lundin, Bengt-Åke [b.1963]
Selection from Porgy & Bess
Annika Skoglund (soprano), New Stenhammar String Quartet , Staffan Sjöholm (double bass)
6:09 AM
Jenkins, John (1592-1678)
The Siege of Newark
Concordia, Mark Levy (conductor)
6:15 AM
Kodály, Zoltán (1882-1967)
Psalm 150 (sung in Hungarian)
Magnificat Choir, Valéria Szebellédi (director)
6:18 AM
Bardos, Lajos (1899-1986)
Ave Maria
Magnificat Choir, Valéria Szebellédi (director)
6:20 AM
Jeanjean, Paul (1874 - 1928)
Prelude and Scherzo for bassoon and piano
Bálint Mohai (bassoon) , Monika Michel (piano).