Main content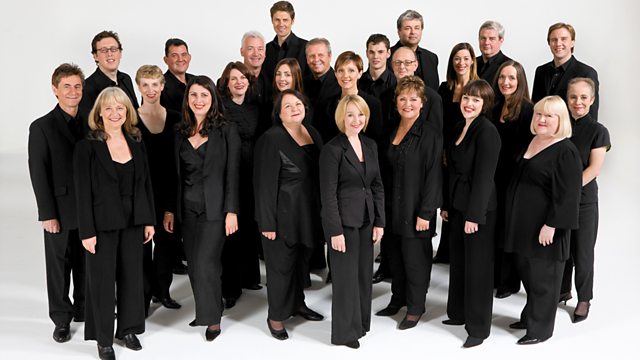 BBC Singers - Schoenberg, Brahms, Reger, Schumann, Rheinberger, Wolf, Strauss
Live from Milton Court in London, BBC Singers under David Hill in German romantic choral music. With Schoenberg, Brahms, Reger, Schumann, Rheinberger, Wolf and Strauss.
Live from Milton Court, London
Presented by Sara Mohr-Pietsch
The BBC Singers conducted by David Hill perform some of the greatest choral works from the German Romantic repertoire
Arnold Schoenberg: Friede auf Erden (Op 13)
Brahms: Warum ist das licht gegeben (op 74 no 2)
Max Reger: Abendlied (op 39 no 2)
Robert Schumann: Vier doppelchörige Gesänge (op 141)
8.15pm Interval: piano music by Schumann, and David Hill talks to Sara Mohr-Pietsch about the great choral traditions of Germany.
Joseph Rheinberger: Abendlied
Hugo Wolf: 6 Geistliche Lied
Strauss: Deutsche Motette
BBC Singers
David Hill (conductor)
German choral repertoire of the late 19th and early 20th centirues is notable for its glorious and opulent vocal sonorities, luxuriant scoring, and ravishing harmonies. This programme of seldom-heard masterpieces for voices will be enjoyed by anyone who loves the orchestral music of this era. Two sumptuous masterworks by friends and compatriots Johannes Brahms and Robert Schumann can be heard alongside more intimate pieces by composer-organists Max Reger and Josef Rheinberger, while Hugo Wolf's Sacred Songs are a touching and intimate statement of faith. As bookends to the programme, Arnold Schoenberg's impassioned and timely choral plea for peace on earth, and Richard Strauss's mighty setting of words in praise of Creation: an astonishing, and rarely-performed, work for 16-part choir, and one of the most sublime and unforgettable works in the entire choral repertoire.
Following the concert, music from last weekend's French Institute festival 'It's all about piano', featuring top students from the Royal College of Music and the Paris Conservatoire.
Music Played
BBC Singers

Music Interval with Live Interviews
Credit
| Role | Contributor |
| --- | --- |
| Performer | BBC Singers |