Main content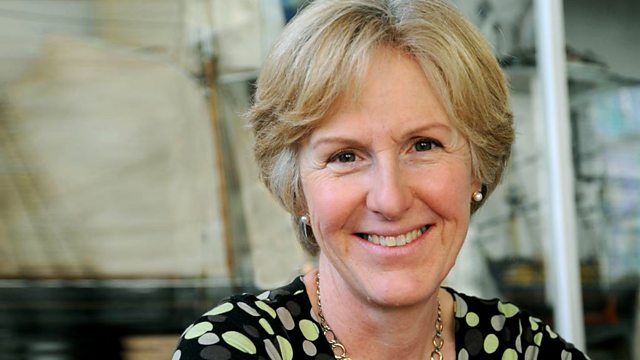 07/04/2014
Catriona Young's selection includes Maciej Malecki's cantata Spring, Summer.
Spring Summer Cantata by Maciej Malecki. With Catriona Young
12:31 AM
Malecki, Maciej [b.1940], text: Mateusz Pieniazek
Spring, Summer Cantata
Marta Boberska (soprano), Tomasz Rak (baritone), Schola Cantorum Gedanensis, Polish Chamber Chorus, Jan Lukaszewski (chorus master), Polish Radio Symphony Orchestra, Marcin Nalecz-Niesiolowski (conductor)
1:40 AM
Grieg, Edvard [1843-1907]
Symphony in C minor. EG 119
Polish Radio Symphony Orchestra, Marcin Nalecz-Niesiolowski (conductor)
2:14 AM
Moss, Piotr (b. 1949)
Wiosenno
Polish Radio Choir, Wlodzimierz Siedlik (conductor)
2:23 AM
Zelenski, Wladyslaw (1837-1921) arr. Jan Maklakiewicz
2 Choral Songs - Zaczarowana królewna ; Przy rozstaniu
Polish Radio Choir, unnamed pianist, Marek Kluza (director)
2:31 AM
Schubert, Franz (1797-1828)
Symphony no. 8 in B minor D.759 (Unfinished)
BBC Symphony Orchestra, Semyon Bychkov (conductor)
2:58 AM
Haydn, (Franz) Joseph [1732-1809]
Divertimento for 2 flutes and cello (H.4.1) in C major "London trio" no.1;
Les Ambassadeurs
3:07 AM
Mozart, Wolfgang Amadeus (1756-1791)
Concerto for piano and orchestra No. 20 in D minor (K.466)
Leif Ove Andsnes (piano), Norwegian Chamber Orchestra, Terje Toennesen (conductor)
3:39 AM
Buxtehude, Dietrich [1637-1707]
Frohlocket mit Handen, BuxWV 29
Marieke Steenhoek (soprano) Miriam Meyer (soprano) Bogna Bartosz (contralto) Marco van de Klundert (tenor) Klaus Mertens (bass) Amsterdam Baroque Orchestra and Chorus, Ton Koopman (conductor)
3:47 AM
Albinoni, Tomasi (1671-1750)
Oboe Concerto in D minor (Op.9 No.2) (Allegro e non presto; Adagio; Allegro)
Carin van Heerden (oboe), L'Orfeo Barockorchester, Michi Gaigg (director)
3:58 AM
Gilson, Paul (1865-1942)
Andante and Scherzo for cello and orchestra
Timora Rosler (cello), Flemish Radio Orchestra, Martyn Brabbins (conductor)
4:07 AM
Schumann, Clara (1819-1896)
Variations on a Theme of Robert Schumann in F sharp minor (Op.20)
Angela Cheng (piano)
4:17 AM
Zelenka, Jan Dismas (1679-1745)
1st movement from Sinfonia a 8 Concertanti in A minor (ZWV.189)
European Union Baroque Orchestra, Roy Goodman (director)
4:25 AM
Lehár, Franz (1870-1948)
"Dein ist mein ganzes Herz" from Das Land des Lächelns
Fritz Wunderlich (tenor), West Deutsches Rundfunkorchester Köln, Franz Marszalek (conductor)
4:31 AM
Salieri, Antonio (1750-1825)
Overture La grotta di Trofonio
Stavanger Symphony Orchestra,
Fabio Biondi (conductor)
4:38 AM
Schubert, Franz (1797-1828); transcribed by Liszt, Franz [1811-1886]
Aus dem Wasser zu singen (D.744) arr. Liszt for piano
Anastasia Vorotnaya (piano)
4:42 AM
Janacek, Leos [1854-1928]
Pohadka for cello and piano
Jonathan Slaatto (cello), Martin Qvist Hansen (piano)
4:53 AM
Strauss, Richard (1864-1949)
Four Last Songs (1948) (Frühling; September; Beim Schlafengehen; Im Abendrot)
Elisabeth Söderström (soprano), Royal Concertgebouw Orchestra, Bernard Haitink (conductor)
5:13 AM
Beethoven, Ludwig van (1770-1827
Symphony no 8 in F major (Op 93)
Oslo Philharmonic Orchestra, Rafael Frühbeck de Burgos(conductor)
5:41 AM
Fux, Johann Joseph (1660-1741)
Turcaria - Eine musikalische Beschreibung der Belagerung Wiens durch die Türken anno 1683
Armonico Tributo Austria, Lorenz Duftschmid (director)
5:53 AM
Haydn, (Johann) Michael [1737-1806]
Sinfonia in E flat major (MH.340) (P.17)
Academia Palatina, Florian Heyerick (director)
6:08 AM
Schubert, Franz (1797-1828)
Gesang der Geistern über den Wassern, Op.167 ('Spirits' song above the waters', words by Goethe)
Estonian National Male Choir, Estonian National Symphony Orchestra, Juri Alperten (director)
6:18 AM
Chopin, Fryderyk [1810-1849]
4 Mazurkas Op.24
Cyprien Katsaris (piano)
6:28 AM
Chopin, Fryderyk [1810-1849]
Wiosna (Spring) (Op.74, No.2)
Cyprien Katsaris (piano).