Main content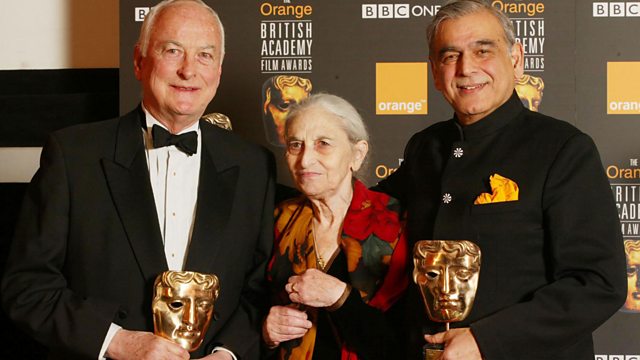 Merchant Ivory - Classics, Celluloid and Class
Laurence Scott re-assesses the work of the film-making team known as Merchant Ivory. Including an interview with director James Ivory and some of his many collaborators.
Style, flair, individuality, ideas... and stars. The filmic output of the remarkable three-person association of creative talents that is collectively known as 'Merchant Ivory' has endured since the early 1960s.
For The Sunday Feature, Laurence Scott re-assesses the team's output. From their early success 'Shakespeare Wallah', through the trio of big English hits - 'A Room with a View', 'Howards End' and 'The Remains of the Day' - as well as less popular, but equally stylish American and French-based movies, Merchant Ivory pictures have always combined visual sophistication with stupendous acting talent. Yet despite their many triumphs, 'Merchant Ivory' became for some critics a tainted brand, redolent of a sort of big-house costume drama that epitomised all that was wrong with British cinema. Why? And were the criticisms fair?
Merchant Ivory was a unique combination of cinema talents, 'a three-person marriage' in the words of one of their biggest stars, Helena Bonham-Carter: James Ivory directed, his late partner Ismail Merchant produced, and most of the films were written by the screenwriter and novelist Ruth Prawer-Jhabvala.
While he was in London recently preparing his latest film Jim Ivory talked over three days with Laurence Scott, and explored his lifetime of film-making.
Also in the programme, alongside Helena Bonham-Carter whose career was largely launched by the team, is veteran Indian actress Madhur Jaffrey, who brought Jim and Ismail together and starred in a number of their Indian films, and novelist and screenwriter Kazuo Ishiguro. Plus, the man who as a schoolboy got Ivory and Merchant to star in his home movies (we savour the broadcast premiere) and went on to run the company, Richard Macrory.
Producer: Simon Elmes
First broadcast 06/04/2014.
Damon Galgut joins Tariq Ali, Alex Clark and presenter Rana Mitter to discuss the author
Director James Ivory with presenter Laurence Scott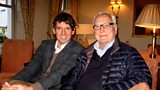 Helena Bonham Carter with presenter Laurence Scott