Main content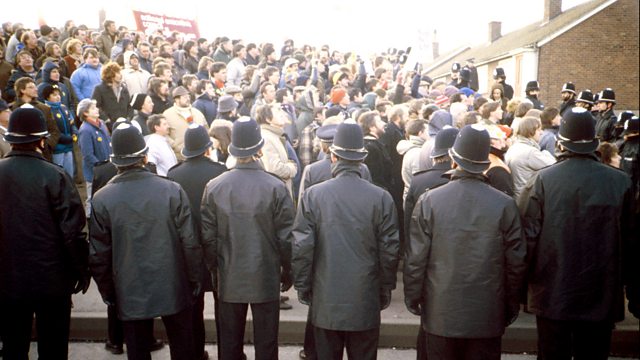 The Miners' Strike
Sue MacGregor brings together some of those involved on both sides of Britain's longest-lasting and most bitter industrial dispute, the miners' strike of 1984-5.
When five hundred Yorkshire miners at Cortonwood Colliery downed tools on 5th March 1984, they set in train events that would lead to the longest and most bitter industrial dispute in British history.
The Miners' Strike that followed would set miner against miner and transform quiet pit communities into battlefields, as thousands of riot police attempted to defend the right to work. The next twelve months of strife would plunge many families into poverty and place a tremendous burden on the country's Exchequer.
On one side of the dispute was the National Union of Mineworkers - victorious over Edward Heath in 1974 and led by the charismatic militant, Arthur Scargill.
Arraigned against them was Margaret Thatcher's Conservative government, buoyed by electoral triumph and fully prepared to defend their new vision for Britain against what the Prime Minister called 'the shock troops of the hard left'.
The Miners' Strike still bitterly divides opinion and the legacy of the strike remains a matter of fierce debate between government and miners, and even within the Union itself.
Thirty years on from the start of the strike, those divided by the picket line join Sue MacGregor in The Reunion.
Kim Howells was research officer for the South Wales NUM, Mel Hepworth worked at Askern pit near Doncaster and became a flying picket for much of the strike, Barbara Jackson was one of the organisers of Sheffield Women Against Pit Closures. Ken Clarke was a Health Minister during the strike and his Nottinghamshire constituency included the Cotgrave Colliery, and Bill King of Bedfordshire Police led Police Support Units at the height of the strike.
Producer: Jerome Lyte
Series Producer: David Prest
A Whistledown production for BBC Radio 4.