Main content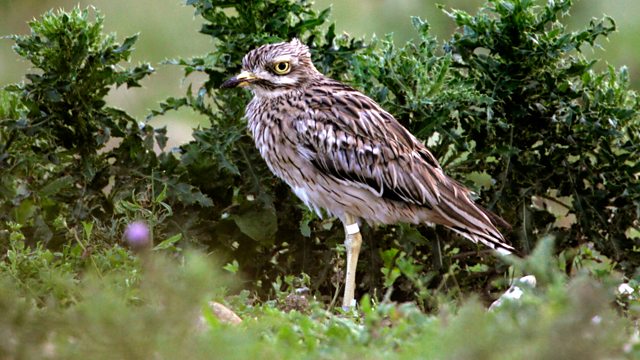 Stone Curlew
Kate Humble presents the stone curlew.
Tweet of the Day is a series of fascinating stories about our British birds inspired by their calls and songs.
Kate Humble presents the stone curlew. Stone curlews belong to a family known as 'thick-knees' but their country name of 'goggle-eyed plover' suits them better. Their huge staring yellow eyes serve them well at night when they're most active. By day, they lie up on sparse grassland or heath where their streaky brown-and-white plumage camouflages them superbly.
Stone curlew (Burhinus oedicnemus)
Webpage image courtesy of RSPB (rspb-images.com).
Recording of stone curlew by RSPB
This programmes contains audio archive of a stone curlew that was sourced through the RSPB.  The original recording is not available online to listen to.
Podcast
Discover birds through their songs and calls. 265 programmes of 90 seconds, over a year