Main content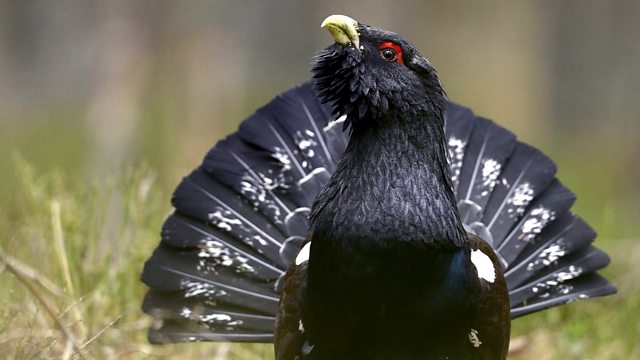 Capercaillie
Kate Humble presents the capercaillie.
Tweet of the Day is a series of fascinating stories about our British birds inspired by their calls and songs.
Kate Humble presents the capercaillie. The bizarre knife-grinding, cork-popping display of the male capercaillie is one of the strangest sounds produced by any bird. The name 'Capercaillie' is derived from the Gaelic for 'horse of the woods', owing to the cantering sound, which is the start of their extraordinary mating display. These are the largest grouse in the world and in the UK they live only in ancient Caledonian pine forests.
Capercaillie (Tetrao urogallus)
Webpage image courtesy of RSPB (rspb-images.com).
Featured in...
These birds are red listed by the RSPB, meaning they are of highest conservation concern.

A celebration of the stranger birdcalls featured on Tweet of the Day
Podcast
Discover birds through their songs and calls. 265 programmes of 90 seconds, over a year