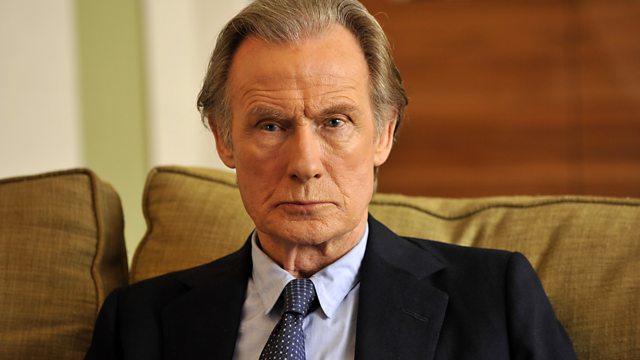 Salting the Battlefield
Follow-up to the spy thrillers Page Eight and Turks & Caicos.
Johnny Worricker and Margot Tyrell are now on the run together across Europe. With the net fast closing in, Worricker knows his only chance of resolving his problems is to return home and confront his nemesis - the prime minister, Alec Beasley.
Credits
| Role | Contributor |
| --- | --- |
| Johnny Worricker | Bill Nighy |
| Margot Tyrell | Helena Bonham Carter |
| Alec Beasley | Ralph Fiennes |
| Stirling Rogers | Rupert Graves |
| Rollo Maverley | Ewen Bremner |
| Jill Tankard | Judy Davis |
| Julianne Worriker | Felicity Jones |
| Anthea Catcheside | Saskia Reeves |
| Belinda Kay | Olivia Williams |
| Amber Page | Leanne Best |
| Freddy Lagarde | Pip Carter |
| Ted Finch | James McArdle |
| Bill Catcheside | Daniel Ryan |
| Allegra Betts | Kate Burdette |
| Jez Nichols | Shazad Latif |
| Rev Bernard Towers | Malcolm Sinclair |
| Brian Lord | Andrew Cleaver |
| Security Man | George Lenz |
| Ticket Seller | Thorston Manderlay |
| BBC Interviewer | Matthew Stadlen |
| Jock Calderon | Pip Torrens |
| Security Woman | Renate Becker |
| Europcar Assistant | Anna Boger |
| Abdul Khan | San Shella |
| Football Supporter | Mark Wingett |
| Barry | Richard Lawrence |
| Dean Chandler | Nathan Ives-Moiba |
| MI5 Monitor Man | Tom Colley |
| Garden Girl | Kirsty Oswald |
| Waitress | Valeria Vereau |
| Writer | David Hare |
| Director | David Hare |
| Producer | Celia Duval |