Main content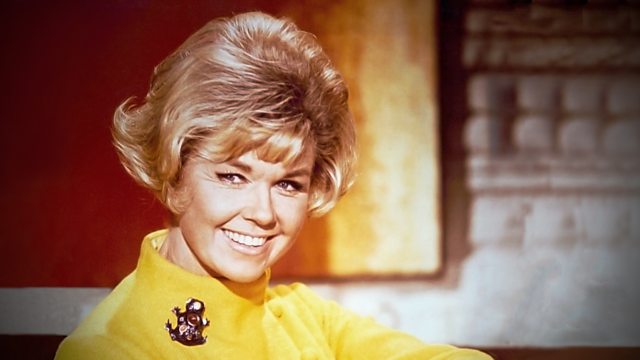 Doris Day
Clare Teal joins the BBC Concert Orchestra to celebrate the 90th birthday of one of the world's biggest box office stars, Doris Day.
Friday Night is Doris Night - Clare Teal joins the BBC Concert Orchestra to celebrate the 90th birthday of one of the world's biggest box office stars and recording artists - Doris Day.
Doris Mary Ann von Kappelhoff was born on 3rd April 1924 in Cincinnati, Ohio. A car accident put paid to her ambition to be a dancer so she turned to singing and she spent her early career as band vocalist with the likes of Bob Crosby and Les Brown. She changed her name to Doris Day after the song Day after Day and with Les Brown and his band scored her first hit in 1944 - Sentimental Journey. Doris became the US forces sweetheart in these latter years of the Second World War.
Four years later she auditioned for the silver screen and was cast with Oscar Levant in Romance on the High Seas. It was Levant who was later to quip ,'I knew Doris Day before she became a virgin'.
Romance on the High Seas was her first film - fourth on the billing but with one wonderful song by Sammy Cahn and Jule Styne - It's Magic . Doris was on her way to box office success.
Doris Day was, throughout the 50s and 60s, the queen of the rom-com(before we even knew what a rom-com was!) In all she made 39 films. Sometimes she tried to shake off her all-American-girl-next- door image with more serious roles: In Storm Warning she plays a woman married to a member of the Ku Klux Klan. She worked with Alfred Hitchcock in The Man Who Knew Too Much - though she's more remembered for the ditty Que Sera, Sera(Whatever Will Be Will Be) than her acting performance. Doris can count among her leading men the likes of Frank Sinatra(Young at Heart), Clark Gable(Teacher's Pet), Cary Grant(That Touch of Mink), Rock Hudson(Pillow Talk; Lover Come back; Send Me No Flowers), Ronald Reagan(The Winning Team), James Stewart(The Man Who Knew Too Much), Kirk Douglas(Young Man with a Horn), Gordon McCrae,(On Moonlight Bay; By the Light of the Silvery Moon; Tea for Two; The West Point Story; Starlift), James Cagney (Love Me or Leave Me), John Raitt(The Pajama Game) and Howard Keel(Calamity Jane).
In the 1970s with her screen career in decline she became a tv star in the States with her own sit com - The Doris Day Show. And despite her retirement in 1975 to devote her life to animal welfare she had a hit record in 2011 with a release of 20 never heard before songs -which made her the oldest artist ever at 87 to have an album in the UK top ten.
In tonight's show Clare Teal is joined by Matthew Ford and AJ Brown to recall some of the great Doris songs from her fabulous career. Mike Reed conducts the BBC Concert Orchestra and the selection includes It's Magic, Love Me or Leave Me, Perhaps Perhaps, Perhaps, Move Over Darling and, from Calamity Jane , Secret Love.
During the interval another chance to an interview from the Radio 2 archives - Michael Ball in conversation with the lady herself - Doris Day. The recording dates from the release of Doris' last album in August 2011.
The programme was first broadcast in April 2014.
Last on
Music Played
Friday Night is Doris Day

BBC Concert Orchestra CB Mike Reed

HIGH ADVENTURE

BBC Concert Orchestra CB Mike Reed

Calamity Jane - Overture

Clare Teal/BBC Concert Orchestra CB Mike Reed

IT'S MAGIC

Matthew Ford/BBC Concert Orchestra CB Mike Reed

I HAVE DREAMED

Clare Teal/BBC Concert Orchestra CB Mike Reed

SENTIMENTAL JOURNEY

AJ BROWN/BBC CONCERT ORCHESTRA CB MIKE REED

SOMEONE TO WATCH OVER ME

Clare Teal/Matthew Ford/BBC Concert Orchestra CB Mike Reed

YOU MY LOVE

Clare Teal/BBC Concert Orchestra CB Mike Reed

PERHAPS PERHAPS PERHAPS

Clare Teal/BBC Concert Orchestra CB Mike Reed

QUE SERA SERA

BBC Concert Orchestra CB Mike Reed

OVERTURE - THE PAJAMA GAME

BBC Concert Orchestra CB Mike Reed

ANNIE GET YOUR GUN OVERTURE

Clare Teal/Matthew Ford/BBC Concert Orchestra CB Mike Reed

NO TWO PEOPLE

AJ BROWN/BBC CONCERT ORCHESTRA CB MIKE REED

I'M BEGINNING TO SEE THE LIGH

Matthew Ford/BBC Concert Orchestra CB Mike Reed

Cheek To Cheek

Clare Teal/BBC Concert Orchestra CB Mike Reed

LITTLE GIRL BLUE

Clare Teal/Rhythm Section

CLOSE YOUR EYES

BBC Concert Orchestra CB Mike Reed

I LOVE PARIS

AJ BROWN/BBC CONCERT ORCHESTRA CB MIKE REED

ONE FOR MY BABY

Matthew Ford/BBC Concert Orchestra CB Mike Reed

IT ALL DEPENDS ON YOU

Clare Teal/BBC Concert Orchestra CB Mike Reed

I'LL NEVER STOP LOVING YOU

Clare Teal/Rhythm Section

MOVE OVER DARLING

Clare Teal/BBC Concert Orchestra CB Mike Reed

SECRET LOVE

BBC Concert Orchestra CB Mike Reed

HIGH ADVENTURE
Credit
| Role | Contributor |
| --- | --- |
| Performer | BBC Concert Orchestra |
Broadcasts