Main content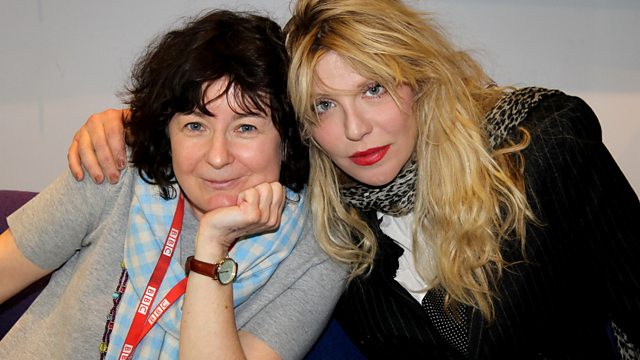 Courtney Love; game changing politics; Lauren Owen
Jane Garvey talks to Courtney Love. Plus, Sarah Wollaston and Emma Burnell discuss whether Margaret Thatcher was a game changer, and who's doing what to change politics today.
Courtney Love is back with a new single and will be touring Britain next month. Since her band Hole first came to fame in the early 1990s, Courtney Love has been a controversial and striking figure. She's known, of course, as the widow of Nirvana's Kurt Cobain. But as she approaches 50, has the former wild child grown up? She talks to Jane about her life, her music and what's next.
Lauren Owen's debut novel The Quick is a Gothic romp through Victorian London, sinister gentlemen's clubs and a decaying Yorkshire manor house. The 28-year-old writer, who has received accolades from Hilary Mantel and Kate Atkinson, spent her teenage years honing her skills on Harry Potter fan fiction sites and joins Jane to talk about her fascination with the supernatural.
81-year-old Pauline Oliveros is an American improvisor, accordionist and composer who is considered a pioneer of electronic classical music in 20th century America. This evening she will direct a real-time improvised performance linking musicians in Stanford (California), Troy (New York) and Montreal - her first from the UK with the Birmingham Conservatoire.
As Britain's only female Prime Minister, Baroness Thatcher who died nearly a year ago, achieved a record that looks unlikely to be beaten in the near future. But was she a political game changer? Conservative MP Sarah Wollaston and Labour activist and commentator Emma Burnell join Jane Garvey to talk about how far Margaret Thatcher altered the political landscape. With the reveal of Woman's Hour's Power List 2014 just a week away, they'll also discuss who's doing what to game change politics today, not just to get more women elected but who's helping foster a political culture that people really want to engage with.
Clips

Chapters
Courtney Love

The often controversial singer talks to Jane about her life and music

Duration: 13:58

The Quick

Jane talks to Lauren Jones about her first novel and her interest in the supernatural

Duration: 08:00

Composer Pauline Oliveros

The musical pioneer on fifty years of boundary breaking music-making

Duration: 07:30

Was Britain's only female PM Margaret Thatcher a political Game Changer?

How did she change the political landscape and who are today's political gamechangers?

Duration: 12:15

Courtney Love

Courtney Love is back with a new single and will be touring Britain next month. Since her band, Hole first came to fame in the early 1990's, Courtney Love has been a controversial and striking figure. She's known, of course, as the widow of Nirvana's Kurt Cobain. But as she approaches 50, has the former wild child grown up? She talks to Jane about her life, her music and what's next. 

 

Courtney Love's UK tour opens on May 11th at the Shepherds Bush Empire and continues to May 20th. This will be her first British tour since 2010. 

The Quick

Lauren Owen's debut novel The Quick is a Gothic romp through Victorian London, sinister gentlemen's clubs and a decaying Yorkshire manor house.  The twenty-eight year old writer, who has received accolades from Hilary Mantel and Kate Atkinson, spent her teenage years honing her skills on Harry Potter fan fiction sites and joins Jane to talk about her fascination with the supernatural.

 

The Quick is out on Thursday 3rd April and is published by Jonathan Cape.

Composer Pauline Oliveros

 Pauline Oliveros is an American improvisor, accordionist and composer who is considered a pioneer of electronic classical music in 20th century America. At 81 years old, her career spans some fifty years of boundary breaking music-making, and she has been the recipient of numerous awards. This evening she will perform a real-time improvised performance linking musicians in Stanford (California), Troy (New York) and Montreal. This will be the first performance of this kind in the UK at the Birmingham Conservatoire.

The performance forms part of Frontiers: Extraordinary Music from Downtown New York & Birmingham, a major festival of music presented by Birmingham Conservatoire and Third Ear.

Was Britain's only female PM Margaret Thatcher a political Game Changer?

As Britain's only female Prime Minister, Baroness Thatcher who died nearly a year ago, achieved a record that looks unlikely to be beaten in the near future. But was she a political game changer? Conservative MP Sarah Wollaston and Labour activist and commentator Emma Burnell join Jane Garvey to talk about how far Margaret Thatcher altered the political landscape. With the reveal of Woman's Hour's Power List 2014 just a week away, they'll also discuss who's doing what to game change politics today, not just to get more women elected but who's helping foster a political culture that people really want to engage with.

Credits

| Role | Contributor |
| --- | --- |
| Presenter | Jane Garvey |
| Interviewed Guest | Courtney Love |
| Interviewed Guest | Lauren Owen |
| Interviewed Guest | Sarah Wollaston |
| Interviewed Guest | Emma Burnell |
| Producer | Lucinda Montefiore |