Main content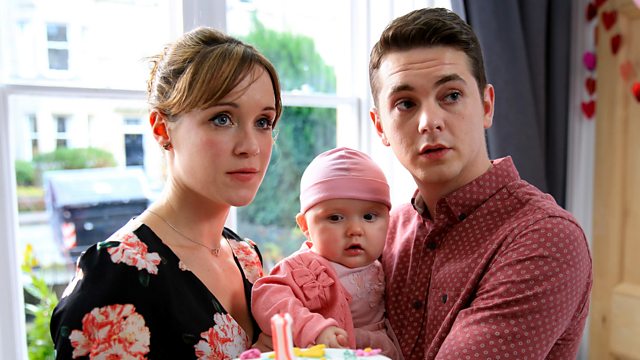 Comedy series about two teenagers coming to terms with parenthood. Laura finally decides to move on just as Jamie is having second thoughts about Isabel.
Jamie has realised he can't string Isabel along anymore and tries to find a way to end their relationship, but she's not taking no for an answer.
Laura is trying to move on with her life, applying for university courses and planning Emily's first birthday party. But Janet, depressed about the divorce, is really dragging down the party mood.
Sandra's sister Evelyn offers to help Sandra out financially. Sandra sees it as a way to get out of the caravan site, but it soon becomes clear that Evelyn will be attaching conditions to her generosity, all of which involve sticking it to Keith.
Keith's love affair with the caravan park is beginning to wane. His job as deputy caretaker takes a turn for the worse as the winter weather sets in and the park's elderly residents start dying off.
Alan is still dating his divorce lawyer Sally, who has invited him to meet her teenage son Luke. Damaged by his mother's negligent parenting and endless dating, Luke decides to put Alan through the wringer.
Alan bails out and escapes to Laura's flat. As everyone arrives for Emily's party, he and Janet agree they are not quite ready to let go of their marriage yet. It also becomes clear that Jamie and Laura aren't quite ready to let go either.
More episodes
Next
You are at the last episode
Credits
| Role | Contributor |
| --- | --- |
| Jamie Prince | Sean Verey |
| Laura Derbyshire | Scarlett Alice Johnson |
| Mike Fenton | Dylan Edwards |
| Beth Mitchell | Yasmin Paige |
| Janet Derbyshire | Anna Chancellor |
| Danielle Reeves | Emer Kenny |
| Keith Prince | Ben Crompton |
| Nigel | Tim Plester |
| Isabel | Miranda Hennessy |
| Sandra Prince | Bronagh Gallagher |
| Alan Derbyshire | Angus Deayton |
| Niall | Kenneth Collard |
| Sally | Amanda Donohoe |
| Evelyn | Pauline McLynn |
| Luke | Tom Spink |
| Director | Natalie Bailey |
| Producer | Catherine Gosling Fuller |
| Writer | Chris Reddy |
| Executive Producer | Lucy Robinson |
| Executive Producer | Mark Freeland |