Main content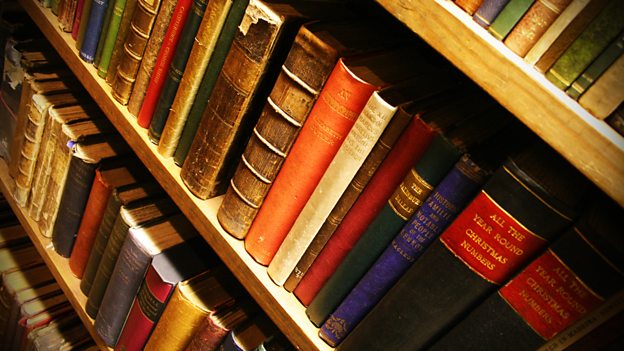 Gabrielle Zevin - The Collected Works of AJ Fikry
Story set in a quirky independent bookshop about the power of books and reading to transform lives. Read by Madeleine Potter and Hari Dhillon
Available now
There are currently no available episodes
Supporting Content
Author Gabrielle Zevin talks about the power of books

The Collected Works of A.J. Fikry is a wonderful story about the power of reading set in a charming and quirky bookshop.  Can you tell us what inspired you to write a novel about books, and where we go to seek them out?

Whenever I visit a town, the first place people want to tell me about is their bookstore. Maybe it's because I'm a novelist, but I think it's also because, for many people, the bookstore represents the "good" in a place. It signifies that the people who live there care about more than just survival: food, clothing, etc. A person who enters a bookstore does so because she wishes to somehow expand her intellectual/emotional life or the intellectual/emotional life of someone she knows. Choosing to walk through the doors of a bookstore says something about a person. And, in The Collected Works of A.J. Fikry, I think it says something positive about Maya's mother that she chooses a bookstore as the place to leave her daughter.

Beyond that, we are at a moment in time where we are grappling with issues of print v. digital, shopping locally v. online, and in the face of this, I wanted to write a—I hope entertaining—book that talked about why bookstores matter.

 

Which books made you want to become a writer?

When I was a child, I loved orphan stories and especially books where free-spirited young women became writers or storytellers. I think of L. M. Montgomery's Anne of Green Gables, Frances Hodgson Burnett's A Little Princess, Betty Smith's A Tree Grows in Brooklyn, Charlotte Bronte's Jane Eyre, or Louis May Alcott's Little Women. I still think of a particular moment in A Little Princess: when Sara Crewe has been stripped of her money and status, she calls upon the power of storytelling to transform her situation. I believe the stories we tell about ourselves have the power to shape our lives, and this is definitely a theme in The Collected Works of A.J. Fikry, too.

When I was a bit older, I loved reading novels about very capable women who were thwarted in their personal expression because of the times or society in which they lived. Books like Revolutionary Road, The House of Mirth, The Portrait of a Lady, or The Awakening. I loved The House of Mirth, but I was terrified of ending up like poor Lily Bart, who says, "I am a very useless person."

 

If you were to create a collection like A.J's what would be in it and why?

Ironically, I am terrible at choosing favourites! It was so much easier  to choose favourites for someone else! I wish I had a clever answer to this question, but I don't. My favourites change from year to year. Something I find interesting about favourites – when they are other people's – is how much they say about them. Even when people lie about favourite books, the lie tells you something. But I still haven't answered the question… I'm avoiding it. Can't you tell? Okay, my favourite children's book is From the Mixed Up Files of Ms. Basil E. Frankweiler because I always wanted to spend the night in the Metropolitan Museum of Art. Scratch that. I think my favourite children's book is Charlotte's Web because it's a story about a writer, and sometimes, I think I relate to Charlotte the spider more than any character in literature. A book whose last lines I love is You Can't Go Home Again by Tom Wolfe. I say this, knowing I will never read this doorstopper again. It's over 300,000 words, and I wanted to quit reading it about a million times. I'm glad I didn't because its last lines are spectacularly beautiful. I also love the last lines of Ralph Ellison's Invisible Man because of the way they magically open up the novel to include the reader in the experience of the book. Thomas Pynchon's Gravity's Rainbow, Vikram Seth's An Equal Music, and Toni Morrison's Song of Solomon do that, too. When I'm coming to the end of writing a book, I often think of these books. To flip in the opposite direction, my favourite first line of a book is probably The Lover by Marguerite Duras. My favourite book to recommend is Old School by Tobias Wolfe. It's about a boys' school where they enter contests to win audiences with famous writers, and I think it's just about perfect. I kind of have a thing for boarding school novels. I also loved Kazuo Ishiguro's Never Let Me Go. For a time, I used to tell people my favorite book was Love in the Time of Cholera but I suspect it never truly was. Same for The Unbearable Lightness of Being. My favourite book about writers is either John Irving's A Widow for One Year or The Imperfectionists by Tom Rachmann. A book I started reading again as soon as I finished it is Then We Came to the End by Joshua Ferris. An out-of-print book that I love without quite knowing why is Spend It Foolishly by Mary Gallagher. It's about a girl from Ohio who takes a holiday to France and decides to never go back home. I lent the book to my grandmother. She got sick (eventually dying) and never returned it to me. For a long time, I didn't have another copy until I chanced upon it at a used bookstore. I was so happy to see it again.

 

Can you tell us about a book (or the books) that evokes particular memories for you?

I remember reading Lolita for the first time.  I was nineteen, and I had a summer internship at the New York City Department of Transportation, making videos about subjects like pothole repair. I remember playing hooky from work so that I could read the rest of Lolita. I remember how hot that apartment was because it didn't have air conditioning, and I remember how the bed was a futon and it was like lying on a bag of flour, and I remember reading the book and sweating and thinking to myself that maybe I wouldn't ever go back to that job. Maybe I'd just stay home for the rest of the summer and finish Lolita and once that was done, I'd read everything else Nabokov had ever written. And incidentally, that's what I did.

 

Do you have a favourite book store, and can you tell us what is special about it?

How can I pick just one? I have a soft spot for the Grollier Poetry Bookshop in Cambridge, MA. I love poetry and I like living in a world where a poetry bookshop can exist. There also used to be a tiny used bookstore in NYC that was open all night. The bookstore didn't have a name, but I patronized it many times. Sometimes, you need Alice Munro or Evelyn Waugh at 3 in the morning, you know?