Main content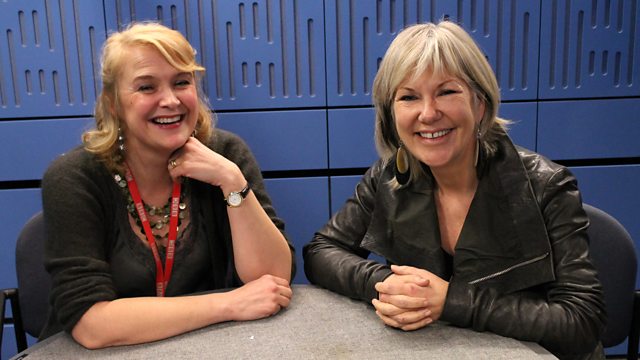 Live at Southbank Centre: Sarah Walker with Jude Kelly
With Sarah Walker. CD of the Week: Brahms: Hungarian Dances; Brainteaser; Guest: Southbank Centre artistic director Jude Kelly; Essential Choice: Verdi: Requiem (excerpts).
Live at Southbank Centre with Sarah Walker and her guest, the centre's Artistic Director, Jude Kelly.
9am
A selection of music, including the Essential CD of the Week: Brahms - Hungarian Dances - The Labeques, DECCA. We also have our daily brainteaser at 9.30.
10am
Artists of the Week: a selection of recordings from Southbank Centre's four resident orchestras - London Philharmonic, Philharmonia, Orchestra of the Age of Enlightenment and the London Sinfonietta.
10.30am
Sarah's guest this week is Southbank Centre's current Artistic Director, Jude Kelly OBE. Jude has directed over 100 productions, including the Royal Shakespeare Company, the National Theatre, Chichester Festival Theatre, the English National Opera, at the Châtelet in Paris and in the West End. Among her many successes as a director, her production of Singin' in the Rain transferred twice to the Royal National Theatre and was awarded the Laurence Olivier Award for Outstanding Musical Production in 2001. She directed Sir Ian McKellen in The Seagull and The Tempest, Patrick Stewart in Othello, Dawn French in When We Are Married, and the English National Opera in The Elixir of Love and On the Town. More recently, she directed several works by Spanish flamenco guitarist Paco Peña, as well as a production of Bernstein's Mass at the Royal Festival Hall. In 2006, Jude was named No. 8 in "Theatreland's top 100 players" by The Independent newspaper, and in 2013 she was assessed as one of the 100 most powerful women in the UK by Woman's Hour on BBC Radio 4.
11am
Sarah's Essential Choice
Verdi
Requiem e Kyrie; Sequenza - Dies irae (Messa da Requiem)
Angela Gheorghiu (soprano)
Daniela Barcellona (mezzo-soprano)
Saraherto Alagna (tenor)
Julian Konstantinov (bass)
Eric Ericson Chamber Choir
Swedish Radio Chorus
Orfeon Donostiarra
Berlin Philharmonic Orchestra
Claudio Abbado (conductor)
Radio 3 is broadcasting live from a pop-up studio at London's Southbank Centre all day every day for the last two weeks of March. If you're in the area, visit the Radio 3 studio and performance space in the Royal Festival Hall Riverside Café to listen to Radio 3, ask questions and enjoy the special events.
Today's Brainteaser Answer - Who's Singing?
Lohengrin was singing.
The music was:
Wagner
"Mein lieber Schwann" (Lohengrin)
Jonas Kaufmann (tenor)
Mahler Chamber Orchestra
Claudio Abbado (conductor)
DG 478 1463