Main content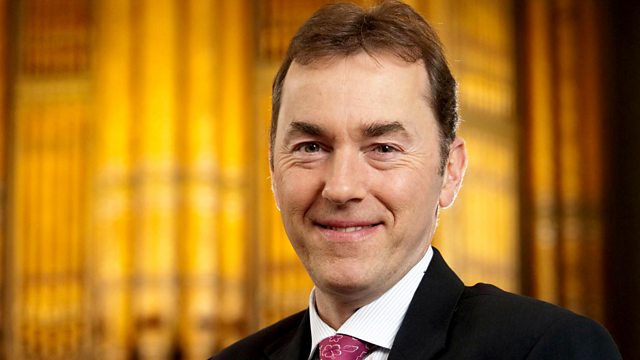 Live at Southbank Centre: Thomas Trotter - Bach, Schuman, Weir, Mozart, Reubke
Live from the Royal Festival Hall in London, Thomas Trotter performs Bach, Schumann, Weir, Mozart and Reubke, marking the re-opening of the venue's retored organ.
Live from Royal Festival Hall, London
Presented by Martin Handley
Continuing Radio 3's month-long South Bank Centre residency, and celebrating the re-opening of the restored Royal Festival Hall organ, Thomas Trotter plays a selection of music from Bach to today.
Johann Sebastian Bach: Toccata, Adagio and Fugue in C (BWV 564)
Robert Schumann: Three Studies: No.3 in E; No.4 in A flat; No.5 in B minor (Studies for Pedal Piano, Op.56)
Judith Weir: The Wild Reeds (London premiere)
Wolfgang Amadeus Mozart: Fantasie in F minor K608
8.20 Interval
8.40
Julius Reubke: Sonata in C minor on Psalm 94
Thomas Trotter (organ)
When first opened in 1953 the organ of the Royal Festival Hall, 8000-pipes strong, was revolutionary for attempting to accommodate in a single instrument the timbres and sonorities for every period of the organ repertoire - from the Renaissance to the present day. Tonight the English organ virtuoso Thomas Trotter shows off the RFH organ in 300 years of organ literature. His programme ranges from one of Bach's masterworks for the instrument to a recent piece by Scottish composer Judith Weir. En route, he plays the Fantasia in F minor by a composer who was an enthusiast for the organ and christened it 'The King of Instruments': Mozart; three studies by Schumann; and - to conclude - one of the 19th century's mightiest works for the instrument: Julius Reubke's Sonata - acknowledged since its premiere in 1857 as a virtuoso pinnacle of the organ repertoire.
Radio 3 is broadcasting live from a pop-up studio at London's Southbank Centre all day every day for the last two weeks of March. If you're in the area, visit the Radio 3 studio and performance space in the Royal Festival Hall Riverside Café to listen to Radio 3, ask questions and enjoy the special events.