Main content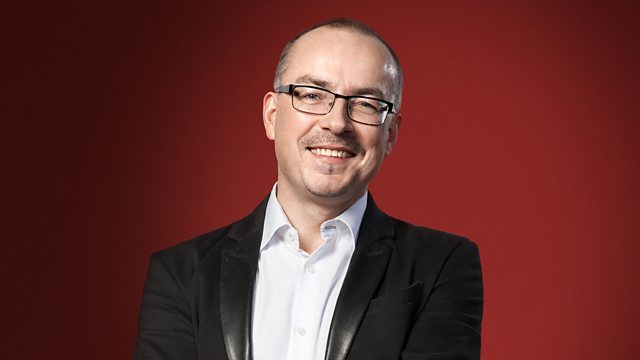 Live at Southbank Centre
With Andrew McGregor. Including Building a Library: Mozart: Coronation Mass; bass-baritone Gerald Finley; Disc of the Week: Mozart: Piano Concertos Nos 20 and 25.
09.05
L' Ascension - 4 meditations symphoniques, transc. for organ
Performers: Gillian Weir
Composers: Olivier Messiaen (1908 - 1992)
Album Title: ELOQUENCE  481-0793
Eine Alpensinfonie Op.64
Performers: Saito Kinen Orchestra, Daniel Harding
Composers: Richard Strauss (1864 – 1949)
Album Title:  DECCA 478 6422
Symphony no. 3 in B minor Op.42 (Ilya Murometz)
Performers: Buffalo Philharmonic Orchestra, JoAnn Falletta
Composers: Reinhold Gliere (1875 - 1956)
Album Title: NAXOS 8.573161
Symphony no. 4 in E minor Op.98
Performers: London Philharmonic Orchestra, Vladimir Jurowski
Composers: Johannes Brahms (1833 - 1897)
Album Title: LPO 0075
Building a Library
Jeremy Summerly joins Andrew live at Southbank Centre to review recordings of Mozart's Coronation Mass and makes a recommendation.
MOZART: Mass in C Major K317 'Coronation'
c/w MOZART: Exsultate jubilate K165; Vesperae solennes de confessore in C K339
Barbara Bonney (soprano), Jamie MacDougall (tenor), The English Concert and Choir, Trevor Pinnock (conductor)
ARCHIV 4453532 (CD and download)
Interview
Andrew interviews Canadian bass-baritone Gerald Finley about his two newest recordings: world premieres of Shostakovich with orchestra, and Schubert's Winterreise, with pianist Julius Drake.
New Releases
Gillian Moore (Southbank Centre Head of Classical Music) reviews recent Mahler recordings; Songs from Christoph Pregardien and Janina Baechle, and the Resurrection Symphony conducted by Lorin Maazel, Benjamin Zander and Gilbert Kaplan.
MAHLER: Des Knaben Wunderhorn, Lieder eines fahrenden Gesellen
RIHM: 4 Gedichte fur Singstimme & Orchester
Christoph Pregardien (tenor), Bochumer Symphoniker, Steven Sloane (conductor)
CPO 777 675-2 (CD)
MAHLER :  Des Knaben Wunderhorn (selection), Lieder eines fahrenden Gesellen, Ruckert Lieder
Janina Baechle (mezzo-soprano), Markus Hadulla (piano)
MAR 1809 2 (CD)
MAHLER: Symphony no.2 in C minor  "Resurrection"
Miah Persson (soprano), Sarah Connolly (mezzo-soprano), Philharmonia Chorus, Philharmonia Orchestra, Benjamin Zander (conductor)
LINN CKD452 (2 hybrid SACDs)
MAHLER: Symphony no.2 in C minor  "Resurrection" arr. Kaplan and R Mathes for small orchestra
Marlis Peterson (soprano), Janina Baechle (mezzo-soprano), Wiener Singakademie, Wiener Kammerorchester, Gilbert Kaplan (conductor)
AVIE AV 2290 (2CD)
MAHLER: Symphony no.2 in C minor  "Resurrection"
Sally Matthews (soprano), Michelle DeYoung (mezzo-soprano), BBC Symphony Chorus, Philharmonia Orchestra, Lorin Maazel (conductor)
SIGNUM CLASSICS SIGCD360 (3CD)
Disc of the Week
Concerto no. 20 in D minor K.466 and no.25 in C major K.503 for piano and orchestra
Performers: Martha Argerich, Orchestra Mozart, Claudio Abbado
Composers: Wolfgang Amadeus Mozart (1756 - 1791)
Album Title: DG 479 1033