Main content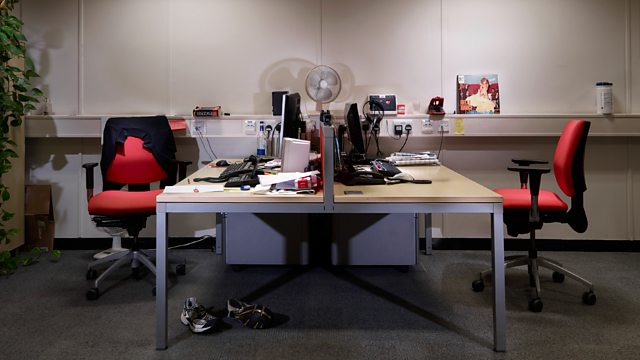 Workspace Revolution
Nick Baker explores co-working spaces, rent-a-workstation complexes that are bridging the gap between home-working and rented offices. Is this trend a work revolution?
They're called co-working spaces. Open space, rent-a-workstation complexes for sole traders, freelancers and micro businesses of all kinds. There are more than 5000 operating worldwide and the sector doubled in size last year. Nick Baker asks, is this a workspace revolution?
From London to Berlin and from Bridgend to Singapore, co-working is the choice for more and more people. Nick visits the Hub in London, Indycube in Wales and Betahaus in Berlin, to see how these spaces operate. A high proportion of co-workers are in digital media. But there are also architects, jewellery traders and charity workers. For a monthly fee they get a desk, internet, light, heat and access to facilities like meeting rooms, cafes and even ping pong tables and cocktail bars. Beyond the practicalities the principal draw here are the huge networking opportunities. The home-working revolution didn't take off in the way we expected at the beginning of the century. Now cities round the world need regeneration for their old buildings, new technology is extending opportunities and more people have a right to ask for flexible working. Co-working has found a niche.
Behind each space are social entrepreneurs - modern philanthropists looking for a modest return. Many aren't interested in developing these spaces into chains though. They genuinely want to change the way people work. Others, mostly in the digital sector, are encouraging a profit oriented future for these spaces.
In this programme Nick asks is co-working a true workspace revolution? Or is this a kind of "social engineering" which only interests workers in "approved" occupations? Does ethos limit growth? And, most importantly, is co-working offering a brighter working future?
Produced by Sarah Cuddon
A Testbed production for BBC Radio 4.
Last on
Broadcast