Main content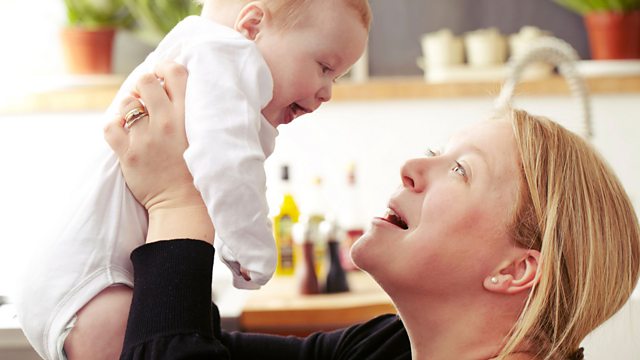 Why it's important to bond with your baby
Bonding with your baby - a new report says four in ten of all children are not forming the right attachments with their parents. Plus why men can feel the beat but can't dance!
Bonding with your baby. A new report says 4 in ten of all children are not forming the right attachments with their parents which means these children are more at risk of doing less well at school and are less likely to be successful in life.
The biggest study ever done into the psychology of music has found women have a lower beat perception than men. So if men can feel the beat more, why are they so reluctant on the dance floor and why women are more likely to be attracted to a good dancer?
We hear from Dr Julie Gottlieb about the feminine side of shuttle diplomacy by remembering the visit of Gertrud Scholtz-Klink,the leader of the National Socialist Women's League, to London 75 years ago in the run up to war. Hitler said Gertrud was his idea of the 'perfect woman.' We discuss why women have been left out of the appeasement story.
And we speak to the man who has made a programme for the BBC's World Service documenting the many social and cultural reasons why gender inequality exists in countries where the law and education treats both sexes equally. Ros Atkins spoke to teenage girls in London, Lesotho, Jordan and Iceland about their experiences.
Last on
Chapters
Bonding With Your Baby

Sophie Moullin of the Sutton Trust, & child & adolescent psychotherapist Judy Williams

Duration: 11:14

Dad Dancing

Dance psychologist Peter Lovatt and salsa instructor Tina Thaiya discuss

Duration: 10:11

Gertrud Scholtz-Klink

Dr Julie V Gottlieb, Senior Lecturer in Modern History at Sheffield University discusses

Duration: 06:09

Sexism In Different Countries

Ros Atkins - World Service, & Madeleine Rees -Women's Intern'l League for Peace &Freedom

Duration: 12:25

Men's Hour

Presenter Tim Samuels on the new series of Men's Hour about to start on BBC 5 Live

Duration: 03:01

Why it's important to bond with your baby

As Philip Larkin said 'They 'mess'  you up, your mum and dad. They may not mean to, but they do.' A new report from The Sutton Trust, an organisation that aims to improve social mobility through education, says that four of every ten children are not getting the right parenting to help them succeed in life.  They say that not enough babies are forming the right kind of attachment to their parents and they are calling for more support for parents both before and after birth.  Jenni speaks to Sophie Moullin, one of the authors of the report, and Judy Williams, a child and adolescent psychotherapist.

Dad dancing

The largest ever study in music psychology conducted at Goldsmith's University in London has  revealed that more men than women recognise the beat  accurately.  The findings came as a genuine surprise to the research team behind the project .  A popularly held   stereotype  of men enjoying themselves  down the local disco is   'dad dancing' – it's the comic  label given to middle aged men whose  partners might well  prefer they left   their moves to the groove  firmly back at home.  Yet, in the light of the new research, could it be many men  are capable of being better dancers than they dare think and if so, what's holding them back ? Dance psychologist , Peter Lovatt and salsa instructor, Tina Thaiya, discuss with Jenni.

Gertrud Scholtz-Klink

On the 7th March 1939,  Gertrud Scholtz-Klink, a woman described by Hitler as the 'perfect Nazi woman' came to Britain.  As leader of the the leader of the German National Socialist Women's League her visit was at the invitation of  Prunella Stack, the head of the Women's League of Health and Beauty. On the face of it Gertrud Scholtz-Klink's visit was to study "social conditions".  However it illustrates the often overlooked story of women's role in appeasement and their attempts at international reconciliation and peace at any price.  Dr Julie V. Gottlieb, Senior Lecturer in Modern History at the University of Sheffield explains the significance of Gertrud Scholtz-Klink's visit to Britain so soon before the outbreak of World War Two.

Women's experiences of sexism in different countries

Despite most countries legislating against gender discrimination, around the world young women do not have the same opportunities as men. As father to two young daughters, BBC presenter Ros Atkins wants to know how they will be treated differently as they grow up simply because of their gender. What opportunities will they miss out on because they are girls?  Ros has made a programme for BBC's Freedom Season and in his programme he meets four teenage girls - all 15 or 16 - growing up in Iceland, Jordan, the UK and Lesotho.

Men's Hour

Men's Hour on BBC Radio 5 Live calls itself "The men's magazine for the modern man" and it's about to start a new run of programmes this weekend.  The presenter Tim Samuels joins Jenni to talk about what's in store for listeners.

Credits

| Role | Contributor |
| --- | --- |
| Presenter | Jenni Murray |
| Interviewed Guest | Julie Gottlieb |
| Interviewed Guest | Ros Atkins |

Broadcast

Podcast

Women's voices and women's lives - topical conversations to inform, challenge and inspire.