Main content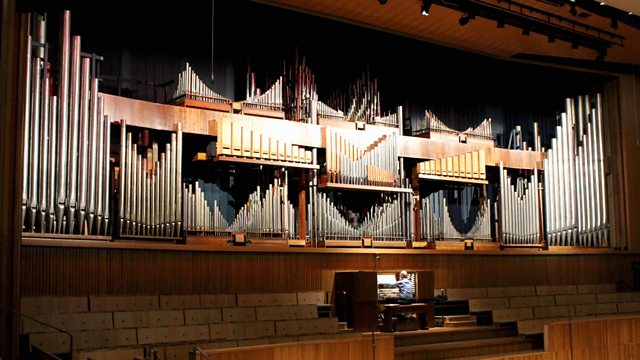 Live at Southbank Centre: John Scott
John Scott plays music from the Baroque to our own era on the restored Royal Festival Hall organ. With Marchand, Buxtehude, Bach, Mozart, Dupre and Liszt.
Live from Royal Festival Hall, London
Presented by Louise Fryer
Continuing Radio 3's residency at Southbank Centre, celebrating the re-opening of the restored Royal Festival Hall organ, John Scott plays a selection of music from the Baroque to our own era.
Marchand: Dialogue in C
Buxtehude: Chorale prelude Komm, heiliger Geist (BuxWV199)
J S Bach: Prelude and Fugue in flat major (BWV 552)
Mozart: Adagio and Allegro in F minor (K 594)
Dupré: Esquisse in E minor( Op.41 no 2)
Dupré: Esquisse in B flat minor (Op.41 no 3)
8.25 Interval
8.45
Liszt: Fantasia and Fugue on 'Ad nos, ad salutarem undam'
John Scott (organ)
When first installed in 1953, the Royal Festival Hall's great 8000-pipe organ attracted admiration and opprobrium in equal measure. Controversially, it aimed - for the first time in a major British instrument - to be able convincingly to recreate the sounds and timbres required for every period and school of organ composition, and drew inspiration from many famous European instruments of the past. John Scott, formerly Organist of St Paul's Cathedral, and now Director of Music at St Thomas', Fifth Avenue in New York, demonstrates the RFH organ's versatility in music from 17th-century France to our own day.
Radio 3 is broadcasting live from a pop-up studio at London's Southbank Centre all day every day for the last two weeks of March. If you're in the area, visit the Radio 3 studio and performance space in the Royal Festival Hall Riverside Café to listen to Radio 3, ask questions and enjoy the special events.