Main content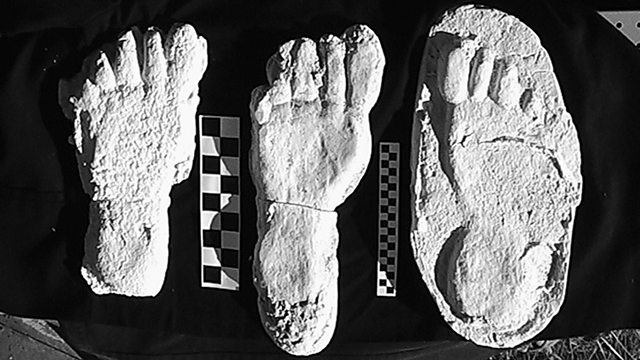 Invited to attend the Beachfoot Camp of 2013, the annual gathering of Bigfoot researchers, Matthew Hill hears of intriguing encounters and has a confounding experience himself.
A "Nature" with a bit of a difference. Instead of looking at rare species and conservation measures, this week's programme focuses on perhaps the most elusive (if not non-existent) creature of all - Bigfoot, the supposed ape like or hominid creature that people believe lives in the North West of the United States. With reports of sightings of strange man-like beasts that go back as far as 1920 if not stretching back into the 18th century, and the 1967 famous, if not infamous, film shot at Bluff Creek in California, there's as much interest in finding evidence of Bigfoot today as there's ever been amongst those convinced of its existence. But rebuffs of misidentification, assumption and hoaxes abound.
Invited to the annual Beachfoot Camp 2013, BBC journalist Matthew Hill hears of Bigfoot encounters from people who've had experiences across decades and heads out with Bigfoot researchers with all the latest technology in their quest to be the ones to capture that one piece of vital indisputable evidence. He also has a confounding experience that leaves him unsure what to think and tries to understand what it is in the human psyche that needs to hold to the belief that these man-like monsters exist.
Produced by Sheena Duncan.