Main content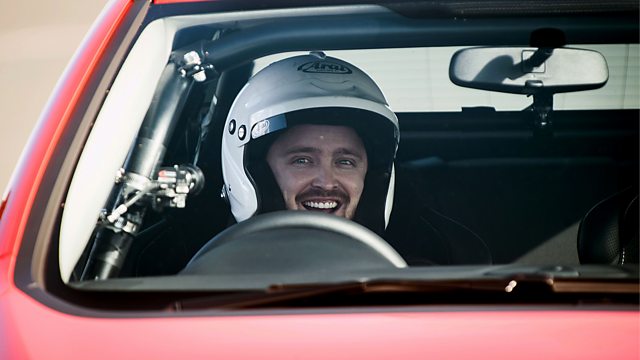 Richard Hammond is in Abu Dhabi to drive a new hybrid sports car from Porsche. Jeremy Clarkson judges a hot hatchback showdown between a Volkswagen Golf GTI and the BMW M135i.
Richard Hammond is in Abu Dhabi to drive a new hybrid sports car from Porsche. It is called the 918 and it combines a 4.6-litre V8 petrol engine with a pair of electric motors to create an 886 horsepower, four-wheel drive supercar sensation. Hammond takes a nocturnal trip to the famous Yas Marina Grand Prix to see if the 918 has what it takes to beat McLaren's hybrid hypercar, the P1. Although the two cars have yet to go head to head, there is much riding on the outcome since if the German machine proves to be faster around the Top Gear track than its British rival, Jeremy Clarkson has promised to change his name to Jennifer.
Also in this show, Clarkson and James May are tasked with shooting a public information film to promote safer cycling. Along the way, the pair create some hard-hitting imagery, take a 'fact-finding' ride around the streets of London, and present their film-making efforts to an expert panel featuring bigwigs from Westminster Council and Olympic gold medal-winning cycling legend Chris Boardman.
Elsewhere in the programme, Clarkson is also the judge for a hot hatchback showdown between the latest iteration of the legendary Volkswagen Golf GTI and a powerful, rear-wheel-drive pretender from BMW called the M135i.
Finally, there is an American in the Reasonably Priced Car as Aaron Paul, star of Breaking Bad and Need for Speed, tries his hand in the Astra out on the test track.
Clips

Music Played
Timings (where shown) are from the start of the programme in hours and minutes
00:00

Abel Korzeniowski

Clock Tick 

From the A Single Man soundtrack

00:02

UNKLE

Follow Me Down 

00:02

James Jandrisch 

The Cement Works 

00:02

Reinhold Heil

The Fiennes Hit

00:03

The Pigeon Detectives

Done In Secret 

00:04

The Last Shadow Puppets

The Age Of The Understatement 

00:05

UNKLE

Ever Rest (feat. Joel Cadbury)

00:06

Röyksopp

Vision One 

00:06

Roni Size / Reprazent

Brown Paper Bag

00:07

The Dust Brothers

Corporate World 

00:07

UNKLE

Natural Selection 

00:08

Battle

The Longest Time 

00:09

Cliff Martinez

We're Neighbours 

00:11

Ay-kherel 

Dyngylday 

00:11

Ay-kherel 

Dyngylday 

00:20

Daniel Seguin 

15 Years Later (Now And Forever) 

00:21

Steve Isles

A Gift For Stella 

00:24

Steve Isles

Coat Sellers 1 

00:24

David Holmes

Benedict Returns 

From the Oceans 13 soundtrack

00:26

The Dust Brothers

Corporate World 

00:29

Cliff Martinez

Bride Of Deluxe 

00:30

Steve Isles

The Councillor 

00:32

David Holmes

Kensington Chump 

From the Oceans 13 soundtrack

00:32

James Newton Howard

Back To The Unit 

From the Duplicity soundtrack

00:34

John Lennon

Imagine

00:36

Cliff Martinez

Bride Of Deluxe 

00:48

Hans Zimmer

&

James Newton Howard

Nycteris 

From the Batman Begins soundtrack

00:48

The Invisible

What Happened 

00:49

David Arnold

God Rest His Soul 

Performer: Michael Price.

From the Sherlock soundtrack

00:49

John Murphy

Tower Block 

From the 28 Days Later soundtrack

00:50

David Arnold

God Rest His Soul 

Performer: Michael Price.

From the Sherlock soundtrack

00:51

Hans Zimmer

Myotis (Myctis) 

Composer: James Newton Howard.

From the Batman Begins soundtrack

00:51

Depeche Mode

Long Time Lie 

00:53

John Murphy

Strobe (Tyler Barton Remix) 

Remix Artist: Tyler Barton.

00:54

Deadly Avenger

Reign 

00:54

City of Prague Philharmonic Orchestra

Welcome To Lunar Industries 

00:55

Depeche Mode

Child Inside 

00:55

David Arnold

East Wind 

Performer: Michael Price.

From the Sherlock soundtrack

00:56

David Arnold

Floating Dust 

Performer: Michael Price.

From the Sherlock soundtrack
Credits
| Role | Contributor |
| --- | --- |
| Presenter | Jeremy Clarkson |
| Presenter | Richard Hammond |
| Presenter | James May |
| Executive Producer | Andy Wilman |
| Participant | Aaron Paul |