Main content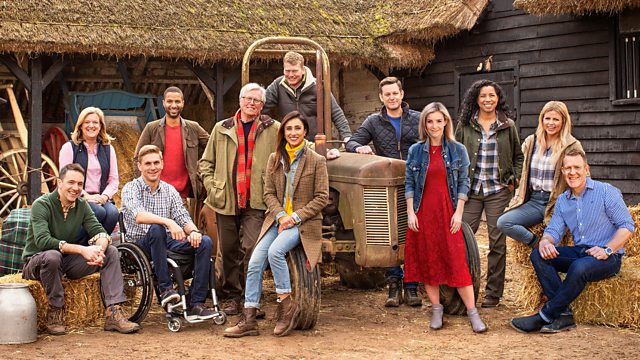 Kent
In Kent, Matt Baker island hops to Elmley Marshes on the Isle of Sheppey, Ellie Harrison explores Knole House in Sevenoaks and John Craven finds out about Kentish blue cheese.
The Countryfile team explores the coast and countryside of Kent. Matt Baker island hops to Elmley Marshes on the Isle of Sheppey. It is a peaceful place that has become a haven for wildlife. Out on the marshes, he meets the farmers managing the land with conservation in mind and joins wildlife enthusiasts out on a bird safari. Further inland, Ellie Harrison explores an ancestral pile being transformed on a grand scale. Knole has been a show home for many distinguished owners through the centuries but it was the Sackville family that made it their home for 300 years. Still partly a private home, a large part of the house is now managed by the National Trust. Ellie gets special access to rooms previously unseen where work is under way to repair and catalogue everything from photos to expensive objets d'art. John Craven finds out about a lesser-known Kent produce, Kentish blue cheese. He visits a dairy farm using its own milk for its cheese and learns the secrets to making a fine blue.
Helen Skelton is in the Wiltshire countryside. A place that has provided inspiration for artists, poets and writers for centuries. One of our most famous war poets, Siegfried Sassoon, chose to live in Wiltshire for the last 36 years of his life. Here he continued to write poetry and prose, motivated not by the horrors of war but by the beauty he found in the countryside.
Tom Heap discovers that there are hundreds of thousands of disused mines and mine shafts beneath the British countryside. They may be out of sight, but they are still causing problems on the surface - subsidence, water pollution and in extreme cases collapses that open up huge holes in the ground. Tom asks whether we should be doing more to find these old workings and make them safe.
The lost village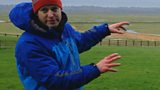 Matt Baker heads to the Isle of Sheppey, where Charles Dickens found inspiration for Great Expectations and where the shadow of Victorian industry can be seen in the ruins of Elmley village. Islander Ken Ingleton joins Matt on a 4x4 tour of what was left behind of Elmley after the Turkey cement works closed in 1902 and the community was deserted. 
Knole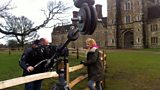 Ellie Harrison explores the many rooms and secrets of Knole, a country house dating back to the 15th Century which was once owned by the Archbishops of Canterbury and Henry VIII, and later by 13 generations of the Sackville family. Vital repairs to the outside are finishing up, so the National Trust are turning their attention to the inside, where once private rooms are being prepared to open to the public from 2015.  Ellie helps conservation volunteers document the contents and she hears from Robert Sackville-West, the 7th Baron Sackville, on how Knole left an indelible mark on his ancestor - the writer Vita Sackville-West.
Siegfried Sassoon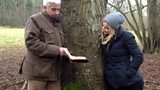 Siegfried Sassoon was a soldier and poet who made his name in WWI for his valour and verses.  But as the conflict progressed his poems reflected his anger and despair at so many lives cut short.  As Helen Skelton discovers, the man who had survived the battlefields found solace in the Wiltshire countryside.  She finds out how nature inspired Siegfried's poems and that he was rather fond of a game of cricket.  Helen also hears rare recordings of Siegfried reading some of his work. 
Find out more about Siegfried Sassoon
And you can find more WWI stories on the BBC website
Mine danger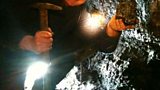 Our search for coal, lead, copper and a whole host of other useful materials has left a vast void beneath the British countryside.  It's estimated that there are more than 300,000 disused mines and shafts in the UK and some of them are still having an impact on our lives today.  Every year there are more than 300 mine shaft collapses and in recent weeks we've seen far more holes in the ground than usual because of the impact of the wet weather.  But old mines can also cause problems with subsidence and water pollution.  Tom Heaps finds out what's being done to ensure the safety of these disused workings and asks whether we should be doing more to find them. 
Kentish blue cheese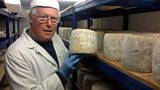 John Craven gets kitted out for some cheese-making on a family-run 250 acre farm. Dairyman Steve Reynolds and his Holstein Friesians provide the milk and, together with his wife Karen and their two sons, they make Kentish blue cheese. It's a small local business which each member of the family is passionate about and helps get the produce to market.
Elmley National Nature Reserve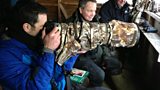 Elmley is the only national nature reserve run by a farming family. Matt hears from owner Philip Merricks, who is committed to both farming and conservation.  He then makes like the local birdlife and wades in to see first-hand how water is managed on the reserve and how this approach attracts so many birds.  A wet and windy trip to Elmley ends in one of the dry hides, the perfect place for photographers to take some fantastic snaps of our feathered friends.  
Find out more about Elmley National Nature Reserve
Sissinghurst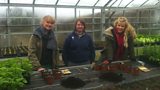 Ellie follows Vita Sackville-West's story to Sissinghurst, the hugely popular garden she co-created with her husband Harold Nicholson.  Although famed for her poetry, Vita was also known as a self-taught garden designer and her newspaper columns drew many visitors to see her colourful blooms and imaginative planting. Ellie helps the gardeners prepare the spring seedlings and replant the rose garden during the busy winter season. Vita's grandson, writer Adam Nicholson, joins Ellie to share his stories about Sissinghurst, a place he sees as much more than just a garden.
Find out more about Sissinghurst
Credits
| Role | Contributor |
| --- | --- |
| Presenter | Matt Baker |
| Presenter | Ellie Harrison |
| Presenter | John Craven |
| Presenter | Helen Skelton |
| Presenter | Tom Heap |
| Series Producer | Teresa Bogan |