Main content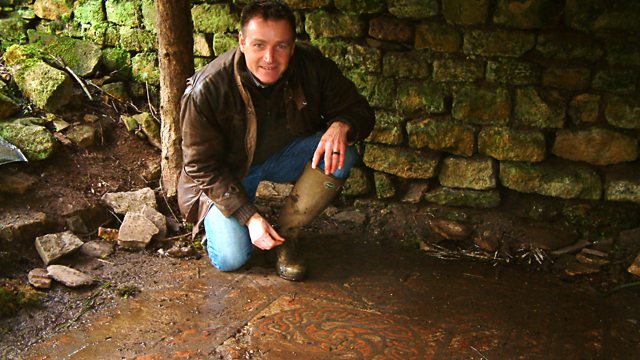 Cheltenham
Eric Robson hosts the horticultural panel programme from Cheltenham. Chris Beardshaw, Pippa Greenwood and Anne Swithinbank take questions from local gardeners.
Eric Robson hosts the horticultural panel programme from Cheltenham. Chris Beardshaw, Pippa Greenwood and Anne Swithinbank take questions from local gardeners.
Also in this episode, Chris explores a villa in Gloucestershire to unearth a Roman horticultural legacy, and Matthew Wilson traces the close relationship between gardening and fashion as he visits the Garden Museum in Lambeth, London.
Assistant Producer: Darby Dorras
Produced by Howard Shannon
A Somethin' Else production for BBC Radio 4
This week's questions:
Q. I have Clematis growing across my porch. On a Friday it had produced two flowers but by the Saturday they were dead. What am I doing wrong?
A. Clematis is often affected by a disease called 'wilt' and no one is completely sure what causes it. They are often attacked by slugs and the damage can have the appearance of Clematis wilt. It would be best to put down some slug deterrent. Make sure you are planting deep enough so that if the top is damaged then the buds under the ground can sprout. A rose fertilizer will help it on its way.
Q. I planted some young Pac Choi plants last November. They were supposed to be ready after six weeks but they have just gone to seed. Could the panel explain what has gone wrong?
A. Usually they go to seed when things get a little bit too tough and the main cause is often dryness. However, that may not have been the case this year. It is usually a good idea to start from seeds because the transporting process can be too much of a shock for small plants. Sew the seeds in cells and plant them out when they are a maximum of one inch (2-3cm). They may have been over pampered before you bought them, so try hardening young plants before planting them out proper.
Q. Could the panel suggest some plants for a summer container? It will be positioned in a sunny spot and can only be watered a couple of times a week.
A. Pelargoniums are quite low maintenance and can survive drying out. Try anything from the classic Pelargonium to some of the more unusual varieties such as Angel. They have a slightly succulent stem which helps. For true succulents you could try Portulaca, which is a pretty, trailing plant and produces needle-like foliage and flowers like Rock Roses. If you want good trailing foliage, use the classic Helichrysum Petiolare. It has long, draping stems with round, silver leaves. Make sure that you choose big containers and line them with bubble wrap to decrease the rate at which they dry out. Layering your plants provides you with insurance if something fails. Start with something architectural, for example a Phormium. Then add Aeonium Zwartkop for its wonderful rosettes of near black foliage and elegant stems. Use Golden Oregano for a blast of colour. Throw in some Mesembryanthemums for added seasonality.
Q. I have a leafless Poinsettia left over from Christmas. What shall I do with it so that I can use it next Christmas?
A. They go into a resting phase, so it is a good time to prune. Once it has started to show new growth, repot it and water it. Give it a liquid feed every week. Then you have the challenge of bringing it into bract. They won't come into colour unless they receive the right amount of light. They will remain green if you keep them in a room with artificial lighting. Be aware that they are very prone to red spider mite and this can cause defoliation.
Q. My mature Euphorbia characias wulfenii has been battered to the ground by wind and rain. Would it hurt to tidy it up at this point in the year?
A. Late summer or early winter is usually recommended to prevent them from flailing around in the bad weather. You may find that you get a lot of sappy growth but pruning now is fine. The sooner you do it the better and it will rejuvenate from right down in the base.
Last on

Broadcasts