Main content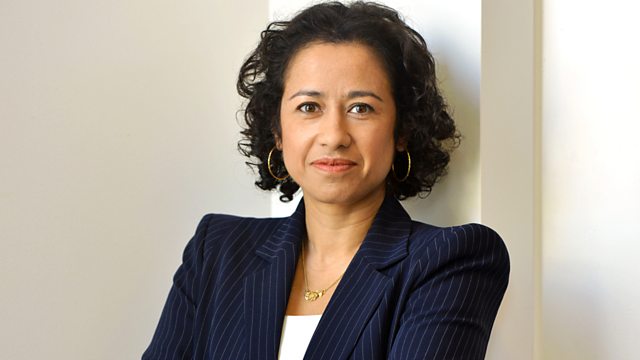 Wilderness Years
Time spent out of life's mainstream can be isolating but it can offer the chance of reflection and renewal. Samira Ahmed explores the impact of periods away from society.
For Moses and his people, the wilderness meant a time of wandering before reaching the Promised Land. The temptation of Christ took place away from civilisation. It's somewhere beyond the boundaries. A place and time of exile, isolation and self-denial.
In modern life, being cast out of life's mainstream can mean a painful loss of influence, power or fame, especially for public figures like politicians or celebrities. Famously, Churchill is said to have endured a decade in the political wilderness during the 1930s, before coming back to lead the country through the war.
Samira Ahmed reflects on what happens when people are thrust into the 'wilderness' for a period of time. It can be disconcerting, but it can also be empowering, spiritually renewing, a springboard for transformation. She talks to Jay Lakhani of the Hindu Society about traditional ideas of entering into a wilderness state for spiritual enrichment and discovery.
Finding oneself out of favour, forced into a personal wilderness can be a time of great challenge and self-evaluation. We hear from a redundancy coach about the unsettling yet familiar experience of job loss.
Featuring music by Louis Armstrong, Samuel Sebastian Wesley and Sufjan Stevens and with the words of Winston Churchill, Elizabeth Bishop and Robert Graves.
Produced by Caroline Hughes
A Whistledown production for BBC Radio 4.
Music Played
Rapunzel by Vera Southgate

The prince is cast into the wilderness, after discovering Rapunzel in her tower.

Deuteronomy 8:2-6 (Standard King James Version)

An exhortation to remember God's judgements and mercies in the wilderness.

In the Wilderness from The Complete Poems by Robert Graves

Graves' poem imagining Christ's time in the wilderness

The Second World War, Volume 1: The Gathering Storm by Winston S Churchill

Memoir recounting Churchill's time in the political wilderness.

Fame is a Fickle Food from Complete Poems by Emily Dickinson

19th century American poet's cautionary take on fame.

The Moon and Sixpence by W Somerset Maugham

Maugham's novel about an English painter, said to be based on life of Gauguin.

The Prodigal by Elizabeth Bishop

Poem imagining the prodigal's degradation before he decides to return home.