Main content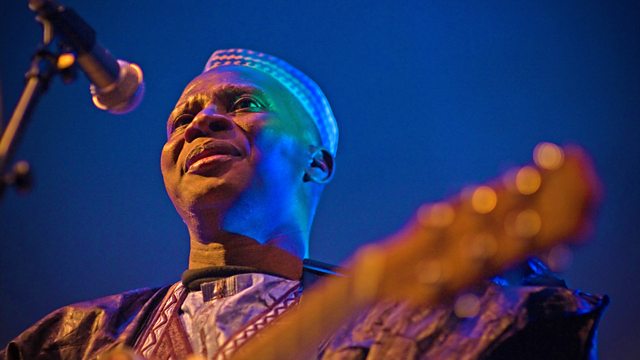 Sidi Toure in Session, Commonwealth Connections 6
Mary Ann Kennedy presents music from around the world, a session with Malian singer Sidi Toure and Part 6 of Commonwealth Connections, with music from Australia and Antigua.
Mary Ann Kennedy with tracks from across the globe, a studio session with Malian singer Sidi Toure, and Commonwealth Connections 6, with music from Australia and Antigua.
'Commonwealth Connections' is a BBC Radio 3 landmark 26-part weekly series leading up to the Commonwealth Games in July, featuring music from each of the 53 member states, reflecting the range of music and culture across the whole organisation.
MUSIC FEATURE: AUSTRALIA
Mark Atkins is regarded as one of Australia's finest virtuoso didgeridoo players and is recognized internationally for his collaborations with some of the world's leading musicians, including
Led Zeppelin's Jimmy Page and Robert Plant, Sinead O'Connor and minimalist classical composer Philip Glass. Atkins is of Irish/Australian heritage, as well as being a descendant of Western Australia's Yamitji people. We get a chance to hear him performing and weaving stories at a didgeridoo workshop- festival held in Woolloongabba, a suburb of Brisbane, alongside contributions from master didgeridoo player Stephen Kent and Aboriginal player Adrian Burragubba, who talks about the concepts of 'Dreamtime' and 'songlines'.
HERITAGE TRACK: ANTIGUA AND BARBUDA- KASHEEM COLBOURNE
Up and coming 200m and 400m sprinter Kasheem Colbourne expresses through his music choice his deep pride in the beauty of his country. 'Antigua' by Rupert Blaize conjures up paradise-like images of this twin island state's stunning natural landscape and the warmth of its people, and for these reasons is a popular song in the country. Glasgow 2014 will be Kasheem's first time competing at Commonwealth level and in his contribution to this series he expresses his resolve to do well, represent Antigua and Barbuda, and put it on the map in the minds of the world-wide audience for the track and field events.
SESSION WITH SIDI TOURE:
Sidi Toure was born in Gao in northern Mali , and he bases his music on the local Songhai styles. His new album 'Alafia' reflects Mali's recent turbulent times. Sidi Toure was on tour in France when Gao was occupied by rebels, and his new songs call on Malians to move forward in a spirit of unity.