Main content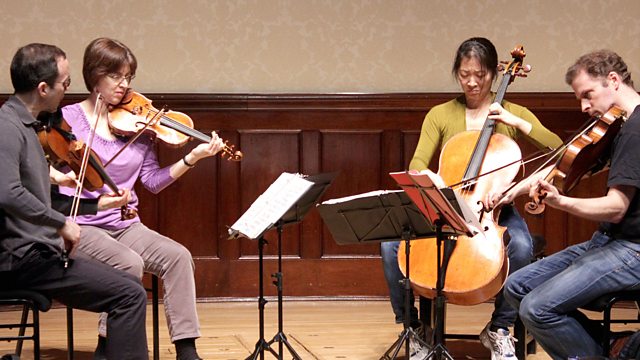 Wigmore Hall: Brentano Quartet
Live from Wigmore Hall in London, Sara Mohr-Pietsch introduces the Brentano String Quartet in Shostakovich's Quartet No 11 and Beethoven's Quartet in E minor, Op 59 No 2.
Live from Wigmore Hall, London.
Brentano Quartet
Shostakovich: String Quartet No 11 in F minor, Op 122
Beethoven: String Quartet in E minor, Op 59 No 2
Presented by Sara Mohr-Pietsch.
The Brentano Quartet play two masterworks of the chamber repertoire: they begin with Shostakovich's darkly tense String Quartet no 11, and contrast this with Beethoven's contemplative E minor Quartet, the second of his middle-period set of three dedicated to his patron Count Razumovsky.
The Brentano Quartet takes its name from Antonie Brentano, whom many scholars consider to be Beethoven's "Immortal Beloved", the intended recipient of his famous love confession. The Quartet was formed in 1992, receiving high critical acclaim and winning a number of awards. The Quartet had its first European tour in 1997, and was honoured in the UK with the Royal Philharmonic Award for Most Outstanding Debut. Last year the quartet was named as the new Quartet in Residence at the Yale School of Music.