Main content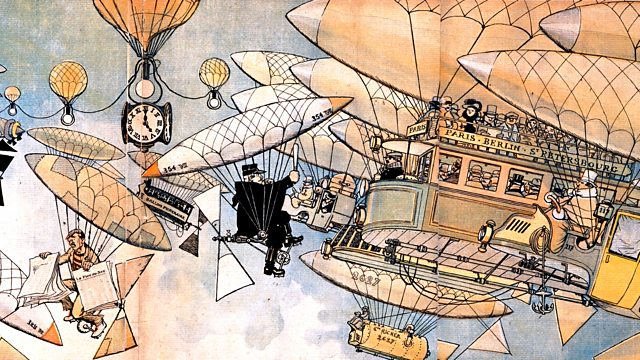 Reach for the Sky
Mankind's yearning to fly, from the myth of Icarus to the pioneering astronauts of the twentieth century, reflected in poetry and prose by Da Vinci, Yeats and Carl Sagan, and in music by Vaughan Williams, Weill, Ives and Barber. Readings are by Kate Fleetwood and Will Howard.
Music Played
Timings (where shown) are from the start of the programme in hours and minutes
Leonardo da Vinci

Will Howard reads a short paean to flight by Leonardo da Vinci

Psalm 55

Will Howard reads the opening section of Psalm 55

Anne Sexton

Kate Fleetwood reads To a Friend whose Work has come to Triumph

John Newton

Will Howard reads The Kite and its String

Anon

Kate Fleetwood reads a tale from One Thousand and One Nights

Charles Coulston Gillispie

Kate Fleetwood reads an extract from The Montgolfier Brothers and the Invention of Aviation

Yeats

Will Howard reads An Irish Airman Foresees His Death

Andrew Greig

Will Howard reads an extract from the novel That Summer

Andrew Greig

Kate Fleetwood reads an extract from the novel That Summer

Paul Tibbets

Will Howard reads an extract from Return of the Enola Gay

Carl Sagan

Kate Fleetwood reads from Cosmos

John Gillespie Magee

Will Howard reads High Flight

Producer's Note

A yearning to fly seems always to have been part of what it is to be human.  Inspired by the birds, driven by a restless, questing nature, we have always dreamed of flight - to slip "the surly bonds of Earth."

 

We have prayed for the gift of flight: Psalm 55 asks "Oh that I had wings like a dove!", heard here in a Russian Orthodox setting by Alexander Arkhangelsky. But John Newton, better known for writing Amazing Grace, used the flight of a kite (and its crashing when untethered) as an analogy for what would happen if we were not tethered by our relationship with God.

 

One of the more astonishing aspects of Leonardo da Vinci's genius was his anticipation of mechanical flight four centuries before its commission. He drew on his life-long observation of birds' flight and study of their anatomy; indeed several of his designs were engineered recently, of which some proved flightworthy.

 

Long before we flew, myths abounded - stories enrapturing spellbound audiences and readers. The story of Icarus was a great cautionary tale; by what right could this impudent boy soar towards the sun? Did he not deserve his comeuppance, as the solar heat melted the wax of his primitive wings and he plummeted back to Earth? Inspired by a 16th century representation once thought to be by Bruegel, Auden's famous poem Museé des Beaux Arts speaks of Icarus's "dreadful martyrdom". Perhaps more apt, however, is Anne Sexton's To A Friend Whose Work Has Come To Triumph: there is wonder at the marvel of the boy's flight, yet there is also a woman's unimpressed scorn that brings the end of the poem (literally) back to earth with a bump, just as Mercury, the winged messenger of the Gods, does in Lully's Platee.

 

The rich, diverse stories of One Thousand and One Nights speak of magic carpets that could convey the traveller from place to far-off place against all the laws of physics and time. Prince Husain cannot believe his luck when he finds one for sale in an Indian market. It comes at high price, a price however that the wealthy Prince is happy to pay. Rimsky-Korsakov sought to capture the exotic fantasy of stories such as this in Scheherazade; the soaring solo violin representing here the flying carpet just as, in The Lark Ascending, it evoked the stratospheric flight of Vaughan Williams' bird.

 

We come to aeroplanes, and pioneers such as Charles Lindbergh and Amelia Earhart, which are represented in music here by Kurt Weill and Joni Mitchell respectively. The risk taken by aviators of the last hundred years is that they may have to pay the ultimate price. So used to flight as a routine today, it is easy to forget how dangerous an enterprise it was, and still can be.  Yeats' doomed WWI pilot meditates on precisely why he is flying; rather than for a great cause such as his country or his friends, perhaps it is because a "lonely impulse of delight" is driving him towards a death he even craves.

 

WWII brought faster, deadlier warplanes. Most iconic of all was the Spitfire, to which Leslie Howard stirringly paid tribute in the film The First of the Few without which we would not have Walton's equally stirring Spitfire Prelude and Fugue.

 

Andrew Greig's lyrical, moving WWII novel That Summer tells of a doomed love affair between Len, a shy young pilot, and Stella, a rather more worldly radar operator. Their courtship is both fraught with war's perils of random, brutal death and destruction; and illuminated with flashes of great beauty and touching communion.  When a flyer stands more chance of dying in the wartime air than returning safely, love on the ground is anything but earth-bound.

 

That conflagration was brought to an end by the American atomic attacks on Japan in 1945. We hear the first hand account of preparations for the first of those flights, the words of mission commander Col. Paul Tibbets, as well as Krzysztof Penderecki's searing Threnody for the Victims of Hiroshima.

 

Almost as soon as we conquered the skies, we turned to outer space. Americans and Russians fought a physically-cold Cold War in what became known as 'The Space Race'. The moon is now old hat, the prospect of manned flight to Mars is tantalisingly close; in the words of cosmologist Carl Sagan: "We are ready at last to set sail for the stars." Charles Ives could not have envisaged space travel when he wrote The Unanswered Question; but what is our reaching for the stars if not an unanswered question?

 

The last word comes from John Gillespie Magee, an American pilot killed in WWII while serving with the Royal Canadian Air Force. Capturing the awe-struck wonder of flight, his poem High Flight was quoted to moving effect as President Reagan sought to console a grieving world after the deaths of all seven crew on the Challenger space shuttle. Paying the ultimate price of flight, Reagan said, they "touched the face of God."