Main content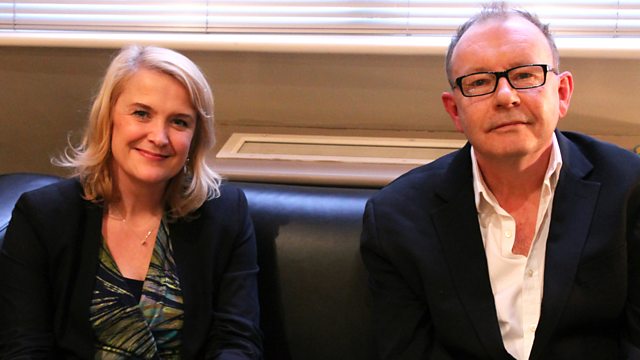 Tuesday - Sarah Walker with Michael Boyd
With Sarah Walker. CD of the Week: Fantasy - A Night at the Opera, with Emmanuel Pahud; Artist of the Week: Tasmin Little; Sarah's Essential Choice: Brahms: String Sextet No 2.
with Sarah Walker and her guest, the theatre director Michael Boyd.
9am
A selection of music, including the Essential CD of the Week: Fantasy ? A Night at the Opera, Emmanuel Pahud, EMI. We also have our daily brainteaser at 9.30.
10am
Artist of the Week: Tasmin Little.
10.30am
2014 marks the 450th anniversary of Shakespeare's birth, and Sarah's guest this week is the former artistic director of the Royal Shakespeare Company (RSC), Sir Michael Boyd. Michael trained as a director in Moscow, before joining the Sheffield Crucible as an Associate Director, and becoming the founding Artistic Director of the Tron Theatre in Glasgow. He joined the RSC in 1996, staging the three parts of Henry VI together with Richard III at the Young Vic, as part of the This England: The Histories cycle. He assumed control of the RSC in 2003, burdened with a deficit of £2.8m, with a remit to turn its fortunes around. He ran a year-long Complete Works of Shakespeare Festival and a London season at the Novello Theatre, and in 2007 he launched the long-awaited redevelopment of the Royal Shakespeare Theatre. Michael was knighted in the 2012 Birthday Honours for services to drama.
11am
Sarah's Essential Choice:
Brahms
String Sextet No. 2 in G major, Op. 36
Isabelle Faust & Julia-Maria Kretz (violins)
Stefan Fehlandt & Pauline Sachse (violas)
Christoph Richter & Xenia Jankovic (cellos)
HARMONIA MUNDI.
Today's Brainteaser Answer - Who's Singing?
The character singing was David, from Handel's dramatic oratorio, Saul, and the singer was Andreas Scholl.
The music played:
Handel
Saul: "O Lord, whose mercies numberless"
Andreas Scholl (countertenor)
Gabrieli Players
Paul McCreesh (conductor)
ARCHIV 474 5102