Main content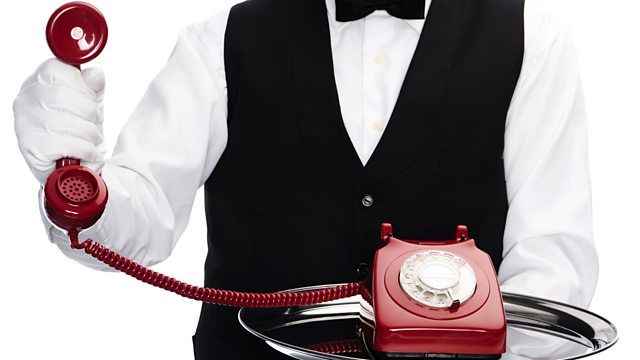 The Servant Problem
Texts and music about domestic service, with readings by Adrian Scarborough and Sophie Thompson. With Charlotte Bronte and Wodehouse, plus Bing Crosby and Haydn.
Adrian Scarborough and Sophie Thompson read prose and poetry on the often uneasy relationship between domestic servants and their employers. From St Zita, patron saint of servants, to Mrs Danvers and Jeeves, the put-upon "odd man", the awkwardly placed governess, and the exhausted servants to the Bennets at Longbourn, it's a story of hard work, a battle of wills, and a striving to make sense of status. Music includes Haydn's "Farewell Symphony", written to make a point to his employer, Richard Strauss's affectionate portrayal of knight and servant in Don Quixote, and Johnny Mercer's party with The Waiter and the Porter and the Upstairs Maid.
Producer: Elizabeth Funning.
Music Played
Timings (where shown) are from the start of the programme in hours and minutes
Mrs Beeton : The Book of Household Management, extract

Nancy Willard : Angels among the servants

Ruth Rendell : The St Zita Society

Lady Violet Greville writing in The National Review 1892

Outline of work for odd man. Berrington Hall (National Trust) Late 19th century

Jo Baker : Longbourn (extract)

Jonathan Swift : Directions to Servants. 1731

Daphne du Maurier : Rebecca (extract)

Carol Anne Duffy : Warming her pearls

Kazuo Ishiguro : The Remains of the Day (extract)

P G Wodehouse : Right Ho Jeeves (extract)

Richard Wilbur : A Summer Morning

The Quarterly Review 1848 : Review of Jane Eyre (extract)

Charlotte Bronte : Jane Eyre (extract)

Milton : On his Blindness

Producer's note

Employers have long discussed "The Servant Problem" – the difficulty of finding and retaining good staff. But that has never been the only difficulty – the uneasy relationship between domestic servants and their employers encompasses many issues – too much work, too little work, questions of class and status, battles of wills about how things should be done, love across the uncrossable divide, not to mention the thorny issue of pay.

 

The curtain rises on this edition of Words and Music, with the overture to Mozart's Marriage of Figaro – a bustling scene-setter as the household servants prepare for a forthcoming wedding. Then, to the accompaniment of Vaughan Williams' March of the Kitchen Utensils, Mrs Beeton advises us as to how many staff we can expect to keep, strictly according to income. Nancy Willard's paean to the patron saint of servants, St Zita, is followed by an extract from Ruth Rendell's "St Zita Society", a novel set among the modern day servants of well-heeled London – the drivers, au pairs, nannies and "helps".

 

Back in 1892, Lady Violet Greville voices her outrage at the laziness and affectation of the Flunkey, although laziness cannot be attributed to Rossini's Figaro, ex-servant and now general factotum to anyone who calls.

 

The Farmer's Servant is a traditional English song, about the traditional problem of servants sowing their wild oats where they shouldn't, although it's hard to imagine that the poor "odd man" at Berrington Hall, according to his job description, would have any time for anything other than work and sleep.

 

Jo Baker's book Longbourn follows the events of Pride and Prejudice, but the story here is all about the Bennet's household servants who have a completely different set of priorities to that of the family– in this extract it is the dreaded wash-day. And Peggy Seeger's Housewife's Lament, while perhaps not technically about a servant, certainly echoes the "struggle with dirt".

 

Jonathan Swift has some subversive suggestions for the servantry, and Haydn, himself once a liveried servant as a musician, had to resort to subversion to make a point. His Farewell Symphony, in which the musicians gradually leave the orchestra, snuffing out their music stand candles, until only two violins are left, was written to bring home to his patron the Prince the fact that the musicians had been away at the court's summer residence for Far Too Long. (It worked.)

 

And so to servants with ideas of their own – the troubling Mrs Danvers in Rebecca, who may have had some sympathy with the narrator of Carol Anne Duffy's Warming her Pearls in that both of them had an all-consuming obsession with their ladies, and on, via Kazuo Ishiguro's buttoned-up butler, to the inimitable valet Jeeves, who surely cannot be left out here…

 

Both Johnny Mercer's song about a party in the kitchen with the domestics and Richard Wilbur's poem Summer Morning, suggest that perhaps servants experience the pleasures of life more authentically than their employers. And maybe the same was true of Jane Eyre, at least to start with, who enters via Debussy's Dr Gradus ad Parnassum from Children's Corner, composed with English titles as a nod to his daughter's English governess.  A review of Jane Eyre of  1848 points up the awkward class status of the governess - both a lady and a servant, or perhaps neither. And as Jane and Mr Rochester begin their sparring, we end musically with Richard Strauss's affectionate portrayal of knight and squire, also engaged in intense conversation, in Don Quixote.

 

Finally Milton, in his poem "On his Blindness" explores the true meaning of service, which turns out not to be busyness at all.

 

Elizabeth Funning (Producer)

The hidden history of plant-based diets