Main content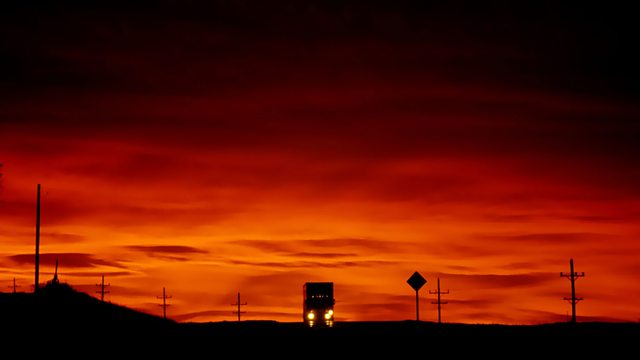 02/03/2014
Catriona Young's selection includes a live recording of Mahler's Fifth Symphony, with Klaus Tennstedt conducting the Royal Concertgebouw Orchestra.
Klaus Tennstedt and the Royal Concertgebouw Orchestra in a live recording of Mahler's 5th Symphony. With Catriona Young
1:28 AM
Mahler, Gustav [1860-1911]
Symphony No.5 in C Sharp Minor
Royal Concertgebouw Orchestra, Klaus Tennstedt (conductor)
[recorded on December 9th 1990]
2:45 AM
Mahler, Gustav (1860-1911)
Adagietto from Symphony No.5 in C sharp minor
Concertgebouw Orchestra, Willem Mengelberg (conductor)
[recorded in May 1926]
2:53 AM
Mozart, Wolfgang Amadeus (17-56-1791)
Don Giovanni (K. 527) - overture
Royal Concertgebouw Orchestra, Kurt Sanderling (conductor)
3:01 AM
Brahms, Johannes (1833-1897)
String Quartet No.1 in C minor (Op.51 No.1)
Karol Szymanowski Quartet
3:33 AM
Bach, Johann Sebastian (1685-1750)
Jesu, meine Freude - motet (BWV.227)
Danish National Radio Choir, Stefan Parkman (conductor)
3:54 AM
Handel, Georg Frideric (1685-1759) [ed. Dart]
Sonata (HWV.357) in B flat major ed. Dart for oboe and continuo
Louise Pellerin (oboe), Dom André Laberge (organ)
4:00 AM
Mendelssohn, Fanny Hensel (1805-1847)
Allegro moderato (Op.8 No.1) (1840)
Sylviane Deferne (piano)
4:06 AM
Schubert, Franz (1797-1828)
Rosamunde - Ballet music (D.797)
Oslo Philharmonic Orchestra, Heinz Holliger (conductor)
4:13 AM
Enescu, George (1881-1955)
Concert Piece for viola and piano
Tabea Zimmermann (viola, Germany), Monique Savary (piano)
4:23 AM
Grainger, Percy (1882-1961)
4 Folk Songs: Mo Nighean Dhu (My dark-haired maiden); O Mistress Mine; Six Dukes went afishin'; Mary Thomson
Camerata Chamber Choir, Michael Bojesen (conductor)
4:34 AM
Jiránek, František (1698-1778)
Concerto in G minor for Bassoon, strings and continuo
Sergio Azzolini (bassoon), Collegium Marianum
4:48 AM
Mozart, Wolfgang Amadeus (1756-1791)
Overture - Le Nozze di Figaro (K.492)
Netherlands Radio Philharmonic, Kent Nagano (conductor)
4:52 AM
Piazzolla, Ástor Pantaleón (1921-1992)
Adiós Nonino
Ingrid Fliter (piano)
5:01 AM
Telemann, Georg Philipp (1681-1767)
Quadro for 2 violins, viola & continuo in B flat major
The King's Consort, Robert King (director)
5:08 AM
Kerll, Johann Kasper (1627-1693)
Magnificat septimi toni
Royal Academy of Music Chamber Choir, Patrick Russill (conductor), Daniel Cook (Organ)
5:15 AM
Foulds, John [1880-1939]
Keltic Overture (Op.28)
BBC Concert Orchestra, Ronald Corp (conductor)
5:22 AM
Mozart, Wolfgang Amadeus (1756-1791)
Sonata in B flat (K.333) (1783-84)
Farkas Gábor (piano)
5:41 AM
Kraus, Joseph Martin (1756-1792)
Sinfonie in D major (VB.143)
Concerto Köln
6:00 AM
Karlowicz, Mieczyslaw (1876-1909)
10 Songs (Op.3) (1896)
Jadwiga Rappé (contralto), Ewa Poblocka (piano)
6:16 AM
Poulenc, Francis (1899-1963)
Sextet for piano and winds
Zoltán Kocsis (piano), Anita Szabó (flute), Béla Horváth (oboe), Zsolt Szatmári (clarinet), Pál Bokor (bassoon), Tamás Zempléni (horn)
6:33 AM
Glass, Philip [b.1937]
Violin Concerto No. 1
Piotr Plawner (violin), Polish Radio National Symphony Orchestra in Katowice, Michal Klauza (conductor).