Main content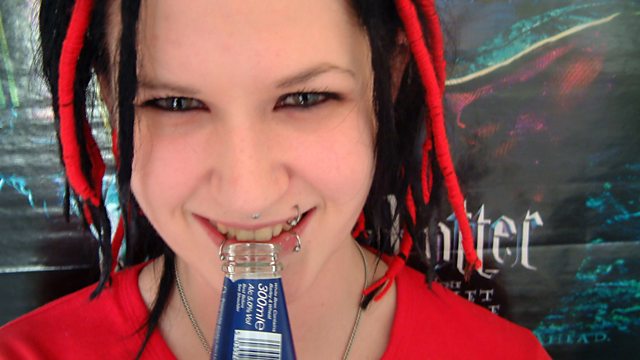 Porcelain: The Trial for the Killing of Sophie Lancaster
Sophie Lancaster was attacked in a park in 2007, suffering fatal injuries. This drama documentary contains interviews with her mother Sylvia and dramatised scenes by Ian Kershaw.
Sophie Lancaster was a young student who was attacked in Stubbeylee Park, Bacup, Lancashire. 20, Sophie suffered fatal injuries while cradling her boyfriend Rob's head in an attempt to protect him from a the attack by a group of youths. Rob survived but Sophie went into a coma and never recovered. She later died on August 24th 2007.
Political, vegetarian, a pacifist, Sophie showed signs of wanting to be different from an early age. Sophie and Rob dressed in a unique way, expressing their individuality as creative artistic people through goth-style clothes, piercings and make-up, which provoked the fatal attack in the early hours of that Saturday morning. Sophie had been dating Rob Maltby, an art student for 3 years.
Porcelain: The Trial for the Killing of Sophie Lancaster is a drama documentary with extracts from an interview with Sophie's mother Sylvia Lancaster and dramatised scenes, including the trial of Brendan Harris based on the court transcripts written by Ian Kershaw
Interview with Sylvia Lancaster
Dramatised scenes written by Ian Kershaw
Produced in Salford by Susan Roberts
When Black Roses: The Killing of Sophie Lancaster was broadcast in 2011 there was a huge response from the Radio 4 audience. The drama transferred to the stage in Manchester a year later using the original poetry by Simon Armitage and using the words of Sylvia Lancaster .
At the time many people asked what happened next . Porcelain : The Trial for the Killing of Sophie Lancaster tells the next part of this tragic story.
Credits
| Role | Contributor |
| --- | --- |
| Odette Freeman | Melanie Hill |
| Brendan Harris | Robert Haythorne |
| Prosecutor | Conrad Nelson |
| Judge | Terence Mann |
| Doctor | Terence Mann |
| Policeman | Henry Devas |
| Witness | Henry Devas |
| Policeman | Samantha Power |
| Witness | Samantha Power |
| Witness | Reece Noi |
| Writer | Ian Kershaw |
| Producer | Susan Roberts |