Main content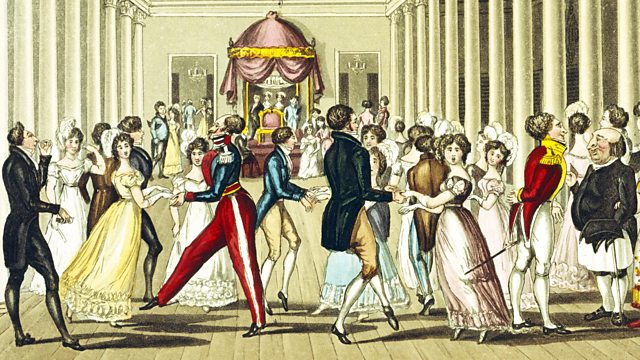 Elizabeth is determined to hate Mr Darcy but finds the attentions of her cousin Mr Collins even more vexing. With Pippa Nixon, Jamie Parker, Samantha Spiro. From March 2014.
by Jane Austen
Dramatised by Charlotte Jones
Elizabeth is determined to hate the Mr Darcy but finds the attentions of her ridiculous cousin, Mr Collins, even more vexing.
Director ...... Sally Avens
Mrs Bennet has five daughters and is desperate to marry them off to eligible men as the family will have no home once their father dies. Jane Bennet has been singled out for attention by a recent wealthy arrival to Hertfordshire, Mr Bingley. Her sister, Elizabeth, has been snubbed by his even wealthier friend, Mr Darcy. Elizabeth is determined to hate Darcy even more so since she has learnt from a member of the militia stationed at Netherfield, a Mr Wickham, that Darcy has cheated him out of his rightful inheritance.
Published just over 200 years ago Pride and Prejudice remains one of the Nation's favourite novels; with its intellect and wit it appeals to a broad range of readers. It stands the test of time by dealing with the timeless issues of love, social class, money and mistaken judgements and by having a witty and clever though flawed heroine at its heart. Elizabeth Bennet is a thorough radical for her time and perhaps the first heroine to ask is it possible to have it all?
Pippa Nixon takes on the role of Elizabeth; she received rave reviews for her Rosalind in 'As You Like It' ' a rising young star'.
Jamie Parker (Darcy) has played Henry V at the National and is shortly to portray Hamlet on Radio 4.
Double Olivier Award winner Samantha Spiro takes on Mrs Bennet and Toby Jones Mr Collins.
Last on

Credits
| Role | Contributor |
| --- | --- |
| Elizabeth Bennet | Pippa Nixon |
| Mr Darcy | Jamie Parker |
| Mrs Bennet | Samantha Spiro |
| Mr Collins | Toby Jones |
| Mr Bennet | David Troughton |
| Charlotte Lucas | Michelle Terry |
| Mr Bingley | Joshua Maguire |
| Miss Bingley | Fenella Woolgar |
| Jane Bennet | Lydia Wilson |
| Lydia Bennet | Georgie Fuller |
| Kitty Bennet | Carys Eleri |
| Mary Bennet | Rosie Wyatt |
| Mrs Gardiner | Priyanga Burford |
| Colonel Fitzwilliam | David Seddon |
| Lady Catherine de Bourgh | Carolyn Pickles |
| Narrator | Amanda Root |
| Director | Sally Avens |
| Adaptor | Charlotte Jones |
| Author | Jane Austen |
Broadcasts