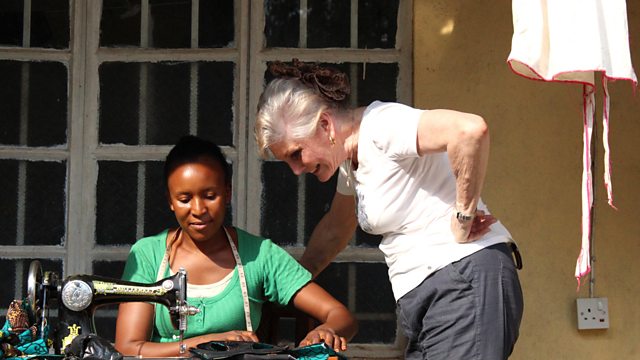 Womankind Worldwide
Angela Rippon travels to Sierra Leone in West Africa to present an appeal on behalf of Womankind Worldwide. This UK-based charity works with local organisations around the developing world to tackle violence and discrimination against women.
Angela meets women who experienced appalling sexual violence during Sierra Leone's war. And she hears how the charity is supporting projects that help women come to terms with their traumatic experiences, empowering them to become economically independent and demand their rights through the justice system.
Last on
Donate now
To find out more about Womankind Worldwide please go to: www.womankind.org.uk
Or write to:Womankind Worldwide, Development House, 56-64 Leonard Street, London EC2A 4LT
Or call:0207 549 0360

Angela Rippon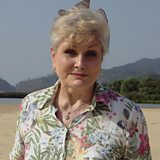 I was well aware of the war that ravaged Sierra Leone for 11 years. But I don't think that anyone can fully appreciate the devastating effect that the war had on the women of Sierra Leone - unless that is, you have the opportunity of meeting and speaking with them as I have done with the Charity Womankind.

Thousands of women have been left with the mental and physical scars of the war and today they continue to face poverty, discrimination and violence. In fact, almost all women in Sierra Leone will face domestic or sexual violence in their lifetime.

These women have huge potential. And Womankind, in partnership with local organisations, help these women to realise it. Womankind's partners provide support like counselling so women can overcome trauma, and skills training so they can generate an income and gain independence. They also work with local communities to change attitudes so that women face less discrimination and violence.

I was touched and inspired by the courageous women I met in Sierra Leone. They had overcome great adversity and were now working for a better life for themselves, their families and communities.

Womankind works with local partner organisations in 14 countries across the world. They can only keep going with the help of donations from people like you. Please make a gift today and help change a woman's life.
Womankind Worldwide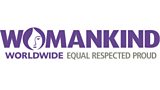 In no country in the world do women enjoy the same rights or opportunities as men. Every day women and girls face discrimination, poverty and violence just because they are female. Womankind Worldwide is working to change that.

From attacks on schoolgirls in Afghanistan to the barriers facing women MPs in Ghana, from the persecution of widows in Nepal to domestic violence in Bolivia, gender inequality is a global problem which needs a global answer.  We are part of a powerful, worldwide movement for change.

For 25 years we have supported over 12 million women and their families to transform their lives and their communities. We have a big impact by working in partnership with local women's rights organisations in Africa, Asia and Latin America. What's more, we use the knowledge and experience from this work to influence international policies and practices on women's rights.

Your donation to Womankind will support more women around the world to challenge discrimination and violence. For example your donation could pay for a woman to get legal support so she can take an abusive husband to court and live free from violence; or it could pay for training in skills like farming or tailoring, so a woman can earn a living and gain her independence.

Isatu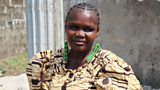 During the conflict, Isatu endured horrendous experiences that included having her husband and two children killed in front of her, being kidnapped and raped. Having had such unimaginable events take place in her life meant that it's had a lasting affect on her.

She said, "I used to cry all day and night, but only on the inside".  

Isatu found herself pregnant and the stigma of what happened to her meant that she was completely isolated from her community.

She said, "When I think of what happened to me, I feel like drinking poison and dying".

Fortunately Isatu met Bondu, a rape counselor who was funded by Womankind Worldwide, who has helped Isatu in moving her life forward.

Isatu said, " Now, I can talk to people like me, I tell them my story.  I say, look at me now".
Fanta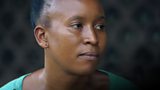 28-year-old Fanta came from a very poor family and her parents sadly passed away when she was 7-years-old. Her aunt then brought her up but as there was no money to allow her to attend school, Fanta had to stay at home. Until one day a man came for her.  

Fanta said, " I didn't like him but she forced me to marry him".

At the age of 13, Fanta became pregnant and was subjected to regular physical abuse from her husband.

She said, "He would beat me every day. I had cuts and bruises all over my body.  I thought my life was over and I was trapped".

Not knowing where to turn, Fanta was brought to the WPJP centre, which is funded by Womankind and it was there that she learnt about her rights as a woman.

She said, " Now, I can plan for the future.  If I learn to be a tailor, I will be able to support my children".
Musu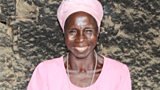 Musu experienced family conflict over land ownership whilst her husband was very ill.  As Musu is a woman, family members took advantage by claiming her farm and the ownership was under dispute for many years.  This meant that she could not work the land that supported her family.

Musu said, " Times were hard, we couldn't afford to eat. The children wanted to go to school but we could afford the fees".

Musu had to survive by working on other farms, whilst her own land was left untouched.  It was only after attending a workshop, which was supported by a partner group of Womankind, did she learn of her rights.  

She said, "I had to get my land back so my children can make a good living.  Even after my death they won't suffer".
Credits
| Role | Contributor |
| --- | --- |
| Presenter | Angela Rippon |
| Series Producer | Alex Steinitz |
| Executive Producer | Ruth Shurman |