Main content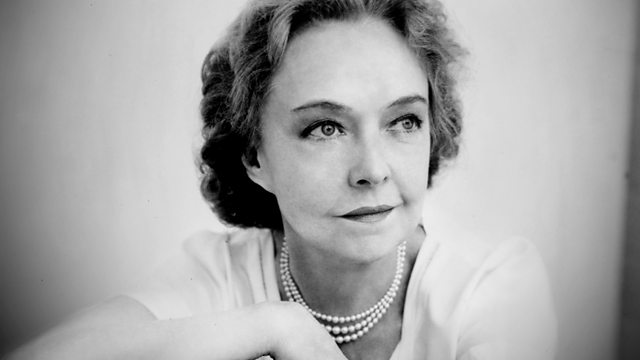 Lillian Gish; Bea Campbell; One Million Lovely Letters
American cinema's First Lady, Lillian Gish. Writer Jodi Ann Bickley's One Million Lovely Letters. Why feminist activist Bea Campbell thinks it's time to re-evaluate our society.
As we gear up for the Oscars on Sunday a treat from the Woman's Hour archive collection - an interview with Lillian Gish described as the First Lady of American Cinema. In a career that spanned 75 years she talks about playing her last heroine part at just 17 because she was beginning to look too old on screen, being cast in Birth of a Nation and the change from silent films to talkies.
In the light of the many cases nationwide of grooming still being investigated and prosecuted, how has the judiciary, the CPS and the government responded to remedying how young girls are treated once they are in the legal system?
Writer and feminist activist Beatrix Campbell tells us why she thinks the time has come to re-evaluate our society. She says we need a new way of thinking in order understand why violence against women has increased, rape is still committed with impunity and the struggle for equal pay has made so little progress.
And why Jodi Ann Bickley wants to spread happiness. She believes everyone deserves to hear they are loved. She's written to thousands of people to encourage them to never give up hope. She talks about the One Million Lovely Letters project and how it feels to receive emails from strangers all over the world sharing their problems.
Presenter Jenni Murray
Produced and Edited by Beverley Purcell.
Last on
Chapters
Sexual Exploitation and the Judicial System

Jenni talks to barrister Hugh Davies and campaigner from PACE, Fleur Strong.

Duration: 10:18

Bea Campbell: End of Equality

Writer and feminist activist Beatrix Campbell joins Jenni to discuss equality

Duration: 08:16

Lillian Gish

Film critic Antonia Quirke joins Jenni to discuss Lillian Gish's legacy.

Duration: 15:30

One Million Lovely Letters

Jodi Ann Bickley discusses the One Million Lovely Letters project

Duration: 06:09

Sexual Exploitation and the Judicial System

Last week we heard from Lara, a young woman who had been sexually exploited for four years from the age of 13. Lara talked about how traumatic her court experience had been last summer. In the light of the many cases nationwide of grooming still being investigated and prosecuted, Jenni talks to barrister Hugh Davies and campaigner from Parents Against Child Sexual Exploitation, Fleur Strong. How have the judiciary, the Crown Prosecution Service and the government attempted to remedy the way these young girls are treated once they are in the legal system?

Bea Campbell: End of Equality

Writer and feminist activist Beatrix Campbell says we are living in an era where new inequalities are emerging in our culture. Talking about her new book 'End of Equality: The Only Way Is Woman's Liberation', she tells Jenni why the time has come to re-evaluate our society. She says we need a new way of thinking in order understand why violence against women has increased, rape is still committed with impunity and the struggle for equal pay has made so little progress. 

Lillian Gish

The American stage and film actress Lillian Gish has been described as the First Lady of American Cinema and had a career that spanned 75 years. She was interviewed on Woman's Hour in 1957 by Gordon Gow. In the interview, which is now part of our archive collection, she explains how she played her last heroine role at the age of 17 because she was beginning to look too old on screen. She also describes working in silent films. With the Oscars approaching, Film critic Antonia Quirke joins Jenni to discuss her legacy.

One Million Lovely Letters

Instead of the usual sweary scrawls that teenagers graffiti on their school textbooks, Jodi Ann Bickley would write 'You're lovely', or 'Don't worry – it'll be lunch soon!'. Next she started leaving little notes of cheer and positivity on bus seats or in doctors' surgeries for strangers to find. She also wrote poetry, which she performed at festivals all over the country - but at one festival, she was bitten by a tick, and contracted encephalitis. This was complicated by a mini-stroke, which left her needing to relearn how to write and walk, and chronic fatigue syndrome. But, in this place of exhaustion and depression, she began her One Million Lovely Letters project. Anyone can email Jodi if they're feeling down for any reason, and she will post a written letter to remind them that they are loved, have worth, and mustn't lose hope. She talks with Jenni about how it feels to receive emails from strangers all over the world sharing their problems, and the importance of spreading happiness.

Credits

| Role | Contributor |
| --- | --- |
| Presenter | Jenni Murray |
| Interviewed Guest | Bea Campbell |
| Interviewed Guest | Antonia Quirke |
| Interviewed Guest | Hugh Davies |
| Interviewed Guest | Fleur Strong |
| Interviewed Guest | Jodi Ann Bickley |
| Producer | Beverley Purcell |

Broadcast