Main content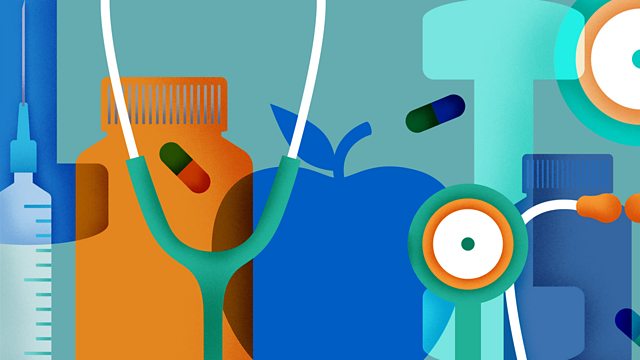 Selenium & Vitamin E supplements in men, Idiopathic Pulmonary Fibrosis, Childhood Constipation
Dr Mark Porter investigates the risks for men taking selenium supplements, the dangers of the lung disease which makes your chest sound like Velcro, and constipation in children.
Selenium supplements have hit the headlines with reports that men taking them can increase their risk of developing aggressive prostate cancer. Dr Mark Porter talks to leading expert on selenium, Margaret Rayman, Professor of Nutritional Medicine at the University of Surrey, to find the truth behind the story.
Idiopathic pulmonary fibrosis is a disease that kills more people in the UK than breast cancer. It's caused by the thickening and scarring of the part of the lung that forms the barrier between blood and air and can make your chest sound like it's full of Velcro. Mark talks to Luca Richeldi, Professor of Respiratory Medicine at the University of Southampton, about why it can be mistaken for asthma or Chronic Obstructive Pulmonary Disease - what used to be called emphysema and bronchitis. Also in the programme, as many as 1 in 20 children will experience long term constipation with no underlying cause and which doesn't get better with dietary changes. Mark visits a specialist clinic at Addenbrooke's hospital in Cambridge to meet families managing the problem.
Last on
Programme Transcript - Inside Health
Downloaded from www.bbc.co.uk/radio4
THE ATTACHED TRANSCRIPT WAS TYPED FROM A RECORDING AND NOT COPIED FROM AN ORIGINAL SCRIPT.  BECAUSE OF THE RISK OF MISHEARING AND THE DIFFICULTY IN SOME CASES OF IDENTIFYING INDIVIDUAL SPEAKERS, THE BBC CANNOT VOUCH FOR ITS COMPLETE ACCURACY.
INSIDE HEALTH
Programme 6.
TX:  25.02.14  2100-2130
PRESENTER:  MARK PORTER
PRODUCER:  ERIKA WRIGHT
Porter
Coming up in today's programme:  Constipation in children.  I visit a specialist clinic at Addenbrooke's Hospital to learn more about the latest approaches to treating this troublesome condition.  And "Velcro lung", probably the most common cause of cough and shortness of breath that you have never heard of - until now.
Clip
A normal lung will produce a sound which is like this….. instead a fibrotic lung disorder like IPF will produce a sound like this which is reminding of Velcro….. that's meaning something's wrong.
Porter
More on idiopathic pulmonary fibrosis and why it is so often missed later.
But first, supplements, which are back in the headlines this week following new research from America suggesting that men taking selenium and vitamin E may be increasing their risk of developing aggressive prostate cancer. A finding that rather flies in the face of conventional wisdom that supplements like selenium protect against the disease.
Well to clear up the confusion I am joined by a leading expert on this essential dietary mineral.  Margaret Rayman is Professor of Nutritional Medicine at the University of Surrey.
Professor Rayman were you surprised by these latest headlines?
Rayman
I was surprised and actually I was very concerned because quite often when things are reported in the newspapers they're reported rather simplistically.  But I was concerned that men were going to be worried about taking selenium in the UK and I didn't think that was appropriate.  And I did actually think maybe I should write a letter to The Times because it's probably causing concern in men when actually there is no real reason for them to be worried in our population.
Porter
But looking at the findings in a simplistic way it suggests that if you take selenium supplements it may increase your chances of getting prostate cancer rather than protect against it.
Rayman
But that study was done in the United States where people's selenium status is very much higher than it is in Europe.  And so if you were to look at a similar European population we would be nowhere near those baseline levels that the men had before they were given additional selenium.  It upsets me that people assume that all men are like US men, well no they're not.  So giving additional selenium in our population would not have the same or is very unlikely to have the same effect, in fact it might be protective.
Porter
But why is there a difference between selenium levels, natural selenium levels, here in the UK compared to the States?
Rayman
Well really it's down to the type of soil, not just the amount of selenium in the soil but the acidity.  Also it's of other things.  So in North America bread and cereals are grown in a part of the country that allows selenium to be very well absorbed into wheat and so basically they're getting much more selenium from their diet than we are.
Porter
Well contrast that to what's happening here in the UK, I mean are most men in the UK getting enough selenium?
Rayman
I think we in the UK are at a sort of marginal level of intake and there certainly is evidence that a number of health conditions may be improved by a small increase in selenium intake.  But I would emphasise that that should really be small, I mean there's never any benefit in taking heroic doses and certainly in that US study for men who've already got a good baseline level to then take an additional 200 micrograms is foolish in the extreme.
Porter
So to be simplistic are you suggesting that what this study actually shows is that if men take too much selenium it increases the risk of aggressive prostate cancer?
Rayman
Yes I am doing that.  But in fact if you actually look at the data in detail the only significant effects were actually in men who took not just selenium alone but selenium with vitamin E, that was where you got the significance.
Porter
Both selenium and vitamin E are popular supplements in the UK and you can imagine lots of men taking both, what would your advice to them be based on these latest findings and what you know from similar work in Europe?
Rayman
I would say that in terms of men who believe themselves to be at risk of prostate cancer, although I guess you could say that's all men, they can benefit from taking a small amount of additional selenium, certainly no more than 100 micrograms.  And that would not put them anywhere near the level of these guys in the US who were being given 200 micrograms on top of an already adequate level.  In terms of vitamin E I think from food is absolutely fine, so you want to have good food sources, but I think that the evidence, in terms of vitamin E and prostate cancer, is a lot nastier and I wouldn't personally be taking a vitamin E supplement to try and ward off prostate cancer.  I think the evidence is quite clear that you're likely to do exactly the opposite.
Porter
What happens if you're a British man and you have lower than desirable levels of selenium, as many might, does that have an effect on your risk of prostate cancer?
Rayman
I think it does because there's this massive study in the Netherlands on 58,000 men which showed that men probably would benefit from an increased selenium intake.  But again not grossly increased, this is really, really important.  With pretty well every nutrient too little is bad but too much is equally bad.  And I think all nutritionists should be getting that message across – a little may be good but too much can be toxic.
Porter
Professor Margaret Rayman, thank you very much.
Well in our Glasgow studio is Dr Margaret McCartney who has been looking at the evidence behind the use of supplements in disease prevention for us. And Margaret there is a widely help misconception that "more must be better" isn't there?
McCartney
I think we have somewhere in our psyche the idea that if a little bit is good for us then somehow a bigger bit might be even better.  And there's no doubt that in the UK we are big consumers of health food supplements.  Some estimates are nearly £400 million a year being spent in the UK on them with almost one in three adults taking something.
Porter
And to be fair to the general public that's because they're quite aggressively pushed in the general media, aren't they, that these things are good for you – take an antioxidant it protects against toxins and does all sorts of things.
McCartney
Absolutely and I think the advertising for some of the things is really pretty outrageous.  I have to say I have a conflict of interest in that I've complained to the Advertising Standards Authority rather a lot about various purveyors of vitamin and mineral supplements.  There are just so many claims being made and they really just don't stack up against the evidence as we know it.
Porter
Well what evidence is there – have there been major studies looking at the benefits of these supplements?
McCartney
Yeah, I mean I think we have to be clear that there are a lot of areas where it just is not clear, there's not good enough evidence to say one way or the other.  But there's been a big evidence review done in the United States, their preventative services taskforce went and looked at all the evidence for all vitamin and mineral supplements for adults and quite clearly were saying that you should not use vitamin A or vitamin E to try and lengthen your life or prevent cardiovascular disease or cancer.
Porter
And of course vitamin A and E are two of the main anti-oxidant vitamins, along with C, the so called ACE combination that's supposed to protect against ageing and cancers and heart disease and all sorts of things.  In the study that Margaret Rayman was talking about selenium actually caused potentially harm, is there any evidence that not only do these supplements not do any good but they might actually be harmful in the case of vitamins?
McCartney
Absolutely and I think we've got increasing evidence over the last 20 years that vitamins A and E are particularly a problem in people who smoke and it's quite clear that there is no improvement in their chances if they take these vitamins but there might actually be an increased risk of death, particularly for people who are at high risk of lung cancer who are heavy smokers.  And these studies now go back to 1994, there was a big article in the New England Journal of Medicine about Finnish smokers and it's been repeated time and time again and no one has found any benefit or any advantage for people taking vitamins A and E, instead there seems to be a disadvantage.
Porter
When you say taking vitamins A and E what sort of doses are we talking about, is this just any form of supplement or are we talking the super doses?


McCartney
Well I wouldn't say so much super doses but high doses, much bigger doses than you would get naturally in your diet.  If you have a normal healthy balanced diet you will not be taking in the levels of vitamins that the studies are picking up a problem with.  So we're talking about people who are taking high dose supplements, people who are taking in excess usually of the recommended daily amount.  But of course we haven't found a safe limit for people who are at a higher risk with vitamins A and E in particular and since there's no advantage to these people to taking these vitamins I think it's questionable whether they should ever be taking them.
Porter
So what's your take overall on supplementation because there are places where supplementation can be helpful, I mean we don't want people to have deficiencies either?
McCartney
No but I think we have to be quite clear what's something that's been proven to be useful in our diet and what's proven to be useful as a supplement.  And I suppose one of the big areas would be in Omega 3 fish oils, that's been long established that fish are good in diet, they seem to have lots of advantages, there's lots of populations who seem to eat more fish and to seem to live longer and healthier lives as a result.  But the problem is when you put that Omega 3 into capsules and tell people to take it as a supplement.  There was a big review of all the literature on it published in America in 2012 of almost 70,000 patients and they were quite clear that there was no effect on heart attacks, on sudden cardiac death, on death rates overall or on strokes yet it seems to be that if you have good amounts of fish in your diet that does provide an advantage but when you translate that into supplements it does not.
Porter
It's the pursuit of the bottled ingredient isn't it, there's a lot more in fish than fish oils, there's a lot more in an orange than vitamin C.
McCartney
And I think as well as that when you're not taking these things, say, for example, you're just taking supplements and you're relying on that to give a good diet into your body what are you taking in instead in your diet?  I mean are there going to be a mismatch in terms of your fats and your carbohydrates and your fibre and things like that?  Diet is fairly fundamental to health and I think it would be much better if we concentrated on that rather than thinking we can get what we need out of tablets and bottles.
Porter
Thank you Margaret McCartney.  And the references to the studies Margaret mentioned there are all listed on her blog. Head to the Inside Health page of the Radio 4 website for more details. Where you will also find some useful links on selenium too.
Now onto a disease that kills more people in the UK than breast cancer but which you have probably never heard of.
Idiopathic pulmonary fibrosis (IPF) is a type of lung disease caused by thickening and scarring of the interstitium – the part of the lung that forms the barrier between blood and air.
There are more than 200 types of interstitial lung disease but IPF is the most common; the most deadly and the one most likely to be confused with other lung conditions like asthma or COPD (what we used to call emphysema and bronchitis).
Professor Luca Richeldi is a specialist in Respiratory Medicine at Southampton General Hospital.
Richeldi
The typical patient is 65 years old, smoker or former smoker, with some cough and shortness of breath.  So in nine out of 10 times will be COPD.  And so all patients with IPF they have misdiagnosed with COPD.  The main survivor after diagnosis for a patient with IPF is 2.5 years.
Porter
Not long.
Richeldi
Not long.  For COPD it's much longer.  So they live so short time after diagnosis because once they get to us they're already advanced.
Porter
They might have had the condition for many years before you – before they see you.
Richeldi
You bet, I'm sure about that.  So while most patients with COPD will not die of COPD they will die for other disorders – they will die for heart failure, they will die for cardiovascular accidents.  The vast majority, if not all patients with IPF, they will die of respiratory failure because the disease only affects the lung but the final result is that they people they cannot breathe anymore.
Porter
What do we know about the cause?
Richeldi
The interstitium is the barrier between the blood and the air.  When the interstitium is affected it becomes thicker, then you have an interstitium lung disease.  But the fact that we use idiopathic is always it's telling you something, so unfortunately it's very…
Porter
Which means nothing, it means we don't know.
Richeldi
I mean idiopathic means you have no cause and you will tell the patient the cause is pulmonary, the patient will tell you thank you I have cough and all that and it's fibrotic.  What it means we don't know.
Porter
But as with lots of idiopathic conditions there are theories as to why people might get them, what's the latest theory with pulmonary fibrosis?
Richeldi
The latest theory I can name maybe 25 of them but one is occult gastroesophageal reflux, that's very popular in the US.
Porter
So this is where acid fumes effectively are coming from the stomach, quite a common problem, you're inhaling them and they're somehow damaging the lungs.
Richeldi
Correct, right, right, that's a couple of American…
Porter
You don't look impressed though.
Richeldi
I'm not impressed right, I'm not impressed by anything, I mean – remember I'm from Southern Europe so I'm not impressed by anything by definition.  The other one is air pollution, the other one is smoking because most of the patients with IPF will be smokers but not all of them.  I think and then we have an emerging data on genetic factors.  So at least 25% of cases they have a familial component.  So it's clearly a mix of all of them.
Porter
What about – so we're looking after someone who we're trying lots of different things on, they're not working very well, I mean the tools that we have available to us in general practice typically would be – we can listen to the patient's chest, we can get them to do breathing tests – barometry – and we can do a simple chest x-ray – they're quite easy to access, any clues in those?
Richeldi
Unfortunately chest x-ray and lung function are not useful but listening at the sound of the lung we think it's very useful, it would be the most important critical point for early diagnosis.  Why is that?  Because all of these diseases they start in the periphery of the lung which is close to the skin, that means that the change in the structure of the lung, which is becoming more thick, more fibrotic, will change the sound of the air entering the airwaves, typically from many, many years ago they will be referred as to Velcro sounds…
Porter
The ripping of …
Richeldi
Everyone knows about the Velcro.  So a normal lung will produce a sound which is like this…… instead a fibrotic lung disorder like IPF will produce a sound like this, which is reminding of Velcro…………..that's meaning something wrong.  Not always will be IPF but there is something wrong in that lung.
Porter
And that sound's occurring because as the air enters – these stiff – they're snapping opening, is that what's happening?
Richeldi
Correct, exactly right, it's like Velcro.
Porter
If you knew somebody had interstitial lung disease rather than smoking related damage or asthma, how would it affect your management?
Richeldi
So the first thing is to communicate to the patient the right prognosis, maybe that patient want to make plans for the next 2.5 years.  Secondly, just recently we have a first drug approved for the treatment of IPF, that means that you can have an impact on the natural history of the disease.
Porter
And that drug is?
Richeldi
That drug is pirfenidone, it's an antifibrotic, it's just the first one just been approved and we starting treating patients these days.
Porter
And that's working by slowing or reversing this thickening of the space?
Richeldi
Unfortunately it's just working by slowing.  We have the first step, we are just at the beginning.  So that's why early diagnosis is so important because the only thing that we can hope of is slow down disease, progression, that means that in these disorders typically what is happening is the volume of tthe lung is reduced over time.  So much, so much that in the end the people will die from respiratory failure.  So the time that is needed to reduce that amount of lung would be much longer in patients treated with pirfenidone than in patients treated with nothing plus the earlier you start the treatment of course the better you can have the outcome and finally usually patients with early disease have less [indistinct word] morbidity so they will tolerate the drug better.
Porter
So in absolute numbers what's your best gestimate, if you like, of the number of people out there in the UK who may be affected by this condition to some degree?
Richeldi
The best estimate has been done by an epidemiological study in the UK, by a group in Nottingham, and they estimate there will be at least 5,000 new cases of IPF per year in the UK.
Porter
Is that a figure that's been fairly consistent or is that rising as we pick up more of these people?
Richeldi
The figure are rising significantly over the next 10 years but if that were related to early diagnosis you should also see an increase in survival which is not the case.  So the data with the stable survival and increasing incidence supports the concept for a true increase of the incidence of this disorder.  Is that due to air pollution, is that due to ageing population, is that due to anything else?  We don't know.
Porter
Professor Luca Richeldi.  And you will find more information on idiopathic pulmonary fibrosis on our website.
And please do get in touch if there is a medical issue that you would like us to look into – you can e-mail me via insidehealth@bbc.co.uk.
Now to another condition that we don't fully understand – idiopathic – there's that word again - childhood constipation. A long term problem in as many as one in 20 children, in whom medical investigations reveal no underlying abnormality and simple dietary measures alone tend not to be enough to help.
In recognition of the scale of the problem, and the fact that it is often not managed as well as it could be, the National Institute for Health and Care Excellence (NICE) has issued guidance on how to manage idiopathic constipation. To find out how this works in practice I joined the families attending a specialist clinic at Addenbrooke's Hospital in Cambridge.
Mother
I noticed little – what I describe as rabbit droppings around the house, couldn't quite work out what they were but more noticeable I suppose was the fact that his mood had changed – he was quite angry, he just wasn't a happy boy.
Porter
And how old was he at this stage?
Mother
Six, maybe seven.
Porter
And everything had been fine up until then in terms of his general health?
Mother
Yes.  I went back to the GP and basically they referred us.
Porter
What was found when you first came to your clinic here?
Mother
They examined him physically, obviously talked through how things had been, they could feel that he was quite constipated.  So that was – and then I think we were introduced to Mary at that point.
Brennan
My name is Mary Brennan, I'm a clinical nurse specialist for paediatric gastroenterology at Addenbrooke's Hospital.
So the children that come to my clinic will have been seen in the medical gastroenterology clinic, where it will have been excluded that they have an underlying condition, and essentially their diagnosis is idiopathic constipation, which takes a lot of understanding for many families to actually get to grip with the fact that that is constipation of unknown origin.
Porter
Can you give me some idea of what sort of problems they actually present with?  When we say constipation what does that actually mean in the real world?
Brennan
I suppose typically for the younger ones it will be - when I'm talking about younger ones perhaps toddlers, two, three years old, even a bit younger still in nappies - going off into a corner, hiding behind the sofa, crying.  Where you can actually see they are very distressed due to pain but they can't get the stool out so rather than them try to push it out as most older people would do they withhold the stools.  For the school age children it can be that they're soiling themselves, so therefore they're smelly, so they get bullied as a result of that.  And there's also a lot of secrecy for the children across all of the age groups, even into adolescents, they don't like to admit that they've got a problem.
Mother
Part of the problem that we've had is that he's not been very keen to talk about it, obviously there's quite a big taboo around it, so he's been very uncomfortable in saying that he hasn't been to the toilet or he has been to the toilet and what was it like and that kind of thing.
Porter
Because one of the other problems with this of course is that once you start to get constipated when you do go it can be quite painful and that sort of creates this cycle – was that a problem?
Mother
Yes I think so.  He basically would then worry about it.
Porter
When things are bad how long would he go between going to the loo?
Mother
How many days would you say?
Child
Probably about two, three.
Mother
Maybe a bit more when things were really bad.
Child
My tummy would hurt and I wouldn't really mind about it, I'd just ignore it and carry on and then an accident would happen.
Torrente
My name is Franco Torrente, one of the paediatric gastroenterologists at Addenbrooke's.  I would say that we see children pretty much of every age group.  We tend to see small babies, who might be presenting with symptoms of constipation from the beginning of life, as well as adolescents but up to a third of patients that we might end up seeing in the clinic might be actually related to a problem of constipation and so it's incredibly common.
Porter
One of the problems with constipation is defining what we mean by constipation, I mean with your paediatrician hat on when would you consider a child to be constipated?
Torrente
Yeah that's a difficult question in a sense because there is quite a broad spectrum of normality, for some people it's normal to open their bowels a few times a day, for some others it could be normal to open their bowels a few times per week.  So I would say that we – certainly would define the presence of constipation when yes the number of bowel motions are less frequent than expected but also the consistency of the stool is not normal, so rather than passing a normal formed stool the child might either pass very hard stools, which are difficult, cause pain or you know when the child, on the other hand, may have paradoxical diarrhoea.
Porter
Because this is one of the things that some parents struggle to understand is that children with constipation can present with accidents, they can have soiling, how does that happen?
Torrente
Yes it is quite a misconception that constipation only means not being able to go to the toilet.  A significant amount of children that we see actually do experience soiling which is the passage of a liquid stool around the blockage, which sits in the very distant part of the bowel, in the rectum, close to the bottom end.
Child
It's happened a few times in school which I've got quite embarrassed when people like leave me out.
Mother
There is that fear then that when you do go that it will be uncomfortable, that it might take a long time or the minute he came out the toilet I would pounce on him and say have you been.  So I think it builds up a cycle.  And it's things like when he's gone to school and I know he hasn't been to the toilet because what would then happen when he got so constipated with it he wouldn't feel that he needed to go to the loo, so he may well poo himself when he was out and about.  So we could be out for a family day out and he could have an accident.  When he went away on cub camp, when he went away with the school – all those things that are perceived as not being appropriate for his age, if he was a three year old and just out of nappies that would be fine but when you're talking about six, seven, eight, nine year old and I'm still carrying around spare clothes and other children suddenly say well what's the smell and what's happened.  So I think as a mum there's that fear that he will then be singled out because he's having these accidents maybe.
Brennan
Cleanliness can be a problem, appetite being decreased, poor sleep disturbance – the list really for constipation can be endless.
Porter
But are there a couple of things that have gone wrong – constant features that you see, either at home or the way that they've been looked after by their healthcare professional?
Brennan
There are probably lots of things going wrong.  The first and foremost one being told oh it's just diet, if you give them a healthy well balanced diet they wouldn't have constipation.  Unfortunately years of experience has shown that this is not the case, many of the children will have a healthy well balanced diet.  And it is the need to use medication and I would say perhaps that's another area where things went a bit wrong – medication wasn't used earlier enough or for long enough or the families didn't understand why they were using the medication.  So it's my role to explain the different sorts of medication, the difference between something that's going to make their poo soft, so that they will poo, or something that will stimulate them to go for a poo.
Child
I had to take something called Movicol, that if I'm constipated it will – not instantly, it will take some time and then…
Porter
It's quite gentle.
Child
Yeah.
Porter
And how often do you take that?
Child
One in the morning and one in the afternoon.
Porter
And what's it like because most medicines aren't very nice?
Child
It's not that nice.
Torrente
It's our role to ensure that the child consistently passes soft stools for a long period of time and reacquires the adequate sensation and when he needs the toilet.
Porter
Quite a few parents are concerned about giving their children laxatives of varying types and that there's sort of belief that the bowel becomes used to them, that you can create a lazy bowel – is there any evidence to support that?
Torrente
We certainly base no evidence to support that in relation to the stool softener, which is the common class of medication, which we use to treat constipation.  And in fact we recommend that parents adjust the dosage of this medication according to the child's needs, to ensure that we do get a response.  And certainly there is no evidence whatsoever to support that a prolonged term of this class of medication causes any problem.  The same unfortunately does not apply for the laxative stimulants, specifically for this reason we very rarely recommend them to use them on a daily basis, we tend to recommend they use it around two to three times per week but again we leave it to the parents to adjust the dosages in order to get an adequate response.
Porter
And the stimulants will be things like Senna, these are the things that make the bowel work more aggressively?
Torrente
Exactly yes.
Porter
In terms of simple advice, if a parent is worried that their child might be getting constipated what would you advise them to do as a first step?
Torrente
Well certainly I would advise not to underestimate the problem of constipation and I'm aware that a lot of parents are reluctant to seek advice from their general practitioners just because they're embarrassed to discuss about this problem.  The problem with constipation is that sometimes things might end up in a vicious cycle, so it is important to prevent this vicious cycle and to seek medical advice as soon as possible.
Porter
And in your experience the earlier you get medical help the better for the long term?
Torrente
Absolutely, I agree and we tend to say to some of our children we see in clinic that the time that we will take to sort their problem is more or less the same time for the child has been constipated.  So the sooner we see the children the better in a way, or the sooner these children seek medical advice the better.
Mother
Day to day now is good but we have been through some really difficult times.  The treatment isn't a quick fix, I would say it's taken years to get to where we are now.  So we've been trying to demystify it, if you like, and that he feels comfortable about it really.
Porter
And you'll the latest NICE guidance on how to manage constipation in children on our website, just click on the subjects in blue to find all the links mentioned in the programme.
Just time to tell you about next week when we will be looking at the latest developments in cataract surgery. And visiting a pioneering project to help people recover from the stress of being on intensive care – more than half of patients discharged from intensive care suffer depression, anxiety or unpleasant flashbacks when they get home.  Join me next week to find out what can be done to help them.
ENDS
Broadcasts