Main content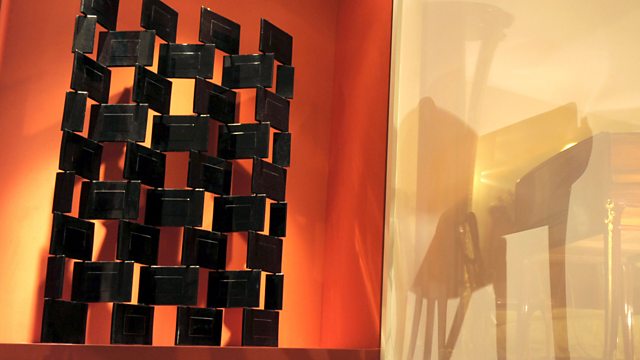 Eileen Gray: The Missing Heart of Design
Fiona Shaw explores the life and work of Irish-born designer and architect Eileen Gray, who created landmark modernist furniture and architecture that is distinctly feminine.
In anticipation of Eileen Gray's newly restored E1027 house opening to the public, Fiona Shaw explores the life and work of the Irish-born designer and architect.
Following a major exhibition at the Pompidou in Paris, which brought Gray new attention, she remains mysterious. She was born into a wealthy, aristocratic family in County Wexford in Ireland in 1878. Stifled by her mother's ostentation, she fled to live in Paris where she dared to enter the male-dominated professions of architecture and design as a self-taught woman.
In the first decades of the 20th Century, she created some of her iconic chairs and tables - the Bibendum and Dragon chairs among them. The Dragon Chair would sell for a record £19 million in 2009. Her clients famously included the fashion designers Jacques Doucet and Elsa Schiaparelli.
Although she's better known for her furniture, she devoted most of her working life to architectural projects. The pale, coloured concrete E-1027 house, near Monaco, is a true prototype for many architects today.
It was her close friend, the architect and writer, Jean Badovici who really encouraged her to focus on architecture, writing that, "She knows that our time, with its new possibilities of living, necessitates new ways of feeling.
She earned the respect of the De Stijl movement and Le Corbusier yet she openly contested the hard edged "machine" maxim. Her instinctive anti-heroicism is partly why her work is less known, but Le Corbusier also claimed E1027 as his own when, uninvited he painted "gregarious" murals on the interior walls, which Gray later commented "felt like rape".
As Fiona reveals, Gray's modernity was in her rethinking of the interior space; in how this could transform and become used, rather than imposing its functionality on us.
Contributors include Colm Toibin, Deborah Saunt, Beatriz Colomina, Peter Adam, Joseph Rykwert, Pierre-Antoine Gatier, Alice Rawsthorn and Elisabeth Lebovici.
First broadcast in February 2014.