Main content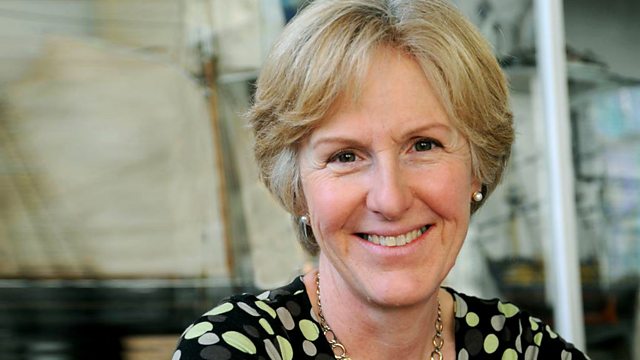 23/02/2014
Catriona Young's selection includes music from the 2013 Proms: LSO under Daniel Harding in Britten's Les Illuminations (with Ian Bostridge) and Elgar's Symphony No 2.
BBC Proms 2013. Ian Bostridge performs Britten's Les Illuminations with the London Symphony Orchestra and Daniel Harding. Plus Elgar's Symphony No.2. Presented by Catriona Young.
1:01 AM
Tippett, Michael [1905-1998]
Concerto for double string orchestra (1938-9)
London Symphony Orchestra, Daniel Harding (conductor)
1:27 AM
Britten, Benjamin [1913-1976]. Text: Rimbaud, Arthur (1854-1891)
Les Illuminations for voice and string orchestra (Op.18)
Ian Bostridge (tenor), London Symphony Orchestra, Daniel Harding (conductor)
1:52 AM
Elgar, Edward [1857-1934]
Symphony no. 2 (Op.63) in E flat major
London Symphony Orchestra, Daniel Harding (conductor)
2:54 AM
Anonymous
Greensleeves, to a Ground with Divisions
Elizabeth Wallfisch (Baroque violin), Rosanne Hunt (cello), Linda Kent (harpsichord)
3:01 AM
Strauss, Richard (1864-1949)
Le Bourgeois gentilhomme - suite (Op.60)
Norwegian Chamber Orchestra, Terje Tønnesen (conductor)
3:37 AM
Mozart, Wolfgang Amadeus (1756-1791)
Exsultate, jubilate - motet for Soprano & Orchestra (K.165)
Ellen van Lier (soprano), Netherlands Radio Orchestra, Roelof Van Driesten (conductor)
3:54 AM
Telemann, Georg Philipp (1681-1767)
Suite for strings and continuo (TWV.55:g1) in G minor 'La Musette'
B'Rock
4:08 AM
Demersseman, Jules August (1833-1866)
Italian Concerto in F major (Op.82 No.6)
Kristina Vaculova (flute), Inna Aslamasova (piano)
4:20 AM
Bach, Johann Sebastian (1685-1750)
Der Geist hilft unser Schwacheit - motet (BWV.226)
Choir of Latvian Radio, Aivars Kalejas (organ), Sigvards Klava (conductor)
4:28 AM
Chopin, Frédéric (1810-1849)
Fantaisie-impromptu for piano in C sharp minor (Op.66)
Dubravka Tomsic (piano)
4:34 AM
Solnitz, Anton Wilhelm (c.1708-c.1752-3)
Sinfonia (Op.3 No.4) in A major for strings and continuo
Musica ad Rhenum
4:46 AM
Fesch, Willem de (1687-1757)
Joseph's Aria "Tremble Shudder at the Guilt" - from the oratorio Joseph, Act 1
Claron McFadden (soprano: Joseph), Musica ad Rhenum, Jed Wentz (conductor)
4:52 AM
Rossini, Gioachino [1792-1868]
Overture to Il Barbiere di Siviglia
Slovenian Radio and Television Symphony Orchestra, Günter Pichler (conductor)
5:01 AM
Auber, Daniel-Francois-Esprit (1782-1871)
Overture 'Le Cheval de bronze'
Slovak Radio Symphony Orchestra, Stefan Robl (conductor)
5:09 AM
Chopin, Fryderyk (1810-1849)
No.15 in D flat 'Raindrop' - from 24 Preludes Op.28 for piano
Nelson Goerner (piano)
5:15 AM
Brahms, Johannes (1833-1897)
Tragic overture (Op.81)
Stavanger Symphony Orchestra, Leif Segerstam (conductor)
5:30 AM
Grieg, Edvard (1843-1907)
3 Pieces from Slåtter (Op.72)
Havard Gimse (piano)
5:39 AM
Sibelius, Jean [1865-1957]
Pohjola's daughter - symphonic fantasia (Op.49)
Royal Concertgebouw Orchestra, Sir Colin Davis (conductor)
5:54 AM
Handel, Georg Frideric (1685-1759)
Il Pastor Fido, ballet music
English Baroque Solists, John Eliot Gardiner (conductor)
6:05 AM
Bach, Johann Sebastian [1685-1750]
Magnificat in D major (BWV.243)
Antonella Balducci (soprano), Ulrike Clausen (alto), Frieder Lang (tenor), Fulvio Bettini (baritone), Chorus of Swiss-Italian Radio, Ensemble Vanitas Lugano, Diego Fasolis (conductor)
6:32 AM
Haydn, (Franz) Joseph (1732-1809)
Symphony no.95 (H.1.95) in C minor
Oslo Philharmonic Orchestra, Marek Janowski (conductor)
6:51 AM
Mendelssohn, Felix [1809-1847]
3 Studies Op.104b for piano
Sylviane Deferne (piano).