Main content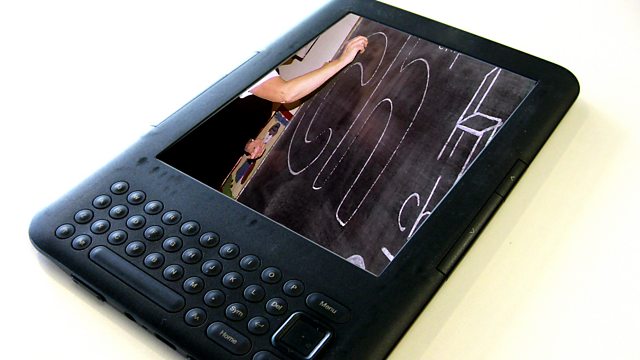 The Classroom of the Future
Sarah Montague with the first in a new series looking at the phenomenal changes in education being brought about by technology. What will the classroom of the future look like?
In a leafy suburb of Silicon Valley, 9 year olds lie on their tummies on the floor, log on to their silver Chromebooks, and begin doing maths lessons. Their teacher logs on as coach and gives one-to-one instruction...exactly where it's needed.
The Khan Academy is an online teaching service whose mission is to provide a free world-class education to anyone, anywhere. In Bill Gates' view, it's "a radical rethinking of what it means to go to school". With 10 million users every month logging onto their online videos, Salman Khan - the Academy's founder - is arguably the most important teacher in the world.
"We're losing some of our most creative minds" Salman Khan tells Sarah. "The current model of education is 200 years old...we have to change that". He argues that - for the first time - technology is now available to provide totally "personalized learning". "This is really a once in a lifetime opportunity....we just can't mess it up".
In this programme, Sarah sets out to discover what the classroom of the future will look like.
She visits a Rocketship school in a deprived part of San Jose. Around a quarter of the school day in this primary is spent online. As a result, they've laid off teachers, reinvested the money so that those they've kept are paid up to 50% more than teachers in nearby schools - and their results have soared. "Our students are now competing with some of the most affluent in the state" says the headmaster, Preston Smith. But their model is highly controversial.
Sarah also talks to Nolan Bushnell, the "father of modern video gaming" and founder of Atari. His latest venture is a company called BrainRush. Bushnell believes children can learn almost anything through video games. As Sarah gets to grips with the names of South American countries in one of Bushnell's new video games, he tells her "We want to make education addictive. In this brave new world, school has to compete for the engagement of the mind. And a teacher with a piece of chalk can't compete".
We meet Rupert Murdoch's head of education, Joel Klein. His company has developed a tablet that they're rolling out to schools across America. "Our ambition, whether it's our tablet or other people's tablet, would be that every kid would have one of these things. The more we can get entrepreneurs and private capital to move into this space...the better the education system is going to be". It's big business. "Are you planning to sell these tablets in the UK" Sarah asks Klein. "Right now our focus is on the U.S. If and when it becomes appropriate for us to think about expanding we'll look around the world".
Much of the running on this new world of online education is being done by people who stand to make a great deal of money.
Is this the future of education - the answer to the present funding crisis? Have traditional teaching methods outlived their usefulness? And how do children learn best?
There are many sceptics. And from some unusual sources. Sarah meets the teachers and parents of the Waldorf School - where three-quarters of the pupils have parents working for companies like Google, Apple and Yahoo - but whose classrooms don't have a single computer.
Producer: Adele Armstrong.
Last on
More episodes
Previous
You are at the first episode
Broadcast