Main content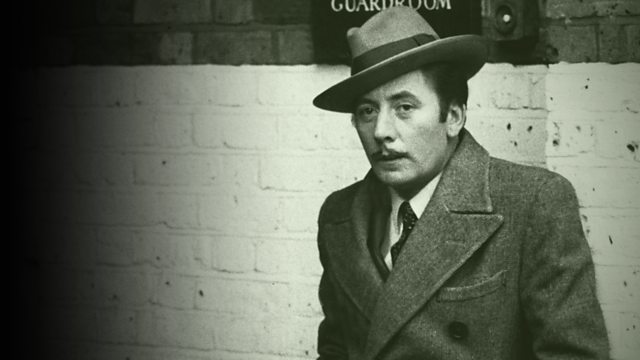 The Death of the Spiv
An admirer of the evasive spiv, poet Paul Henry traces his slippery archive trail. With Alan Ford and Owen Jones. From February 2014.
The poet Paul Henry traces the slippery movements of "The Spiv" through the archives. When Paul was a young man he was captivated by the slick, smooth-talking Private Joe Walker in the TV sitcom 'Dad's Army'. A few years later, on his first trip to London, he was soon parted from his money by a man selling dodgy cutlery from a suitcase in Petticoat Lane. Ever since then, he's been fascinated by this tricksy stereotype, and so he has gone through the archives to find out where the factual and the fictional Spiv has gone.
One of the spiv's earliest incarnations was a real life conman from the turn of the 20th century called Henry the Spiv Bagster, but the etymology of the word itself is nearly as evasive as a spiv.
It's the protean quality of the spiv, the imagined and the real, that is really appealing. Paul follows him as he dips in between light and shade - from the comic representations in the form of his beloved Private Walker and Arthur English to the far murkier and occasionally psychotic characters in films like 'They Made Me a Fugitive'.
Paul looks at the specific social and economic conditions of post-war Britain that arguably made a spiv of everyone, and tries to find out where he may have disappeared to now, in these days of relative plenty.
With contributions from actor Alan Ford, crime historian Clive Emsley, critic Robert Hanks, columnist Owen Jones and amateur historian Rob Baker who tells Paul about the horrific murder of a real life spiv. Rich archive includes 'Hancock's Half Hour' where Sid hosts a celebration of the return of rationing, first hand testimony from a self-confessed former spiv, and an interview with George Cole.
Producer: Sarah Langan.