Main content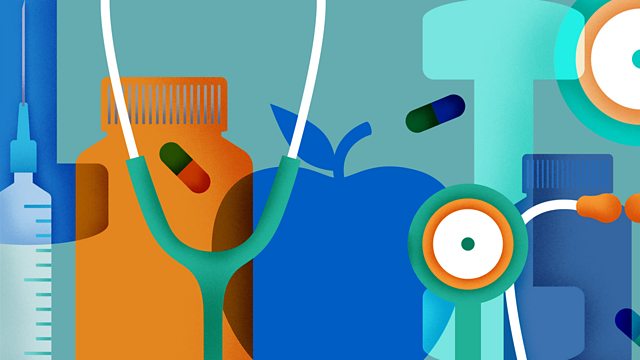 Loneliness, Statins, Feedback on glucosamine and gut instinct, Cycle lanes and air pollution, Coughs and antibiotics
Dr Mark Porter asks why cycling on busy roads is bad for health, why loneliness might be as bad for you as obesity, who should take statins and are antibiotics useful for a cough?
Dr Mark Porter investigates the health effects of loneliness and why some researchers believe being lonely is worse for your health than obesity. Also in the programme, as proposed new UK guidelines mean as many as 5 million more people could be prescribed statins to lower their cholesterol how do you work out if you are in this new category of being at risk? Are the current calculators that work out your risk up to the job? Mark also investigates coughs. Does it really make a difference if your cough is viral or bacterial, and why eighty percent of people won't benefit from taking antibiotics for their cough. A recent study has found that long term, repeated exposure to air pollution increases the risk of heart attacks. What does this mean for people who live near busy roads, and who is most at risk? Mark Porter talks to Frank Kelly, professor of environmental health at King's College London about why the microscopic particles in air pollution cause problems for the heart and why he believes cycle routes shouldn't be on busy, main roads.
Last on
Inside Health - Programme Transcript
Downloaded from www.bbc.co.uk/radio4 
THE ATTACHED TRANSCRIPT WAS TYPED FROM A RECORDING AND NOT COPIED FROM AN ORIGINAL SCRIPT.  BECAUSE OF THE RISK OF MISHEARING AND THE DIFFICULTY IN SOME CASES OF IDENTIFYING INDIVIDUAL SPEAKERS, THE BBC CANNOT VOUCH FOR ITS COMPLETE ACCURACY.
INSIDE HEALTH
Programme 5.
TX:  18.02.14  2100-2130
PRESENTER:  MARK PORTER
PRODUCER:  PAMELA RUTHERFORD
Porter
Coming up in today's programme:  Statins - Dr Margaret McCartney will be here to clarify cholesterol.  How can you tell if you are one of the five million extra people in the UK that NICE believes could benefit from taking a statin?
Air pollution - following new research linking heart attacks to particles in diesel fumes, we look at what we can do to protect ourselves.
And treating a cough - why do so many people end up on antibiotics when the best evidence suggests that they don't help in most cases, and may make matters worse?
But first loneliness and reports in the media this week that being lonely in old age is deadlier than obesity. A claim that piqued our interest here at Inside Health – Margaret McCartney has been taking a closer look. Margaret, press coverage said being lonely was worse for you than being obese, were you happy with that comparison?
McCartney
I think it's very difficult.  The problem with these studies is that they haven't directly compared the impact of being obese with the impact of reporting that you're feeling lonely.  So I think it's very hard to be clear what the risk is in proportion with other risks but I think we can be clear that it is a risk factor that is present and has been found of course in many different types of studies and it does seem to be persistent, so it's not something that's picked up in some studies and not in others, it is a fairly consistent research finding across the board, not just in the US but also in the UK.
Porter
Loneliness is not good for you.
Well we're joined now by Christina Victor, who's Professor of Gerontology and Public Health at Brunel University.  Now Professor Victor does this come as any surprise to you?
Victor
No not at all.  As early as the 1980s people were noting the link between an individual's social network and their whole range of health outcomes from mortality through physical health to mental health problems.  So no it's not particularly a surprise.
Porter
Do we know what loneliness is doing, can you give me an example of the sort of pathway that it might affect your wellbeing and send you to an early grave?
Victor
If we knew that we would be able to solve the problem rather easily.  I think it's rather complicated.  Some studies have suggested that loneliness affects a number of physiological parameters such as blood pressure and a range of other biological markers which may increase people's risk of heart disease or dementia but I think it's not entirely clear.  The other suggestion is that perhaps because people are lonely or detached from a social network they indulge in less healthy behaviours, such as they're more likely to smoke or to be obese or to not take exercise or perhaps not consult their GPs.
Porter
Is this effect limited to older people?
Victor
Oh I wish I knew the answer to that, regrettably because we think that loneliness is particularly a problem with older people we haven't really looked at how the effect of loneliness may impact upon young adults.  Certainly in Britain there are two peaks for loneliness, one for young adults, let's say – between the ages of about 18 and 25, then loneliness decreases as we might speculate because people are employed and married and have relationships and then there's an increase in loneliness when we get to our 60s and 70s.  So we've looked at the effect of loneliness and a range of health outcomes for older adults but as far as I'm aware nobody's done that for younger adults and that would be a very interesting question to answer.
Porter
Margaret, of course another problem with this is defining what we mean by lonely, one man's loneliness is another's solitude.
McCartney
Absolutely and I think it can be quite difficult in a research study to fully play out what it is that people are actually complaining of and I think one of the saddest things, as a general practitioner, you come across is being perhaps the only person to have had a conversation with someone for a week or two weeks or sometimes even longer, it's not difficult to see why that's very bad for people if they're wanting company, needing company, really crying for social interaction and they're really having very little or none of it and that – and perhaps their GP is the only person or a district nurse is the only person that's providing that for them.  So I think for my mind at least and what I see from day to day work there's a huge well of loneliness out there that I'm sure has a huge impact on people's wellbeing.
Porter
And it's not always obvious I presume Christina that somebody is lonely?
Victor
No, I think it's very difficult.  There was a recent survey that was conducted which demonstrated that older people, if they did feel lonely, would be very reluctant to talk about it with their family and with their friends and I think it's very difficult to identify people who are lonely just from ordinary daily life.
Porter
Practically what should we be doing about this?
Victor
Well that too is the $65,000 question.  There are – first of all there's a problem, as Margaret's already alluded to, as how we define loneliness and the literature if beset with problems of studies purporting to measure loneliness but actually measuring social isolation and vice versa.  So first of all it's a rather difficult subject to pin down.  And we have very, very limited evidence about what works.  It certainly looks like group kinds of activities are the most effective against loneliness but really we don't really understand loneliness enough to understand how to then intervene to remediate it.
Porter
Professor Christina Victor thank you very much.  And you will find a link to the presentation given in Chicago that started all this on the Inside Health page of the Radio 4 website.
Now, statins and last week's announcement by the National Institute for Health and Care Excellence (NICE) that it is considering lowering the threshold for using them to prevent cardiovascular disease. 
NICE is proposing to reduce the existing cut off of a 20% or more chance of having a stroke or heart attack over the next 10 years, to just 10%. A move that could see as many as five million extra people in the UK being prescribed them.
Might you be one of those five million and how can you tell?
Margaret McCartney has been looking at the tools that doctors use to work out the odds of an early heart attack or stroke. And there are a few different ones aren't there Margaret?
McCartney
There are indeed.  So we have in the UK quite a choice of risk calculators that we can choose from, although NICE have recommended that we use one called Qrisk2 and in Scotland we tend to use one called ASSIGN.
Porter
And they're basically doing the same thing these calculators aren't they?
McCartney
Yeah, they have similarities and differences.  So you tend to – all of them want to know what age you are because age is the biggest risk factor at all, your gender, some will ask for your ethnicity because some ethnic groups have a higher risk of cardiovascular disease compared with others, whether or not you smoke, what your blood pressure is and there are further differences between them.
Porter
And the idea is that they put all of these figures into an algorithm and it comes up with the magic figure.
McCartney
Yes it comes up with an estimate.
Porter
But that's based on what, I mean…?
McCartney
Yeah this is interesting.  So it's based on look back data.  What researchers have done is they have looked at the records and the case files of patients who have had cardiovascular disease and they've tried to find out what are the things that make it best able to predict whether or not these people would have that event in their life.  And what the risk calculators then try and do is work out looking forward if you can identify these people or not, try and work out which are the people in your population that are at higher risk of having a cardiovascular event like a stroke, a mini stroke, a heart attack.
Porter
So essentially these calculators are based on what we've learnt already and we're trying to use that to predict the future.  Is it any more accurate than trying to predict what happens to the stock market, how good it is – how good are these things?
McCartney
It's a really, really interesting question and I have to say that up until when I went to do some reading for this I was under the impression that they were pretty good.  But actually they don't work out terribly well.  So a lot of the time they will identify people at being at high risk or higher risk when they're actually not and they will also miss some people.  But they tend to over-diagnose or over-calculate risk for a group of people rather than under-calculate risk.
Porter
But that's understandable isn't it, if you're going to err you would want to err on the side of caution I suppose, you wouldn't want to false reassure people who could be at high risk.
McCartney
Of course, of course but we live in shifting sands because over the last 20 or 30 years actually the rate of cardiovascular disease has actually been in decline, so we're constantly trying to predict the future but using evidence that we've got that's been generated in the past.
Porter
One of the things that intrigues me Margaret is that exercise doesn't seem to feature, certainly not in the Qrisk calculator that I use and yet you could be sitting with somebody with a high cholesterol, for instance, and they're 55 with a high cholesterol, they're in the at risk group but they're a marathon runner!
McCartney
And the same for diet as well and I think part of the problem is that these algorithms have been generated from data that's available in your medical records, so if you're not recording and we don't routinely record how much exercise most of our patients are taking or what kind of diet they have this is not the kind of information people are going to be able to work with.  So we end up in a situation – we've got a patient who is different from all your other patients but we're trying to apply population data to.  So population data's great at telling you about a population but not so great at trying to predict what will happen to that one individual person.
Porter
And that's the problem with looking at an individual patient isn't it Margaret, that actually there's no such thing as an average patient, he or she may get no benefit and all the downsides.
McCartney
Yeah and the lower the risk you are the bigger the chance there will be of you having no benefit but all of the potential side effects.
Porter
A lot of people might think that the worst thing that can happen with a statin is it doesn't actually offer you much protection against stroke and heart attack but there are significant side effects too.
McCartney
Yeah and it's really interesting when it comes to side effects from statins.  A lot of papers have looked at the evidence and decided that actually the side effects are fairly minor and they're short-lived and people make too much of them but in the real world and especially when you talk to other GPs it's a really common scenario that people come in and they say I don't feel well on a statin, some people will complain of muscle ache such that they can't exercise, which is a kind of self-defeating thing if you're trying to lower someone's cardiovascular risk.  All kinds of what some people might class as minor side effects but to a person who is taking it for something that they probably won't get it becomes quite a major side effect.  And then there's the other things much rare but they do exist and it's a slightly increased risk of developing diabetes because of the statins, slightly increased risk of having a kidney or a liver injury because of the statins.  So there are lots of little things and the problem is that once you start to apply more and more medication to more and more people who were never going to die of the thing that you're trying to prevent it becomes more and more difficult to say to those people you're definitely getting a benefit if all they're telling you that they're experiencing is side effects.
Porter
People are often surprised when I ask them for their postcode, can you explain the rationale behind that?
McCartney
Yes.  Yeah and again it's trying to find out how can you make your calculator the best calculator for predicting who's going to get cardiovascular disease before everyone else.  So it's generated by postcodes and that postcodes are a marker for deprivation and we know that deprivation is a risk factor for early cardiovascular disease.
Porter
Because people often think it's all about my cholesterol level but it's not.
McCartney
No, I think cholesterol's, in the grand scheme of things, actually quite a minor problem when we're talking about risk and of course the biggest risks are age and again another really big risk that can be modified is smoking.  And another big risk that can be modified is exercise.  And instead we have a very medicalised approach to reducing cardiovascular risk which I think is a real shame.
Porter
Thank you Margaret.
And there is a link to our preferred calculators on the Inside Health page of the Radio 4 website if you would like to try them for yourself.
Time now for some feedback.
Last week's item on glucosamine, following the release of new guidance from NICE saying that it had no place in the treatment of osteoarthritis, raised a few hackles.
Bob Watson, among many others, says it does work – at least for him – and Maria Budd says she has seen it work in dogs so there must be more to it than a placebo effect.
Please don't shoot the messenger. All we did was point out that the very best trials show glucosamine isn't an effective treatment for arthritic joints. Which was why NICE does not endorse it.
And while I am no expert, both owners and vets are subject to the influence of the placebo effect. That is why the best trials are double blinded, neither recipient, nor observer knows who is getting what. 
On a happier note, our report on new research suggesting that doctors should listen to their gut feelings prompted this e-mail from Sylvia Larrad:
Sylvia Larrad
I am that patient that Margaret McCartney referred to.  On my first visit to a new GP in Dorset, having just relocated from Manchester, I truly believe I owe my life to the GP who listened to my then scant symptoms and later, after confirmation of bowel cancer diagnosis, admitted he followed his gut feeling.  This was all 14 years ago now.  We all get gut feelings in many walks of life – I'm living proof that the system should allow them to be acted upon.
Porter
If you want to share your thoughts, or suggest topics for us to look at, please do get in touch via insidehealth@bbc.co.uk
Now close your eyes and imagine a GP's waiting room. What do you hear? A hushed conversation, phones ringing, perhaps a child crying ….. and definitely someone coughing!
Acute short lived coughs, typically caused by self-limiting viral infections that get better on their own, make up a huge proportion of a GP's workload, even though we don't have anything that can cure them. So why do so many people - like this chap end up on antibiotics?
Actuality
Cough patient
I started feeling unwell on New Year's Eve and I was pretty congested in my head, started to cough and I could feel that my chest was getting a bit heavy.  I let it go for about a week, called the GP up and her diagnosis was I had a chest infection and she gave me some antibiotics.
Hay
My name is Alastair Hay, I'm a GP at Concorde Medical Centre in South Gloucestershire and I'm a Professor of Primary Healthcare at the University of Bristol.  Cough is the most common presenting complaint to the NHS and to health services internationally.  So this is bread and butter for GPs and nurses in the NHS.
Porter
And you'd think that if it's one of the most important conditions that we're treating that we'd know how to treat it, are we there?
Hay
I don't think we are yet.  I think we're making great inroads but despite its frequency and despite how long we've known it's around there's still quite a lot yet to do.  It's reasonably clear that the vast majority of people, probably of the order of about 80% who are presenting with relatively short-lived coughs that are associated with other respiratory infection symptoms probably won't benefit from an antibiotic.
Porter
What's causing the majority of these coughs?
Hay
Well that's perhaps the first good question.  So clearly we know that viruses and bacteria cause respiratory infections in both children and adults and we've got some sense of the fact that some viruses are more common, for example things like respiratory syncytial virus are more common in children, other infections may be more common in adults.  But most of the characterisation of the causes of cough have been done in more unwell patients who are in hospital and we know less than we should I think about the causes of cough in primary care.
Little
My name's Paul Little, I'm a National Institute of Health Research senior investigator and professor of primary care research at the University of Southampton.  Even if you find a bacteria there most people will get better from bacterial infections anyway.  So the viral bacterial thing is important but it can be overplayed a little bit because bacteria doesn't equal I have to have antibiotics and similarly virus doesn't necessarily mean you should never have antibiotics.  And most people who still come to their GP will get an antibiotic now still, despite the evidence that antibiotics don't work terribly well.
Porter
That does surprise me slightly in that this message has been – well as long as I've been a GP we've been harangued for over-prescribing of antibiotics and in particular in coughs saying that actually most people who cough don't need antibiotics.  Are we prescribing fewer antibiotics?
Little
No that's one of the slightly worrying things, we seem to be doing fairly well at the end of the '90s when there was a reduction in the volume of antibiotics prescribed in the UK, down to the early 2000's but since then there's been a progressive rise in the volume of antibiotics prescribed.  Now that's not just the number of prescriptions, it's actually also people are prescribing higher doses, so it's not quite as dark as it looks.  But we haven't made much headway since the early 2000s.  The problem is there probably are a few people who benefit from antibiotics and they are by and large people who have pneumonia and the question is can you easily pick up pneumonia?  And the answer is – actually the good news is when it's barn door you can but the subtler signs of pneumonia are often difficult to pick up and a GP will sometimes examine somebody and say don't think you've got pneumonia when there's a little bit there.  Does that matter?  I think for most people it doesn't matter actually, a tiny little bit of pneumonia that you can't pick up as a clinician probably will settle by itself in most individuals.
Porter
Another thing that patients often worry about is the stuff that they're coughing up – Dr I'm coughing up nasty looking yellow/green stuff – is that of any significance?
Hay
Just green phlegm on its own no.
Porter
And that will be a surprise to most people because it's one of the first things you hear from patients, isn't it – I'm coughing up some nasty stuff?
Hay
Absolutely and I think it's quite nice if we can to sort of turn that round on its head and say well what are the positives about that?  You're clearing the phlegm from your chest, that's probably a good thing, better than it sort of staying down in your lungs, that's probably going to clear away the muck that perhaps otherwise could lead on to a more severe chest infection.  So the cough is a healthy natural response and the clearing of phlegm is a good thing and we should expect it to last three, sometimes even four, weeks and so long as it's improving and we're not sort of deteriorating and we're not experiencing other markers of severe illness then that's perfectly okay and perfectly natural.
Porter
What about temperature?  People come in with chest symptoms we take their temperature, if it comes back high does it affect our management or should it affect our management?
Hay
I think here we're largely in the realms of absence of evidence, I think that all of us – patients and doctors – are concerned when there's a particularly high temperature measured, by high I'm thinking of sort of greater than 39 or certainly once you're getting into the 40 degree Celsius.  And the thinking there is that that may be linked to a more severe chest infection like a pneumonia.  But actually when you look at the evidence it's really difficult, there's very little evidence to suggest that even a very high fever means you should have an antibiotic.  I certainly think that you should be seen by your GP but that doesn't necessarily mean your GP should give you an antibiotic.
Little
There's a modest individual dis-benefit by having antibiotics.  A. you'll encourage the resistant bugs to multiply in your throat and in your passages but you'll also have got rid of some of the good bugs that sit around in those passages that actually act as a protective way.  You will also by getting antibiotics in early you'll stop an immune response that is actually helpful the next time you see it.
Porter
Do we know looking at duration, because it seems to be important to patients, is that an indicator of it being more likely to be a bacterial infection that needs treatment or not?
Little
No it isn't is the short answer, in fact we've done a recent very, very big trial across Europe and one of the groups you're interested in was people who had longer [indistinct word] duration and they certainly don't benefit from antibiotics.  If anything it's the other way round – people who get very sick quickly and come in quicker perhaps marginally more likely to benefit but only marginal and in fact the natural history of this illness is a very long one, it's around three weeks for the people that we see and that's an average, so 50% of people that we see will have a cough for longer than three weeks.  So one of the keen messages to get across is actually this is a long lasting illness, you're not going to feel great with it, we can't do magic things, it will get better but it'll take a while.
Porter
Professors Paul Little and Alastair Hay.
And from viruses and bacteria, to something else that might make you cough – air pollution. "Pea souper" smog may be a thing of the past, but less visible pollution is still exacting a toll on the health of commuters and city dwellers. And it's not just our lungs that are affected.  A landmark European study published just last month found a link between invisible particles of soot and the risk of heart attack.
Frank Kelly is Professor of Environmental Health at King's College London.
Kelly
It builds on a very large literature which indicates that there is an association between living in an area which has got higher air pollution and a major health outcome, which is heart attacks.  So the study was done across five European countries, it ran for 12 years and it involved over 100,000 people.
Porter
And that increased risk was how much?
Kelly
That increased risk was relatively small, it was the order of between 5 and 10% but it's still a  risk and…
Porter
Heart attacks are common as well.
Kelly
… there's 45,000 people die from heart attacks in the UK every year and if we can help that component of that sector by minimising the risk then I think everybody would be very grateful.
Porter
So a small increase but in a common thing?
Kelly
Yes, we all have to breathe.
Porter
Looking at the pollutants themselves, I mean with the advent of the catalytic converter of course petrol engines were cleaned up and you can't smell the fumes like you used to be able to but there's a new danger emerged?
Kelly
Yes, Europeans have got a great love for the diesel engine because we thought it was a more efficient than the petrol engine, we could get more miles to the gallon.  That's not really true anymore and we're left really with the problem of diesel being much more of a polluting fuel than petrol is.  A typical figure that's usually used is that you'll get 20 times more particles from a diesel exhaust engine than you will from a petrol engine.
Porter
And explain what these particles are.
Kelly
So these are small carbon particles, so small you can't see them.  And to try and put that into context – a human hair, which you can just see, is 60 micrometres in diameter, the largest of these particles that can get into your lung are only 10 but the majority of them are much, much smaller than that.  So they're invisible to the naked eye but they're produced in very large quantities from all our transport systems and in urban environments.
Porter
Are modern cars with all of the latest emissions are they still producing these particles?
Kelly
Modern cars – they have become cleaner but they haven't become clean enough.  And what has unfortunately has become apparent, just in the last 12 months is, is that these fantastic exhaust systems work beautifully in the factory whenever the car is running to a very set cycle but the technology, it turns out, doesn't work that well in real life.  So if you have a vehicle on a London road, which is running at maybe 12 or 13 miles an hour because of congestion, it never gets up to the right temperature to effectively work properly.  So we're getting a lot more pollution from a vehicle which is meant to be very clean.
Porter
And how are these particles actually harming us?
Kelly
The difference about these modern vehicle exhaust particles are that they're very small, so they're actually getting to parts of our bodies, deep parts of our lung, which particles have never been able to get to before because we've always had the larger ones associated with burning wood and coal.  But these modern diesel associated particles are so small that some of them can actually get across our lung into our circulation.  Now that's never happened to the human lung before but if you get this happening day in, month in, year in over decades then clearly it can build up to a big problem.
Porter
This new study looked at a link between pollution and heart attack, do we think that these small particles getting into the bloodstream are affecting the heart that way, is that how…?
Kelly
There are two main theories.  One is that yes they are transferring across from the lung into the circulation and affecting blood vessels and the heart directly.  The other theory is that it's not the particles themselves but it's what they carry on their surface, so they carry these complex chemicals of metals and organic compounds which you get from combustion and then when they get into the deep lung they leach off and they move across the cells into the circulation – that's the chemicals.  And it doesn't really matter, the bottom line is that they're getting across whether they're on the particle's surface or not.
Porter
What happens to these particles once they come out the back of an exhaust pipe, are they dispersed like gases would be?
Kelly
Absolutely.  So immediately beside a busy road there'll be a high concentration of them and if you happen to be moving along that pavement or whatever you'll be breathing them in fresh.  But very quickly they do move up into the air and depending on the weather conditions they'll be mixed with older particles and they may, if there's not high buildings on the road, they may be cleared across out of the city very quickly.
Porter
What about people who are cycling and pedestrians who are commuting, the children who are walking to school, presumably the more vigorous the activity that you're doing in this polluted air the more likely you are to draw these particles in?
Kelly
Absolutely, so everything I've been talking about so far is to do with concentration of particles in the air.  Obviously someone who's cycling they're breathing much harder, or if they're running they're breathing much harder, if it's a child playing they're breathing much deeper and longer.  So it's that volume of air and the concentration of pollution in the air which gives you the ultimate figure which we all need to pay attention to.
Porter
What about filtering these particles out?  First of all let's talk about the cyclist then – we see lots of cyclists in London wearing masks, do any masks work?
Kelly
Certainly the relatively cheap disposable masks they will not prevent the particles entering the lung because they are too small.  So effectively if you're going to stop those you would have to have something which basically stopped you being able to breathe.  There are some higher end masks which have activated charcoal as part of their makeup and they will trap some of the gases which we worry about – we haven't talked about those, like nitrogen dioxide which also has health effects – though actually to stop these very small particles you have a big challenge on your hands.
Porter
If it's not practical to wear that sort of mask what would your advice to cyclists be?
Kelly
So unfortunately many of the major cycle routes are along our busiest roads and that's where the most pollution is.  So there are now apps and maps available which will allow cyclists to plot their route from A to B by maybe adding two or three minutes to their journey but just going down some side roads, some back roads, through parks and they'll have a much pleasanter experience and they can drop their exposure level to this pollution considerably, I mean many fold.
Porter
And to put diesel cars in context, I mean we haven't talked about buses and other – the heavy goods vehicles, but look at the cars – a modern diesel car compared to the equivalent modern petrol car, how clean is petrol now?
Kelly
Very, very clean, the technology for the petrol car has really led to a much improved combustion of the fuel and as a result some of the new Euro Six petrol engines are producing very, very small amounts of particles and very, very small amounts of oxides and nitrogen in the gas.  If you want to drop pollution with the technology that's available at the moment then a small engine petrol vehicle is ideal.
Porter
Professor Frank Kelly. And don't think you are protected because you are sitting in a car - most modern automotive filters are not fine enough to remove diesel particulates, and you are breathing the same air as the cyclists and pedestrians.
Just time to tell you about next week when I will be looking at the latest thinking on how to manage children with constipation. And another cause of cough, but this one makes your chest sound like it's full of Velcro.
ENDS
Broadcasts