Main content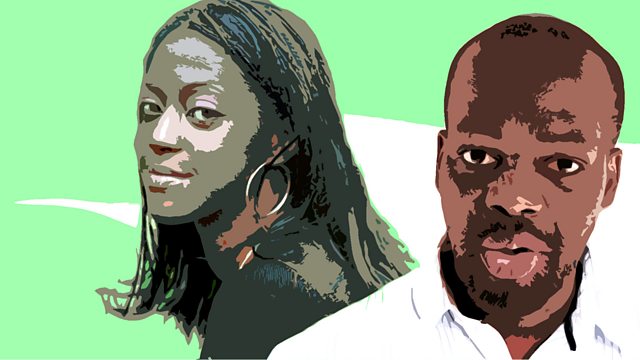 When the Laughter Stops
By Sibusiso Mamba. Stand-up comic Rhakeele returns to Africa, hoping to reignite her and her husband's relationship and careers, but they soon find themselves out of their depth.
Rhakeele sees a return to Africa for a tour of her and husband Musondi's stand-up act as a chance to reignite their careers and their marriage. He's not as keen. And it turns out he may be right - as they find themselves caught in a culture clash which threatens everything, including their freedom.
by Sibusiso Mamba, co-created with Daliso Chaponda, with additional material by Ava Vidal
Director: Marion Nancarrow
Real-life stand up comedians Daliso Chaponda and Ava Vidal play married couple Musondi and Rhakeele in this new play which Sibusiso Mamba co-created with Daliso, with additional material by Ava. Rhakeele has a secret desire to go back to the country she was born in - in Africa, but for husband Musondi who has never lived there, it initially holds no attraction. Once there, however, the differences between life in the UK and life in Africa become polarised and they find themselves in direct opposition, using what they do best - stand up - to prove which of them is the stronger. But unwittingly they're making a tense situation in a country Rhakeele no longer understands far worse than they could ever realise and putting their closest friends in jeopardy.
Credits
| Role | Contributor |
| --- | --- |
| Musondi | Daliso Chaponda |
| Rhakeele | Ava Vidal |
| Migzy | Sibusiso Mamba |
| Ranger | Sibusiso Mamba |
| Kapeni | Lucian Msamati |
| Zindy | Nikki Amuka-Bird |
| Detective Lungo | Tonderai Munyevu |
| Thoko | Tonderai Munyevu |
| Reverend | Steve Toussaint |
| Heckler | Steve Toussaint |
| Writer | Sibusiso Mamba |
| Writer | Daliso Chaponda |
| Writer | Ava Vidal |
| Director | Marion Nancarrow |