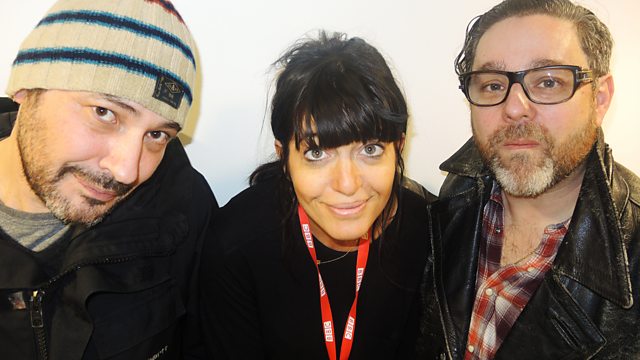 Jeremy Dyson, Andy Nyman and Robert Lautnor
The League of Gentleman's Jeremy Dyson and Derren Brown collaborator Andy Nyman talk about the return of their terrifying horror show, Ghost Stories.
The League Of Gentleman's Jeremy Dyson and Derren Brown collaborator Andy Nyman talk about the return of their terrifying horror show Ghost Stories. We'll also be celebrating the western with author Robert Lautner. His new book Road to Reckoning is a brutal yet at times beautiful coming-of-age tale played out against the vast wilderness of the Frontier territory.
We'll also hear from Hollywood star John Goodman about his new film The Monuments Men, based on the true story of the men and women tasked with rescuing works of art from behind Nazi lines.
Jeremy Dyson and Andy Nyman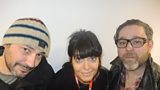 The League Of Gentleman's Jeremy Dyson and Derren Brown collaborator Andy Nyman pop in to talk about the return of their terrifying horror show Ghost Stories.
Ghost Stories, written and directed by Jeremy Dyson and Andy Nyman is on at the Arts Theatre in London now
Robert Lautner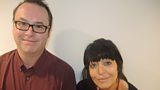 Robert Lautner is the pseudonym of author of historical fiction. Born in Middlesex in 1970, before becoming a writer Robert owned his own comic-book store and he's here to talk about his new book 'The Road To Reckoning'
With taut prose and a swift plot, this literary crime novel set in 1800s Pennsylvania captures the unlikely friendship between a spirited young boy and a gruff ex-ranger on a shared quest for vengeance.
The Road to Reckoning by Robert Lautner is out now.
Film Review with Peter Bradshaw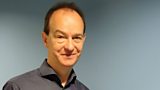 1: Nymphomaniac 
Dir: Lars Von Trier
Cast: Stacy Martin, Charlotte Gainsbourgh, Shia LeBeouf, Stellan Skarsgård, Christian Slater, Uma Thurman
Nymphomaniac is the wild and poetic story of a woman's journey from birth to the age of 50 as told by the main character, the self-diagnosed nymphomaniac, Joe (Stacy Martin and Charlotte Gainsbourg). On a cold winter's evening the old, charming bachelor, Seligman (Stellan Skarsgård), finds Joe beaten up in an alley. He brings her home to his flat where he cares for her wounds while asking her about her life. 
Nymphomaniac is out this weekend, rated 18.
2: Only Lovers Left Alive
Dir: Jim Jarmusch
Cast: Tom Hiddleston, Tilda Swinton
Tom Hiddleston stars as Adam, a bloodsucker who makes a living as a reclusive musician. He reunites with the love of his life, Eve (Tilda Swinton) a fellow vampire who leaves her home overseas to be with him in the downtrodden Motor City.
They eventually get a visit from Eve's irresponsible sister (Mia Wasikowska) who irritates Adam and eventually causes trouble with the one human - the vampires refer to the living as zombies -- with whom the depressed music hero gets along. 
Only Lovers Left Alive is rated 15 and is in cinemas now.
3: Stranger By The Lake
Dir: Alain Giuraudie
Cast: Pierre Deladonchamps, Christophe Paou
Frank (Pierre Deladonchamps) spends his summer days hopelessly searching for companionship at a popular cruising spot on the shores of a lake in rural France. One day, he meets Michel (Christophe Paou), an attractive yet darkly mysterious man and falls blindly in love. When a death occurs, Frank and Michel become the primary suspects but they choose to ignore the dangers and instead continue to engage in their passionate and potentially lethal relationship. STRANGER BY THE LAKE is an erotic thriller that tests the lengths and limits of sexual desire.
 Stranger by the Lake is out now on limited release, rated 18
DVD/Blue Ray
4: Dead Of Night (classic Ealing b&w re-release)
Dir:  Alberto Cavalcanti, Charles Crichton, Basil Dearden, Robert Hamer
Cast: Mervyn, Roland Culver, Mary Merrall, Googie Withers, Frederick Valk
Considered the greatest horror anthology film, the classic British chiller Dead of Night features five stories of supernatural terror from four different directors, yet it ultimately feels like a unified whole. The framing device is simple but unsettling, as a group of strangers find themselves inexplicably gathered at an isolated country estate, uncertain why they have come. The topic of conversation soon turns to the world of dreams and nightmares, and each guest shares a frightening event from his/her own past. 
Dead of Night is released on DVD and BluRay on Monday, rated PG.
Book Review with Inge Sweetman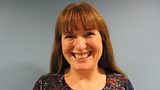 Bedlam by Christopher Brookmyer,  published by Little Brown Book Group
Ross Baker is an overworked scientist developing medical technology for a corporate giant, but he'd much rather be at home playing computer games. He volunteers as a test candidate for the new tech - anything to get out of the office for a few hours. But when he emerges from the scanner he discovers he's not only escaped the office, but possibly escaped real life for good. He's trapped in Starfire - a video game he played as a child - with no explanation, no backup and, most terrifyingly, no way out.
 The Madness of July by James Naughtie, published by Head of Zeus
 Set in the 1970s, BBC Radio 4's  James Naughtie has used his experience of being a political journalist to weave a story of political intrigue. Taking us from Westminster to New York, Washington and the Scottish Highlands, Naughtie has enjoyed engulfing his characters, in particular former spy and current foreign office minister Will flemying, in situations that could destroy their careers.
Personal Pick
Book of Dave by Will Self, published by Penguin, 2007
Dave is an angry mentally ill London cabbie. Inspired by the departure of his ex-wife and son, he rants and raves about anything and everything, especially women and how the family structure should change. Paper is not good enough for him and so he has his ravings engraved in metal, and buries the book.