Main content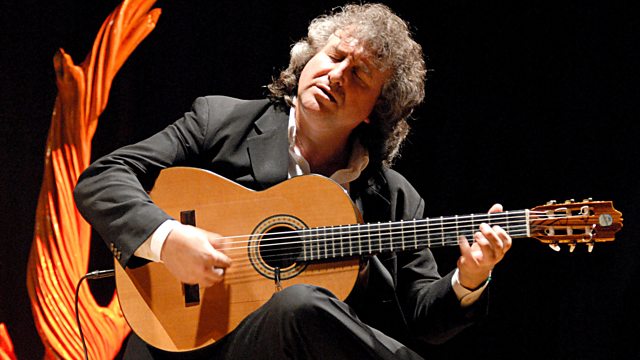 With Mary Ann Kennedy. Commonwealth Connections 4 and a session with Eduardo Niebla
Mary Ann Kennedy has tracks from across the globe, a studio session with guitarist Eduardo Niebla and part four of Commonwealth Connections, with music from Barbados and Mauritius.
Mary Ann Kennedy with tracks from across the globe, a studio session with jazz flamenco guitarist Eduardo Niebla, and part 4 of 'Commonwealth Connections' with music from Barbados and Mauritius.
Eduardo Niebla was born in Tangiers in Morocco, and at a young age he fled with his family as a refugee to Spain. He played in a rock band before moving to flamenco and jazz, composing his own pieces and performing in festivals around the world.
Commonwealth Connections is a landmark 26-part weekly series leading up to the Commonwealth Games in Glasgow in July. Featuring musicians and musical events from each of the 53 member states from Antigua to Zambia, the series reflects the Commonwealth's vibrant sounds, as the countries come together for their festival of sport.
Commonwealth Connections music feature:
The music of Barbados is a curious hybrid of British culture and African rhythms dating back to plantation days, and their strong Calypso song is an aural newspaper of modern life on the Island. Wayne 'Poonka' Willocks explains the tradition of his three man Tuk band of bass drum, snare drum and penny whistle and its connection to Scottish marching bands. Nine-times Calypso Monarch winner, Dr Anthony Carter, better known as The Mighty Gabby, sings of a more contemporary Barbados with his spontaneous and witty songs which tell stories about Bajan life. The songs range widely across hot topics in Bajan culture from the life of fishermen, a protest about sending Bajan troops to war, and of course the Bajan passion for Cricket, told with a twinkle and a more than a hint of sexual double-entendre.
Commonwealth Connections heritage track:
Christianne Legentil did Mauritius proud by reaching the quarter finals of the 52 kg women's Judo category at the London Olympics, despite coming from an island just 18 kilometres long in the middle of the Indian Ocean. Rodrigues Island lies five hundred kilometres east of the main island of Mauritius, and the Republic of Mauritius is an unusual Commonwealth Country because it is largely French speaking. Christine has chosen some seggae music, a fusion of the local sega music and reggae with an old favourite "Li Tourner" by Alain Ramanisum which has recently been given a new lease of life by local DJs.
Producer Roger Short.
Seven pioneering figures in world music
BBC Introducing on World on 3