Main content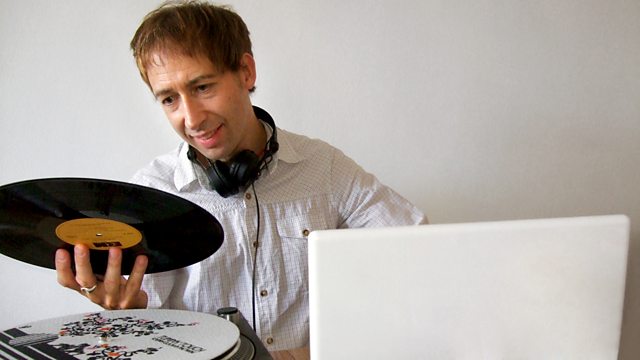 Tuesday - Nick Luscombe
Tonight's eclectic offering include a recently re-issued track from Francoise Hardy, library music inspired sounds from Norway's Aeropop, sonic experimentation from Christian Vogel plus more New Age and Psychedelia. With Nick Luscombe.
Last on
Music Played
Alexander Von Mehren

Natural Selection

Performer: Alexander Von Mehren.

Aéropop.
Folkwit Records.
5.

Nick Luscombe

Bag

Performer: Anon..

Nick Luscombe Field Recording Japan 12/13.

Nick Luscombe

Street Protest 2

Performer: Anonymous.

Nick Luscombe Field Recording Japan 12/13.

The Bees

Voices Green And Purple

Performer: The Bees.

Voices Green And Purple / Trip To New Orleans.
Ugly Things Records.
1.

Bent Lorentzen

Five Easy Fiano Pieces (1971): I. Waves

Performer: Erik Kaltoft.

Lorentzen: Colori / Goldranken / Nachtigall / Abgrund / Five Easy Piano Pieces.
Dacapo Records.
9.

Fay Hield

The Lover's Ghost

Performer: Jon Boden. Performer: Andy Cutting. Performer: Rob Harbron. Performer: Martin Simpson. Performer: Sam Sweeney. Performer: Fay Hield.

Gil Evans

Las Vegas Tango

Performer: Gary Burton. Performer: Richard Tee. Performer: Steve Swallow. Performer: Bill Lavorgna. Performer: Bernard "Pretty" Purdie. Performer: Chuck Rainey. Performer: Samuel T. Brown. Performer: Jerry Hahn. Performer: Eric Gale.

Good Vibes.
Collectables.
2.

Global Communication

12 18

Performer: Global Communication.

Traditional Zanzibar

Zanzibar Boat-Song

Performer: Percy Grainger. Composer: Percy Grainger.

Percy Grainger plays Grainger.
Nimbus Alliance.
17.

Françoise Hardy

L'Habitude

Performer: Françoise Hardy. Performer: Christian Padovan. Composer: Georges Moustaki. Performer: Michel Bernholc. Performer: André Sitbon. Performer: Claude Engel. Performer: Gérard Kawczynski. Performer: Marc Chantereau.

Message Personnel.
Rhino Records.
8.

Koen Holtkamp

Vert

Performer: Koen Holtkamp.

Motion.
Thrill Jockey.
2.

Nick Luscombe

Train

Performer: Japanese Train.

Nick Luscombe Field Recording Japan 12/13.

Charlie Jones

Big Hair

Performer: Charlie Jones.

Love Form.
Stranger Records.
2.

Juan Vasquez

En La Fuente Del Rosel

Performer: Orlando Consort.

The Rose, The Lily & The Whortleberry - Medieval & Renaissance Gardens In Music.
Harmonia Mundi.
11.

Kim Fowley

The Trip

Singer: Kim Fowley. Composer: Dennis Hardesty. Singer: Jorge Alaniz. Performer: Ed Mikelick. Composer: Paul Geddes. Performer: Paul Geddes. Performer: Rob Alaniz. Performer: The Victors.

Nuggets - Original Artyfacts From The First Psychedelic Era 1965-1968.
Rhino Records.
16.

Adrian Legg

Tracy's Big Moment

Performer: Adrian Legg.

Guitars And Other Cathedrals.
MMC Records.
7.

Lonnie Holley

Six Space Shuttles and 144,000 Elephants

Performer: Lonnie Holley.

Keeping A Record Of It.
Dust-to-Digital.
1.

Mestre Cupijo e Seu Ritmo

Caboclinha Do Igapo

Performer: Mestre Cupijo e Seu Ritmo.

Octo Octa

Smooth West

Performer: Octo Octa.

Show Me The Future.
Friends of Friends Music.
6.

Pinch & Mumdance

Turbo Mitzi

Performer: Pinch & Mumdance.

Turbo Mitzi / Whiplash.
Tectonic.
1.

Psapp

That's the Spirit

Performer: Psapp.

What Makes Us Glow.
The state51 Conspiracy.
5.

Quantic

Duvido

Performer: Quantic. Performer: Pongolove.

Magnetica.
Tru Thoughts Records.
4.

Steely Dan

Fire In The Hole

Performer: Steely Dan.

Can't Buy A Thrill.
MCA Records.
7.
Broadcast