Main content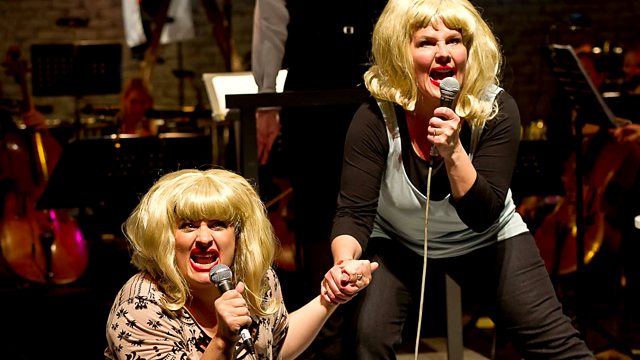 Turnage's Greek
Mark-Anthony Turnage's Greek, in Music Theatre Wales' production from the Royal Opera House, Covent Garden. Michael Rafferty conducts, with a cast led by baritone Marcus Farnsworth.
Mark-Anthony Turnage's Greek, in Michael McCarthy's award-winning production for Music Theatre Wales, recorded at the Linbury Studio Theatre at the Royal Opera House, Covent Garden.
First performed in 1988, Greek was Turnage's first opera and it confirmed him as a major voice on the British contemporary music scene. With Turnage's typically muscular fusion of classical and jazz influences, and a hard-hitting libretto adapted from Steven Berkoff's verse play of the same name, the opera is a version of the Oedipus story, relocated to the East End of London. Oedipus, the tragic hero who kills his father and marries his mother, becomes Eddy, a young man who tries to escape his fate.
It's presented by Sara Mohr-Pietsch, who talks to Mark-Anthony Turnage in between the two acts.
Eddy ..... Marcus Farnsworth (Baritone)
Eddy's Mum/Waitress/Sphinx ..... Sally Silver (Soprano)
Eddy's Sister/Waitress who becomes Eddy's Wife/Sphinx ..... Louise Winter (Mezzo-soprano)
Eddy's Dad/Cafe Manager/Chief of Police ..... Gwion Thomas (Baritone)
The Music Theatre Wales Ensemble
Michael Rafferty (conductor).
Last on
Synopsis
ACT I
Brought up in the East-End of London, Eddy is fed up with the tedium of home. He yearns for the ideal woman and a life of greater sophistication. When his parents tell him that a Fortune-Teller had once predicted that their son would kill his father and sleep with his mother, Eddy decides he's had enough and leaves home. 
Life on the streets is hard. After getting caught up in a riot and being beaten-up by the police, Eddy finds himself in a café where he kicks the owner to death and then instantly fancies his wife. Eddy seems to remind her of someone, somewhere, and as he comforts her, she tells him the story of how she lost her little boy in a boating accident on the Thames, and all she has left is his abandoned Teddy Bear. They fall in love.
ACT II
Ten happy and successful years later, Eddy and Wife are visited by his parents. The world is still rotten and there is a Sphinx outside the city walls which seems to be the cause. Eddy sets off to confront the Sphinx who spits insults at him, but he easily answers her riddle and kills her. Returning home triumphant, he wants to reconcile his family but his parents have an admission to make: he's not their son. They rescued him from the Thames, clutching a Teddy-Bear which they threw back in the water.
The true horror of what's happened is revealed. Eddy is utterly traumatised, and cries out to Oedipus, who plucked out his own eyes never to see his wife's body again.
Broadcast