Main content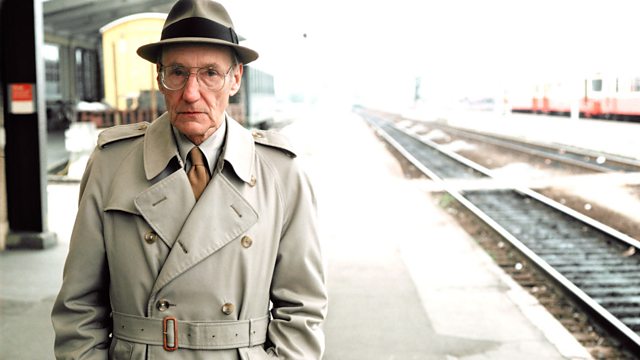 Burroughs at 100
Iggy Pop marks the 100th birthday of William S Burroughs. With Burroughs's friends and proteges, Iggy journeys through the frenzied life of America's most anarchic writer.
"Here comes Johnny Yen again, With the liquor and drugs, And the Flesh Machine."
Even for those that don't know William Burroughs, he's easy to find. He's in the lyrics to Iggy Pop's Lust For Life and on the cover of Sgt. Pepper. The bands Steely Dan and The Soft Machine take their names from his books. He even coined the term "heavy metal".
Drug addict, homosexual crusader, gun nut, beat writer, the Godfather of Punk, countercultural icon - Burroughs was many things. Marking the author's centenary, rock legend Iggy Pop presents a unique hour on the quintessential American iconoclast.
William Seward Burroughs II was born to an upper middle-class St. Louis family in February 1914. In 1940s New York, with Jack Kerouac and Allen Ginsberg, he started the Beat Movement. His addiction to heroin would motivate a turbulent journey that came to a tragic climax in Mexico City, where he shot and killed his wife during a drunken "William Tell" routine. The tragedy threw Burroughs into "a lifelong struggle, in which I have had no choice except to write my way out".
Whizzing from Mexico to South America to Tangier to Paris to London, then finally back to the States, Burroughs forged an influential body of work. With Junkie, Queer, Naked Lunch, the "Cut-Up Trilogy", the "Red Night Trilogy", paintings, audio recordings and films, Burroughs became the only name worth checking in the counterculture.
Iggy Pop reflects on Burroughs' extraordinary life with close friends and artists that felt his influence. Contributors include James Grauerholz, Will Self, Victor Bockris, Jean-Jacques Lebel, Genesis P-Orridge and John Waters.
Producer: Colin McNulty
A Whistledown production for BBC Radio 4.
Last on